Music
Posted 12:49pm Sunday 8th October 2017 by Callum Post
Rating: 4/5 Wind River is directed by Taylor Sheridan, who wrote the screenplay for Oscar nominated movies Sicario and Hell or High Water. This is only his second outing as a director, and the first with a budget bigger than my student loan. Wind River is a grim crime-thriller that centres on Read more...
Posted 12:39pm Sunday 8th October 2017 by Bianca Prujean
A few weeks ago I tuned into Radio One 91FM on a Tuesday night and listened to a mysterious new show called 'Negative Space'. The 'Negative Space' bio on Facebook informs the listener that the show's DJ, Brackets, "cares about representing female producers," Read more...
Posted 11:12am Saturday 30th September 2017 by Josephine Devereux
Legends aren't born, they're made. The legend is made of memes and called Darude, the man behind the cultural classic that is 'Sandstorm'. This is the journey I undertook to see Sandstorm live. Darude was playing one New Zealand concert, in Christchurch. Why Christchurch? Read more...
Posted 1:13pm Sunday 24th September 2017 by Bianca Prujean
Person L – Stacian from Night School Records On 9 September 2017, Night School Records dropped 'Person L', the latest full-length offering from Stacian. The call and response vocals on opening track 'Volx' may have you mistaking Stacian for your new favourite Read more...
Posted 1:01pm Sunday 24th September 2017 by Isaac Shatford
There's nothing quite like live chamber music. I'm not just saying that because I don't have tickets to Ed Sheeran. There's something magical about seeing two or more instrumentalists in musical conversation. I can't think of a better example of this than Read more...
Posted 1:07pm Sunday 10th September 2017 by Ihlara McIndoe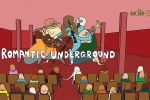 Do you find the concept of classical music enticing, but don't yet feel like you have enough grey hairs, or cough lollies in your pockets, to fit in with the usual classical concert crowd? Are you vaguely interested, but don't want to give up two hours getting a numb bum sitting in the Read more...
Posted 1:02pm Sunday 10th September 2017 by Ihlara McIndoe
Following the last DSO concert, which proved to be a very pleasant evening with my dad (even if he was stingy on the ice cream front), I managed to find a friend to accompany me to the most recent event. I am 85 percent sure she forgot she was supposed to be coming, as when I arrived at her flat to Read more...
Posted 12:45pm Sunday 20th August 2017 by Bianca Prujean
This week, Critic takes a journey deep inside the Argentinian discotheque with Buenos Aires-based DJ/producer duo, Carisma. Carisma recently dropped their long-awaited full length album, Gratis. Out on Dengue Dancing Records, Gratis features nine tracks of heavily pulsed crunch beats, arpeggiated Read more...
Posted 12:03pm Sunday 13th August 2017 by Reg Norris
I'm not from here. Most of the people from where I'm from migrate north to the oily plains of Melbourne. It's a rite of passage and sign of artistic commitment, or the need for restaurants open after 10pm, departure lounges teeming with tortured fortune seekers, or the guarantee of Read more...
Posted 1:03pm Sunday 6th August 2017 by Ihlara McIndoe
Sadly, it's always a struggle to find somebody to claim the second ticket of my double DSO pass. My friend pool of Western Art Music fans (the "WAM-fam") is on the light side, and is significantly diminished once you remove those who are members of the orchestra, so have no need Read more...
Showing results 1 - 10 of 402

Previous Results
Next Results