Music
Posted 4:59pm Sunday 11th August 2019 by Henessey Griffiths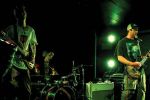 OUSA's annual 'Battle of the Bands' competition is back and fresher than ever. Channelling their inner Public Enemy, the Bring The Noise competition is being hosted over three weeks, showcasing the best local musical talent we have to offer. Thirteen acts will compete, but only one Read more...
Posted 4:32am Friday 26th July 2019 by Henessey Griffiths
What does a vape store retail manager, bean soup merchant, and bouncy castle coordinator all have in common? They all share being local pesticide enthusiasts and members of the self-described "conspiracy punk safe kids" band Flyspray. Comprised of Jack Doublet on lead vocals and guitar, Read more...
Posted 3:25am Friday 19th July 2019 by Alex MacKygee
Sachi (NZ) 10 July, Union Hall Sachi, named for that noise where you try and say 'sup' but end up sneezing, are an Auckland-based duo who have mastered melding groovy synth melodies with upbeat vocals. Possibly not the right concert for someone as old as me, which was a feeling Read more...
Posted 1:27am Friday 10th May 2019 by Alex MacKygee
Christchurch and Dunedin have two intense rivalries dominated by sweaty men: that sports one, and then the one for the title of New Zealand's Drum and Bass Capital. While nothing will quite match the vibe from hooning down the Four Avenues at 130kph (as I pour one out for FUSION Car Audio), Read more...
Posted 8:47pm Thursday 9th May 2019 by Henessey Griffiths
It's May, which means it is officially New Zealand Music Month. New Zealand and the creative field of music go together like a bottle of Cleanskin and a BYO at India Gardens – terrifically. We have seen so many great musicians and bands come out of New Zealand who have shaped the Read more...
Posted 9:09pm Thursday 25th April 2019 by Oscar Francis
The first time I saw King REX play live was at Inch Bar. The thing about Inch Bar is that I haven't been to many good gigs there. Most of my memories of the venue are of sitting around, bored out of my mind, as greying men pluck away at ukuleles haphazardly and beat congas halfheartedly. King Read more...
Posted 9:41pm Thursday 28th March 2019 by Henessey Griffiths
Have you ever wondered what it would sound like if Kate Bush covered Modest Mouse in a semi-ironic emo way? That is how the Dunedin band Milpool best describes their sound. Comprised of Adelaide Dunn on vocals, Tom Monaghan on guitar, Josh Howley on bass and Hamish Morgan on drums, Milpool has been Read more...
Posted 8:12pm Thursday 28th February 2019 by Esme Hall
The announcement that homegrown Dunedin band The Shambles are breaking up came as a shock to many people, but lead singer Max Gunn told Critic it's an exciting evolution in the musicians' careers. "The band is breaking up for very positive reasons," said Max. Read more...
Posted 8:15pm Thursday 21st February 2019 by Henessey Griffiths
Let's be real, there's nothing worse than a bad party playlist. You see, the music you choose to play makes or breaks the atmosphere of your party. As a host, it's your responsibility to serve the crowd some bangers 'n' mash. Making the perfect playlist for your party Read more...
Posted 6:36pm Thursday 4th October 2018 by Jessica Thompson
Lacuna consisted of three (now two), musicians Mackenzie Hollebon, Bexy Shingleton, and Grace Cook, who has recently left. After a short hiatus from their previous band The Burps, the girls returned to each other, forming Lacuna. After countless gigs in Dunedin, they are ready to release an EP and a Read more...
Showing results 1 - 10 of 436

Previous Results
Next Results