Music
Posted 6:56pm Thursday 21st May 2020 by Henessey Griffiths
Aaron Hawkins: Mayor of Ōtepoti, antagonist of Dunedin News. Before his career in local government took off, Aaron was the Music Director and Breakfast Show Host for Radio One 91FM, and the Music Editor for Critic. 14 years later, it's safe to say that Radio One and Critic now has a Read more...
Posted 6:51pm Thursday 12th March 2020 by Oscar Paul
Hamish Todd and Angus Tylee are proof that, sometimes, a mate's hairbrained scheme isn't as cooked as you might first think. From a bedroom in Arana (lol) in 2017, the duo deduced that if no one else would bring drum and bass to Dunedin, then, fuck it, why couldn't they just do it? Read more...
Posted 6:48pm Thursday 27th February 2020 by Henessey Griffiths
Why is he shirtless? Why can't I stop watching? Why does he do this?? BuffCorrell, who had previously never given an interview, has been an online legend - and mystery - for a decade now. Critic scored an exclusive interview with him. He answered my questions over email, and didn't know Read more...
Posted 12:14am Friday 21st February 2020 by Sophia Carter Peters
On Valentine's Day, an army of Doc Martens' shook the flimsy 19th-century floor of the Cook; by 9pm, the How Deep is Your Love gig was well underway. The vibes were strong the whole time: each band commanded total control of the crowd. The breaks between acts left the Read more...
Posted 10:00pm Wednesday 12th February 2020 by Sophia Carter Peters
If you google 'sea mouse' you'll be met with a cute ocean creature, but a couple scrolls further will open the window into the blues-fueled journey that is Wellington's Sea Mouse. Powered by Weetbix and classic blues, Sea Mouse is known for their classical take on modern rock Read more...
Posted 4:59pm Sunday 11th August 2019 by Henessey Griffiths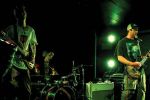 OUSA's annual 'Battle of the Bands' competition is back and fresher than ever. Channelling their inner Public Enemy, the Bring The Noise competition is being hosted over three weeks, showcasing the best local musical talent we have to offer. Thirteen acts will compete, but only one Read more...
Posted 4:32am Friday 26th July 2019 by Henessey Griffiths
What does a vape store retail manager, bean soup merchant, and bouncy castle coordinator all have in common? They all share being local pesticide enthusiasts and members of the self-described "conspiracy punk safe kids" band Flyspray. Comprised of Jack Doublet on lead vocals and guitar, Read more...
Posted 3:25am Friday 19th July 2019 by Alex MacKygee
Sachi (NZ) 10 July, Union Hall Sachi, named for that noise where you try and say 'sup' but end up sneezing, are an Auckland-based duo who have mastered melding groovy synth melodies with upbeat vocals. Possibly not the right concert for someone as old as me, which was a feeling Read more...
Posted 1:27am Friday 10th May 2019 by Alex MacKygee
Christchurch and Dunedin have two intense rivalries dominated by sweaty men: that sports one, and then the one for the title of New Zealand's Drum and Bass Capital. While nothing will quite match the vibe from hooning down the Four Avenues at 130kph (as I pour one out for FUSION Car Audio), Read more...
Posted 8:47pm Thursday 9th May 2019 by Henessey Griffiths
It's May, which means it is officially New Zealand Music Month. New Zealand and the creative field of music go together like a bottle of Cleanskin and a BYO at India Gardens – terrifically. We have seen so many great musicians and bands come out of New Zealand who have shaped the Read more...
Showing results 1 - 10 of 441

Previous Results
Next Results