Food
Posted 1:51pm Sunday 16th July 2017 by Liani Baylis
If, unlike me, you're not up with the vegan or frugal kids, you're in for the biggest PSA of your young life, so stay seated and prepare to be mind-blown. I kept hearing about this thing called "aquafaba" and I was like TF is that? Turns out, it's a magical liquid Read more...
Posted 1:12pm Sunday 9th July 2017 by Liani Baylis
Kia ora, kids. I've been busy over the break encasing anything and everything in pastry; proof that the fresher five is not exclusive to those in first year. I don't know about yours, but my break consisted of nothing more than Netflix documentaries. Now I've sworn off meat Read more...
Posted 1:19pm Sunday 28th May 2017 by Liani Baylis
As you can probably judge by my previous articles, I eat meat quite rarely. When I do, I don't want to waste the occasion on something average - I want the full sock-blowing package. There are so many pulled pork recipes out there that, quite frankly, suck. This one will never disappoint Read more...
Posted 1:36pm Sunday 21st May 2017 by Liani Baylis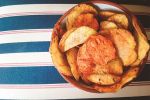 You know those days when the thought of putting a bra on to go get snacks cripples your very existence? Today is one of those days. Good god Uber eats would go off in this town! Alas, we don't have it, nor does Countdown deliver one bag of kettle chips. No, we must venture out to get snacks or Read more...
Posted 12:35pm Sunday 14th May 2017 by Liani Baylis
I'm first to admit that I am the stingiest bitch out when it comes to parting with money at crappy roadside stops. There is nothing worse than paying six euros for crusty stale bread and guaranteed salmonella - thanks, but no thanks. I'd much rather save my money for the real goods Read more...
Posted 1:54pm Sunday 7th May 2017 by Liani Baylis
Over the summer, desperate for yet another hungover feed, beautiful cauliflower nuggets were born. At the time, we had sweet F A in the fridge and I was desperate for something deep-fried without having to wipe last night's make up off or leave the house. Despite being an utter food snob I Read more...
Posted 12:49pm Sunday 30th April 2017 by Liani Baylis
Bread is life. Bread is Bae (do we still say that?). However, it is also something with which we all have a love-hate relationship. On the one hand, it's frickin' delicious and yet on the other, I find myself screaming "my skinny jeans don't fit anymore, you bastard!" Read more...
Posted 2:16pm Sunday 23rd April 2017 by Liani Baylis
Picture this—It's a bleak Sunday Morning. You wake up in a haze and get a sober look at the absolute babe you've pulled at Mac's the night before. Determined to impress the fine lass, you set on whipping up the breakfast of champions before this one wakes up Read more...
Posted 12:55pm Sunday 2nd April 2017 by Liani Baylis
As the new kid on the block, I was a bit worried about how I was going to lure you into actually reading this section. Then I remembered what bonds Scarfies only slightly less than diesels and regret—brunch! This recipe is an ode to being perpetually poor, but pay-waving eggs bene anyway and Read more...
Posted 1:30pm Sunday 26th March 2017 by Hugh Baird
When looking for an eatery in Dunedin to truly satisfy the taste buds, it's hard to look past Madam Woo. Founded by Michelin star chef Josh Emett and well renowned and respected restaurateur Fleur Caulton, Madam Woo is one of (if not) the best Asian eateries in town. Madam Woo has a strong Read more...
Showing results 1 - 10 of 182

Previous Results
Next Results