Posted 12:58pm Sunday 8th October 2017
Do you remember a few weeks ago when I (hopefully) changed your life and told you about aquafaba? That amazing shit inside the chickpea can? Well I've finally got my ass into gear to bring you something to make using it. Guess what, team? It's your lucky day because this delectable tart Read more...
Posted 11:38am Saturday 30th September 2017
Quesadillas hold a special place in my heart - a drunk cult-classic as far as I'm concerned. I will forever owe my drunk nights on exchange to my friend Lucy, who somehow composed herself enough to loosely monitor a bit of molten cheese on the stovetop. Get someone like that; absolute Read more...
Posted 1:55pm Sunday 24th September 2017
Dumplings are one of those things that test every ounce of my willpower every single time. How the fuck are they so good? Anyone who says they don't like dumplings should be charged with treason as far as I am concerned. I make mine in a bamboo steamer (which you can pick up from Kmart Read more...
Posted 12:26pm Sunday 10th September 2017
I love bringing you guys my own recipes and shit, but I've discovered yet another amazing blog. I'm absolutely frothing over veganricha.com at the moment and these cinnamon rolls make me want to marry the clever little lass. During my non-vegan years, I had a go-to cinnamon roll Read more...
Posted 12:40pm Sunday 20th August 2017
A couple of weeks back, I shared my favourite cupcake recipe with you. I feel very passionate about said recipe, so I never mustered the courage to try "veganise" it. I've done it with other recipes, but that one I hold dear to my heart. Then, like a guardian angel, along comes Read more...
Posted 1:14pm Sunday 6th August 2017
My heart genuinely goes out to those unfortunate enough to be cursed with a nut allergy - I'm sorry. That does, however, mean more peanut butter for me. You don't die and I get more PB all to myself - there can be no loser. I thought this week I'd shake it up a bit as an ode Read more...
Posted 1:02pm Sunday 30th July 2017
Eating less or no animal products has become increasingly trendy – very #2017 if you will. Brainstorming content for this week's article got me thinking. What do you do if Sunday morning you've mastered eggs, hauled that hangin' ass out of bed to impress your lass, only to Read more...
Posted 1:22pm Sunday 23rd July 2017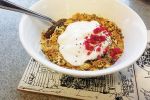 The 'health' industry appears to be a rich kids' game. Forgive me that StudyLink is all a girl's got going right now – amirite? I'm determined to eat well (booze aside), but every time I step into the supermarket I reconsider the nutritional value of the dust Read more...
Posted 1:51pm Sunday 16th July 2017
If, unlike me, you're not up with the vegan or frugal kids, you're in for the biggest PSA of your young life, so stay seated and prepare to be mind-blown. I kept hearing about this thing called "aquafaba" and I was like TF is that? Turns out, it's a magical liquid Read more...
Posted 1:12pm Sunday 9th July 2017
Kia ora, kids. I've been busy over the break encasing anything and everything in pastry; proof that the fresher five is not exclusive to those in first year. I don't know about yours, but my break consisted of nothing more than Netflix documentaries. Now I've sworn off meat Read more...
Showing results 1 - 10 of 18

Previous Results
Next Results