Food
Posted 1:30pm Sunday 26th March 2017 by Hugh Baird
When looking for an eatery in Dunedin to truly satisfy the taste buds, it's hard to look past Madam Woo. Founded by Michelin star chef Josh Emett and well renowned and respected restaurateur Fleur Caulton, Madam Woo is one of (if not) the best Asian eateries in town. Madam Woo has a strong Read more...
Posted 2:06pm Sunday 12th March 2017 by Kirsten Garcia
My SO repeatedly went out for takeaway over the summer break when he was too tired to cook from work. The ridiculous thing is that every time he would get exactly the same thing, from the same place: Sweet and Sour Pork. Seriously, the restaurant probably knows it's him by his voice when he Read more...
Posted 1:28pm Sunday 5th March 2017 by Kirsten Garcia
You've heard of Spring Rolls, but have you tried Summer rolls? If you visited the Dunedin Noodle Market last week, you might have seen these at one of the stalls. Makes 24 rolls Ingredients 24 Rice Paper Wrappers 200g Frozen Shrimp Lettuce leaves (butter Read more...
Posted 1:00pm Saturday 8th October 2016 by Kirsten Garcia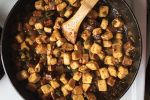 For all the vegans, if Quorn isn't already your friend, it will be. The Quorn pieces are the closest plant based product I have found that resembles the texture of chicken. There is also a "mince" product too, you can find them both in the frozen products aisle at your Read more...
Posted 1:08pm Saturday 24th September 2016 by Kirsten Garcia
I loved these growing up, my mum makes the best ones. It was a good day when I got to bring these for school lunches. Empanadas are little Spanish savoury pies with nice flaky pastry. You can use premade pastry if you are short for time. Makes: 10-12 empanadas Serves: Read more...
Posted 2:20pm Saturday 17th September 2016 by Kirsten Garcia
This week, I did an experiment to recreate Colonel Sander's infamous fried chicken. At 65 years old, and on a benefit income, Colonel Sanders built what would become the second largest fast food chain in the world. The recipe was one of the biggest trade secrets of our time, until it was Read more...
Posted 1:19pm Saturday 10th September 2016 by Kirsten Garcia
My first taste of Bobotie and Yellow Rice was at a charity dinner with all African cuisine. This is a South African dish. My flatmate from Zambia also made it for dinner once. Both times I've had it, it was nothing but delicious and memorable, so I had a crack at making it myself. If Read more...
Posted 1:03pm Sunday 4th September 2016 by Nick Blankendaal
I am Dutch so I thought "oh I'll make something Dutch!" Alas, I couldn't find anything really Dutch. Just Pancakes or how to make pea soup. I settled on making a meal based around a satay sauce recipe which, according to Wikipedia, the Dutch stole from Indonesia and is now Read more...
Posted 11:55am Sunday 21st August 2016 by Kirsten Garcia
If you love good vibes and yummy crepes you can find them both at the La Crepe stall at the Saturday Morning Farmers Market. Disclaimer: I have worked for Christophe and Marie flipping crepes at the market for more than a year and a half now, only a fraction of their almost 12 years at the market. I Read more...
Posted 5:47pm Monday 15th August 2016 by Kirsten Garcia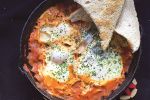 Shakshuka is a traditional Israeli breakfast, good for any time of the day with cooked eggs on top of a savoury tomato sauce. This is the best way to eat runny eggs in my opinion. It's meant to be a bit spicy so if you're after a kick, add some chilli, cayenne pepper, or use smoked Read more...
Showing results 1 - 10 of 173

Previous Results
Next Results