Music
Posted 7:29pm Thursday 20th September 2018 by Sophia Carter Peters
Tucked under Union Hall, music bleeds from the vents at around midnight, occasionally interrupted by screams of scarfies. The stage is filled by six band members, belting out reggae-rock-R&B fusion. The energy is electric, with booze flowing and everyone letting loose. Sons of Zion has been Read more...
Posted 6:46pm Thursday 20th September 2018 by Jessica Thompson Carr
Jaggers X Lines are a couple of alt-pop weirdos from Dunedin who started making music together in early 2017. Made up of vocalist Eliana Gray and producer Morgan Smillie, they released their first EP, Letters, after after just two weeks of jamming together. Following this,the band Read more...
Posted 11:14pm Thursday 6th September 2018 by Victoria Ransom
Devilskin is a Kiwi metal band from Hamilton. They recently kicked of their New Zealand tour in Dunedin on the 31st of August. Just before their Dunedin gig, Victoria Ranson caught up with Paul Martin, the bassist and founding member of Devilskin. Critic: You're about to go Read more...
Posted 11:14am Thursday 6th September 2018 by Claudia Muldrew
This is not a P!nk review - she put on an amazing show, and if you don't believe me you can read the ODT website and find the literal torrent of reviews. Rather, I couldn't help but take note of the goings on within the crowd. I don't know if you've ever had to down a Scrumpy Read more...
Posted 8:20pm Thursday 30th August 2018 by Waveney Russ
Anthonie Tonnon is a captivating, albeit contrived, musician and performer. Always dressed to the nines and sporting funky dance moves, every live performance sees Tonnon explain to his audience some vaguely recondite concept or story, of which he becomes the sole authoritarian figure for the Read more...
Posted 4:53pm Thursday 16th August 2018 by Jessica Thompson Carr
When I first met Indie-Rock artist Harry Marshall, he was a scruffy little blond Australian busking the streets of Paris outside the Shakespeare and Company bookshop. I kicked the Australian flag tag he had hooked to his guitar case, and we've been friends ever since. What drew me to him Read more...
Posted 5:35pm Thursday 9th August 2018 by Paul Whiley
There are very few gigs as riveting as Hoochie World. A high energy, sometimes erratic experience that epitomises the Dunners Breatha experience, Hoochie World's insane series of gigs are led by some of the front-runners of the new wave of "Dunedin Sound," including Marlin's Read more...
Posted 7:15pm Thursday 19th July 2018 by Jessica Thompson Carr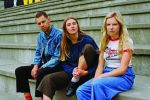 Despite their absolutely adorable name, the Mermaidens epitomize the gritty, hypnotic, kickass sound you always knew you needed but never had the guts to try. They've been around for a few years, and their style is just… so fricken cool. There's no other way to describe Read more...
Posted 7:09pm Thursday 19th July 2018 by Jessica Thompson Carr
I have seen God. I am now zen. Kung Fu Kenny took Dunedin by STORM on Tuesday in his huge Damn tour concert at Forsyth Barr Stadium. At 16,000, it was the largest crowd for a Pulitzer Prize winner in New Zealand history (narrowly pipping Carl Bernstein of the Washington Read more...
Posted 5:36pm Thursday 12th July 2018 by Jamie Green
Dunedin's own folk singer/songwriter Nadia Reid has been described as the saviour of folk music. Dave Dobbyn called her "spellbinding," "transporting," and "inspiring". Her second album, Preservation, was ranked No. 2 on Mojo Magazine's list Read more...
Showing results 11 - 20 of 436