Posted 6:46pm Thursday 20th September 2018
Jaggers X Lines are a couple of alt-pop weirdos from Dunedin who started making music together in early 2017. Made up of vocalist Eliana Gray and producer Morgan Smillie, they released their first EP, Letters, after after just two weeks of jamming together. Following this,the band Read more...
Posted 8:18pm Thursday 30th August 2018
Growing up as the only girl in a low-income family, Caitlin Carrollhad to rework a lot of hand-me-downs from her older brothers. She wouldcut up what they had and re-vamp it in her own style. She always wanted labels but couldn't afford them, so she took to making them herself. Once, Read more...
Posted 4:53pm Thursday 16th August 2018
When I first met Indie-Rock artist Harry Marshall, he was a scruffy little blond Australian busking the streets of Paris outside the Shakespeare and Company bookshop. I kicked the Australian flag tag he had hooked to his guitar case, and we've been friends ever since. What drew me to him Read more...
Posted 7:05pm Thursday 2nd August 2018
GUEST EDITORIAL: Art is daunting. Art is broad. Art is the big friendly giant who wakes you up in the middle of the night to give you a good fright, but turns out to be your best friend who takes you on adventures. I am not going to go on with more ideas on what art is because Read more...
Posted 12:29am Monday 30th July 2018
Tom Tremewan runs the adorable Instagram page Dogs of Dunedin NZ, chronicling the bestest boyes and gurls in Dunedin. Critic caught up with him for a hard-hitting interview. Where did the idea for this gram come from? It started off with me sending snapchats to my friends of Read more...
Posted 7:15pm Thursday 19th July 2018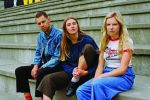 Despite their absolutely adorable name, the Mermaidens epitomize the gritty, hypnotic, kickass sound you always knew you needed but never had the guts to try. They've been around for a few years, and their style is just… so fricken cool. There's no other way to describe Read more...
Posted 7:09pm Thursday 19th July 2018
I have seen God. I am now zen. Kung Fu Kenny took Dunedin by STORM on Tuesday in his huge Damn tour concert at Forsyth Barr Stadium. At 16,000, it was the largest crowd for a Pulitzer Prize winner in New Zealand history (narrowly pipping Carl Bernstein of the Washington Read more...
Posted 5:50pm Thursday 17th May 2018
We are robbed by dead people We used to be fish Now we are mermaids And I wouldn't mind so much If they hadn't hoisted me out of the ocean onto dry sand And left me to flop and gasp With the hook still in my neck. My favourite story was Pania of Read more...
Posted 5:37pm Saturday 5th May 2018
The story of Dust & Thread starts last year when I did my first illustrated chapbook, A Certain Knowledge. I'd already been writing poetry since I was old enough to write creatively, but when I was about 17 some really difficult things in my life were happening and my mental illness was Read more...
Posted 1:09pm Sunday 8th October 2017
This book will take you a day or two days tops to plough through. At times it's thrilling, but the format is simple and McCarthy has dropped all quotation marks and "he said" / "she said" to make the writing have a smooth feel. A father and his son (unnamed) push Read more...
Showing results 1 - 10 of 26

Previous Results
Next Results

Jessica Thompson Carr
Books Editor