Posted 11:15pm Thursday 23rd May 2019
In an impressive show of #studentengagement, 38 student submitted questions ended up in the upcoming OUSA Referendum. Admittedly, Critic submitted 21 questions, but most of those were actually submitted to us by students. Critic Editor Charlie O'Mannin is still sad his question to get OUSA to Read more...
Posted 10:44pm Thursday 16th May 2019
AUSA President Anand Rama has handed in notice of his resignation just nine weeks into his first semester as head of the organisation. In a Facebook post after his resignation, Rama said he was not "in a good headspace" during his tenure and said resigning was "[putting] myself Read more...
Posted 10:36pm Thursday 16th May 2019
OUSA Student Support has dealt with eight cases of flatmate violence reported by students so far this year. Acting Manager of OUSA Student Support Hahna Briggs said that flatmate violence is "basically any behaviour where the purpose is to gain power and control over a flatmate," and Read more...
Posted 9:59pm Thursday 2nd May 2019
The Uni has been upgrading the University Wi-Fi network to cope with increased student and staff demand. The Uni have increased internet bandwidth, whatever that means, and also completed the installation of wireless in all the Residential Colleges in time for the start of semester one, said the Read more...
Posted 1:11am Friday 12th April 2019
CONTENT WARNING: rape, sexual assault, sexual harassment Multiple survivors of sexual violence from Knox College reached out to Critic since our last story, and their experiences show the University of Otago's sexual misconduct procedures were not applied consistently Read more...
Posted 6:19pm Thursday 11th April 2019
Are you sitting there wondering why we haven't reported very much on this year's OUSA Exec? Yeah, thought not. But, for the three of you who actually care, it's because they're being so nice to each other there's no juicy drama to report. The apparent harmony of the Read more...
Posted 2:01am Friday 5th April 2019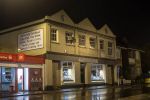 Ever wondered what was upstairs from the University Bookshop on Great King Street? Critic can reveal that it is currently a beautiful 500 square metres of untapped potential. We believe that since student fees helped OUSA buy the building a few weeks ago, it should be up to students to decide what Read more...
Posted 11:14pm Thursday 28th March 2019
Content warning: suicide, Christchurch shooting My best friend committed suicide in 2017. When I started working at Critic the following year, I wanted to write about grieving that irrevocable loss. I wanted to do something with my pain. Scrape it off me and mould it into Read more...
Posted 9:55pm Thursday 28th March 2019
The University Chaplaincy Services are welcoming two part-time volunteer Muslim chaplains, one man and one woman, onto their team as of Monday 1st April. University Chaplain Reverend Greg Hughson said that the role of the new chaplains, Najib Lafraie and Hajjah Salmah Kassin, will be to offer Read more...
Posted 9:52pm Thursday 28th March 2019
The University has introduced Anatomy and Physiology papers into the first year Physical Education curriculum, replacing PHSE191 and PHSE192, which were based on Health Sci papers HUBS191 and HUBS192. The change is part of the School of Physical Education Sport and Exercise Sciences major Read more...
Showing results 1 - 10 of 76

Previous Results
Next Results