Posted 3:33am Friday 26th July 2019
Georgia Mischefski-Gray is the new Admin VP, Benjamin McCook-Weir is the new Campaigns Officer and Matthew Schep is new Postgraduate Officer in a by-election Critic is calling a win for OUSA insiders. Hoping it'll catch on. Probably won't. All the new Exec members are OUSA adjacent. Read more...
Posted 6:15pm Thursday 25th July 2019
The student organisers of the Agnew Street Party are trying to make this year's party safer after last year's got out of hand. One of the organisers said the Proctor, Dave Scott, has been "an absolute legend" in helping them figure out how to make the now seemingly annual Read more...
Posted 6:14pm Thursday 25th July 2019
Critic corrected a spelling mistake not in our magazine, but in real life. We're cool, promise. Since 26 April, the street sign on Ethel McMillan Pl has read "Ethel McMillian Pl". Critic's intrepid reporter stared at the sign for weeks wondering if they'd Read more...
Posted 3:17am Friday 19th July 2019
Local advocacy groups are disappointed in landlords who left it to the last minute to insulate the underfloor and ceilings of rental homes for the July 1st deadline, which they had three years to meet. Changes to the Residential Tenancies Act mean that from July 1st rental homes must have ceiling Read more...
Posted 3:13am Friday 19th July 2019
As per usual for OUSA events the seats in the Main Common Room were vacant for the candidates forum, all bar the current Executive, the candidates' friends, and depressed Critic reporters. But no worries, we've assessed the quality of the candidates for you. For the more discerning voter Read more...
Posted 11:24pm Thursday 4th July 2019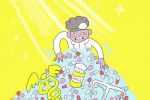 It was August 2017 and Nick was getting med-worthy grades in Health Sciences First Year (HSFY). But he was not loving life. "I got quite anxious and didn't feel confident in myself and my abilities. I started thinking I wouldn't be a good doctor," he said. Stress turned to Read more...
Posted 10:57pm Thursday 4th July 2019
The Exec is falling apart. Last week, three of them resigned. Admin VP Porourangi Templeton-Reedy abandoned his post for a job in Wellington, Post-Grad Officer Dermot Frengley was overloaded with study and Campaigns Officer Georgia Mischefski-Gray resigned to run for Admin VP in the upcoming Read more...
Posted 11:15pm Thursday 23rd May 2019
In an impressive show of #studentengagement, 38 student submitted questions ended up in the upcoming OUSA Referendum. Admittedly, Critic submitted 21 questions, but most of those were actually submitted to us by students. Critic Editor Charlie O'Mannin is still sad his question to get OUSA to Read more...
Posted 10:44pm Thursday 16th May 2019
AUSA President Anand Rama has handed in notice of his resignation just nine weeks into his first semester as head of the organisation. In a Facebook post after his resignation, Rama said he was not "in a good headspace" during his tenure and said resigning was "[putting] myself Read more...
Posted 10:36pm Thursday 16th May 2019
OUSA Student Support has dealt with eight cases of flatmate violence reported by students so far this year. Acting Manager of OUSA Student Support Hahna Briggs said that flatmate violence is "basically any behaviour where the purpose is to gain power and control over a flatmate," and Read more...
Showing results 11 - 20 of 93