Posted 3:46pm Sunday 25th July 2021
Data released to Critic under the Official Information Act shows that the smiley faces at AskOtago mostly receive dark green, very happy responses, but on Sundays the number of dark red, very angry responses skyrockets. Critic requested the data from the AskOtago smiley kiosks for March Read more...
Posted 5:43pm Friday 16th July 2021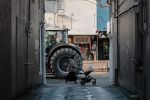 The Dunedin woman whose sign reading "NO FARMING ON A DEAD PLANET" was ripped from her hands by a Groundswell protester says she is "disappointed in their behaviour". Groundswell Convenor Bryce McKenzie claims Groundswell is "not responsible". The Read more...
Posted 1:47pm Friday 11th June 2021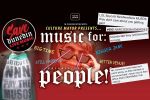 A very public falling-out between a venue owner and a local artist on Facebook has seen Starters stepping up to the plate to save the Music for the People gig, which is taking place this weekend. Person Will, Music for the People's organiser, put New New New founder Ian McKinlay on blast in Read more...
Posted 9:43pm Friday 26th March 2021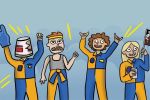 Let's just be clear on one thing: I'm not being anti-rugby. Rugby is a great game. It's something that we orientate our identity around, both as individuals and a nation. Going to the stadium gives a lot of us a feeling of fitting in, and stability in an uncertain Read more...
Posted 6:22pm Thursday 5th March 2020
Asexuality is a sexuality; the A in LGBTQIA+. No, it doesn't mean you reproduce with yourself, unlike what your year 9 biology might have you thinking. It means you don't experience sexual attraction like most people do. It means you if you see a hot stud across the road, you might say Read more...
Posted 1:01pm Thursday 17th October 2019
This new film of yours is a historical look at capitalism, and it's an adaptation of a nearly 700 page economics text that deals with a piles of statistics, and a tonne of macroeconomic theory. Is it a film for nerds? No, not at all. There's no way the film would be able to mirror the Read more...
Posted 11:12pm Thursday 29th August 2019
I arrived at Wakefield Park at five minutes to halftime. It was forty minutes past eight on a Thursday evening and I was running late for no good reason. Aside from me, there were two other spectators: Bryn and Tintin, both ex-Otago students. I mentioned I was writing an article for Critic to Read more...
Posted 5:55pm Thursday 11th July 2019
On the North End of George Street, in an orange brick house bedecked with vines and separated from the street by a row of feijoa bushes, lives Rory and his forest garden. The George Street Orchard has been ex-Otago student Rory's pet project for the past ten years. He invites me to try a Read more...
Posted 5:53pm Thursday 11th July 2019
There are three, and only three, reasons that a student might visit this fair city's botanic gardens. Firstly, drinking in a tree in an attempt to mimic an introduced marsupial. Secondly, trashing the fountains in the Mediterranean Garden by partying on the eve of a national tragedy. The third Read more...
Posted 9:39pm Thursday 23rd May 2019
A student with a physical disability is saying that the wheeled transport ban on campus is more than just an inconvenience for skateboarders; it does not consider the needs of students for whom walking around campus is not an option. Disability Services said students will be able to apply for an Read more...
Showing results 1 - 10 of 17

Previous Results
Next Results