Posted 12:04am Saturday 2nd October 2021
"Don't wait, just go," is Bernard Hickey's advice to students who want the security of owning their own home. Bernard is an economist. He is perhaps even more pessimistic about the prospects of home ownership for young generations than the doomers themselves. If you Read more...
Posted 3:33pm Monday 20th September 2021
Government inaction on lead fittings could be causing irreversible harm to millions of children. Lead levels in plumbing fittings are currently unregulated, and the government needs to take urgent action, according to Greg Wallace, CEO of Master Plumbers, Gasfitters & Drainlayers Read more...
Posted 1:28am Saturday 11th September 2021
Following the defeat of the American-lead coalition by the Taliban in mid-August, a humanitarian crisis has ensued. Seeing the Taliban retake the capital, the ensuing refugee crisis, and the failure of our institutions to respond adequately has been tough on Otago's Afghan Read more...
Posted 8:31pm Sunday 15th August 2021
An Auckland man revealed he ripped down an Action Zealandia banner on Sunday as the group ran away, high-fiving each other on a job poorly done. This event follows Critic's exposé on the neo-Nazi group last week. On Sunday 8 August, Spicy Johnson* was driving along State Highway One, Read more...
Posted 1:02am Monday 9th August 2021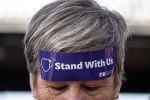 The New Zealand Nurses Organisation (NZNO) is planning a strike for 19 August after it rejected the government's latest pay offer. According to NZNO's Lead Advocate David Wait, "while the DHBs [District Health Boards] had made promising moves on pay, the offer contained too many Read more...
Posted 3:46pm Sunday 25th July 2021
Data released to Critic under the Official Information Act shows that the smiley faces at AskOtago mostly receive dark green, very happy responses, but on Sundays the number of dark red, very angry responses skyrockets. Critic requested the data from the AskOtago smiley kiosks for March Read more...
Posted 5:43pm Friday 16th July 2021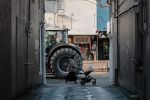 The Dunedin woman whose sign reading "NO FARMING ON A DEAD PLANET" was ripped from her hands by a Groundswell protester says she is "disappointed in their behaviour". Groundswell Convenor Bryce McKenzie claims Groundswell is "not responsible". The Read more...
Posted 1:47pm Friday 11th June 2021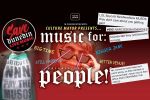 A very public falling-out between a venue owner and a local artist on Facebook has seen Starters stepping up to the plate to save the Music for the People gig, which is taking place this weekend. Person Will, Music for the People's organiser, put New New New founder Ian McKinlay on blast in Read more...
Posted 9:43pm Friday 26th March 2021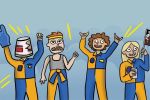 Let's just be clear on one thing: I'm not being anti-rugby. Rugby is a great game. It's something that we orientate our identity around, both as individuals and a nation. Going to the stadium gives a lot of us a feeling of fitting in, and stability in an uncertain Read more...
Posted 6:22pm Thursday 5th March 2020
Asexuality is a sexuality; the A in LGBTQIA+. No, it doesn't mean you reproduce with yourself, unlike what your year 9 biology might have you thinking. It means you don't experience sexual attraction like most people do. It means you if you see a hot stud across the road, you might say Read more...
Showing results 1 - 10 of 22

Previous Results
Next Results