Posted 6:06pm Thursday 11th April 2019
CW: Sexual assault Tanya Findlater is a Willowbank loving, third year Media Film and Communications student here at Otago. Aside from her studies, Tanya is also the head of Thursdays In Black at Otago, as well as a board member for Dunedin Pride. For Tanya, community Read more...
Posted 6:01pm Thursday 11th April 2019
Let's make this clear; no degree is better than another because they're all shit. However, some do tend to have more Bick Dick Energy than others. So what is Big Dick Energy? Many people have tried to find a definition for this ambiguous term but, for most, it simply means the Read more...
Posted 11:36pm Thursday 28th March 2019
Emily and Sophie Martin are two third year students at Otago. However, most people know them best as popular food Instagrammers Tasty.Twinsss. In their first year of Uni, Emily and Sophie created an Instagram account to share their love of food and places to eat around Dunedin. Now with 7,000 Read more...
Posted 9:41pm Thursday 28th March 2019
Have you ever wondered what it would sound like if Kate Bush covered Modest Mouse in a semi-ironic emo way? That is how the Dunedin band Milpool best describes their sound. Comprised of Adelaide Dunn on vocals, Tom Monaghan on guitar, Josh Howley on bass and Hamish Morgan on drums, Milpool has been Read more...
Posted 9:35pm Thursday 28th March 2019
Abram Hunter has always been drawn to sci-fi and fantasy, and has been a collector of toys and action figures his whole life. But being a collector while studying is no cheap thrill, given the amount of money that figures can cost. He was at a crossroads. "Do I want to be one of those dudes Read more...
Posted 10:32pm Thursday 21st March 2019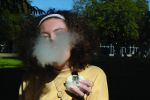 If you're a poor student like me who craves the sweet satisfaction of nicotine, then boy do I have something for you. Vaping, the cheaper alternative to smoking. For a while, I was anti-vaping. The big clouds and unusual flavours were a turn-off for me. But once the price of darts went up and Read more...
Posted 6:41pm Thursday 14th March 2019
I have a confession to make. I watch at least one WatchMojo video every day. WatchMojo, a YouTube channel with over 20 million subscribers, is the pinnacle of shitty clickbait. Their videos focus on aspects of popular culture and analyse them through top 10 countdown lists. Their videos are Read more...
Posted 6:09pm Thursday 7th March 2019
This year, Mike King was announced as Kiwibank's New Zealander of the year for his work as a mental health advocate. New Zealand has one of the highest suicide rates in the OECD, and one in six New Zealanders are diagnosed with depression or anxiety, and having someone like King, who is Read more...
Posted 6:08pm Thursday 7th March 2019
Chlöe Swarbrick – Green MP, advocate for mental health and drug reform, and just a great chat. Chlöe's rise to fame came after she came third in the 2016 Auckland mayoral election. Following this, Chlöe began to work for the Green Party, becoming the youngest MP in New Read more...
Posted 5:54pm Thursday 7th March 2019
Rosette Hailes-Paku and Phoebe Lee have been selected as finalists for the iD Fashion International Emerging Designer Awards. Alongside thirty-three applicants from around the world, they will be showcasing five garments from their graduate collection during Dunedin's iD Fashion Week. Read more...
Showing results 1 - 10 of 40

Previous Results
Next Results

Henessey Griffiths
Culture Editor