OUSA's annual 'Battle of the Bands' competition is back and fresher than ever. Channelling their inner Public Enemy, the Bring The Noise competition is being hosted over three weeks, showcasing the best local musical talent we have to offer. Thirteen acts will compete, but only one can be crowned Bring the Noise Champions 2019. The hotly contested question on everyone's lips is who will prevail and receive the crowning glory? Here's Critic's prediction for what the future of Dunedin Sound holds.
Flyspray
Pictured above; photo by Scott Kingsbury
Feel the spray with Dunedin's local pesticide enthusiasts. The band offers a heavy prog rock sound while lyrics such as "as soon as StudyLink comes in I'll chuck it through no worries" move the listener into a transcendental experience. These guys are gonna come in hot with some gross riffs, and tunes filthier than the U-Bar bathroom post Pint Night – but that's all part of their charm.
Sugarcoated Bullets
Reading their name, I immediately thought of that Fall Out Boy song, "Sugar, We're Goin' Down," so I hope they play that. These guys are fresh from the high school music scene, but don't let that fool you. Their amalgamation of hardcore and punk sounds will leave you confused, slightly disgusted, and just a bit aroused. Whether you dance yourself clean or madly dissociate, these guys will bring a party.
Efflorescent
The name Efflorescent kinda reminds me of a nice candle, or the scent of washing powder, but don't let that mislead you. With members coming from bands like Bark Like a Dog and 28 Fifty, this ain't their first rodeo. They play some prog rock jams, and as long as they don't cover any of The Smiths I won't be complaining.
Lily Jones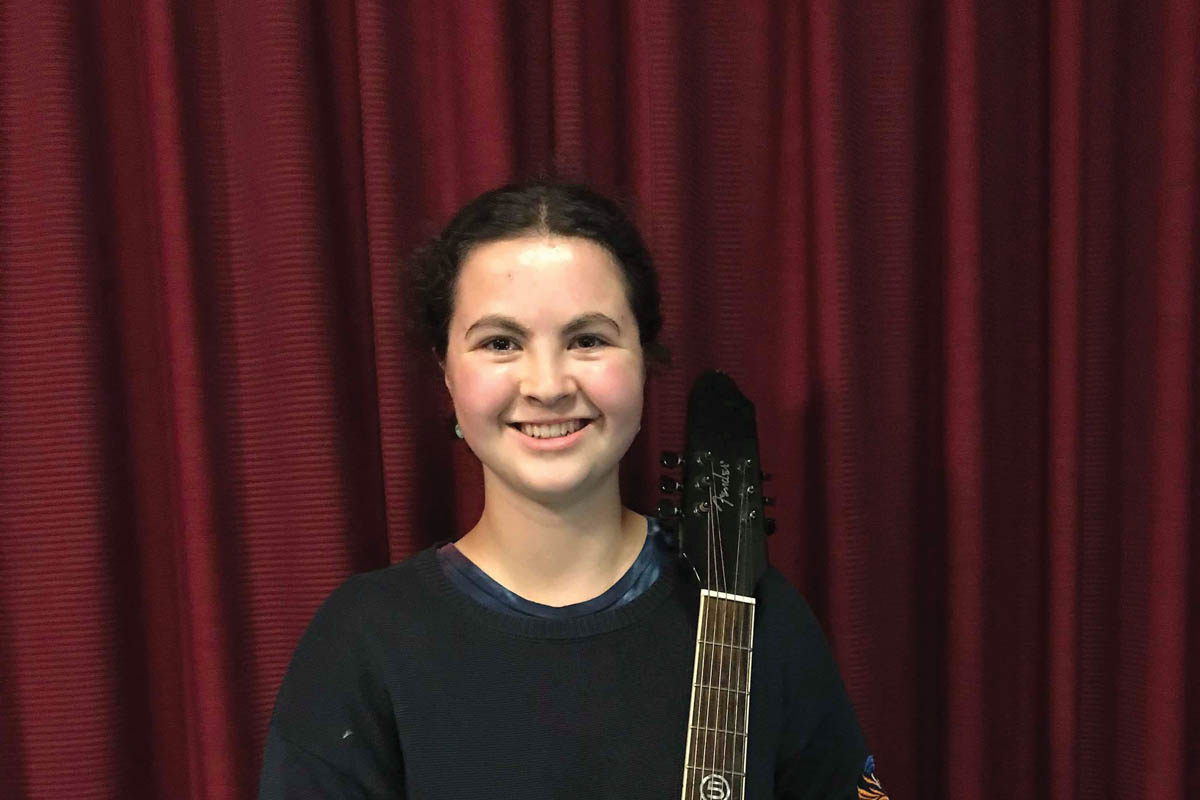 Photo by Izzy Bloxham
Honestly from her promo shoot Lily looks so incredibly wholesome. She's been playing guitar since she was 12 to follow in the footsteps of her musical idols Neil Young and Jeff Tweedy. Both her melody and lyrics will make you wanna shed a tear while simultaneously hitting the phattest whip of all time.
Dusty Sunday
Dusty Sunday are gonna get the student vote based on the sheer emotion their name evokes. Describing themselves as "a warm pie and a cool Powerade on a Sunday afternoon," these guys sure know how to bring the indie rock grooves to the main stage. Their Facebook says their inspirations are Sticky Fingers, Arctic Monkeys and The Kooks, fulfilling all my wettest Dunedin surf rock dreams.
Play The Game
Although Play The Game is a fairly new band to the scene, they are no strangers to the Dunedin sound. These boys pride themselves on their fast fingers, strong moustaches, and ability to gyrate. Their write up was laced in similes and puns, which hopefully translates into their performance. But also "Play The Game" reminds me of that 2008 Internet meme where everyone would play 'the game'. I lost the game.
Alex Dykes
I couldn't really find much about Alex apart from his personal Facebook, and I felt like a biiit of a creep just hitting him up out of the blue. But from the photo I saw he looks like a sweet young man. He looks like a kid who busks on Albion Place and plays Wonderwall, but in the best way possible.
Do You Know This One?
Any band that says that they "loves a good vape" is an instant winner in my eyes. Self-described "grooviest jammers this side of the Leith," these guys love to get people aboard the Funk Express. I'm pretty sure this band has been practising for a while now, and I hope the Funk Express takes us all the way to Flavour Town. Also, it's a really fucking good band name.
Mia Jay
Mia released her debut EP 'Eye to Eye' not that long ago, and it's a nice and easy listen. She's got a pretty big schedule with an upcoming NZ tour in the works, so it's pretty sick she's competing in Bring the Noise. I don't know why, but I feel like her performance will feature some bongos, tambourines and maybe even an egg shaker. Don't quote me on that.
The Rhododendrons
I tried to find these guys on Facebook or SoundCloud, but to no avail. However, based on their promo photo they seem like a bunch of very sweet kids who just wanna jam, man. They look pretty edgy, so I feel like their sound will be a hybrid of The Cure mixed with The Smiths with a touch of Death Grips. They're either going to sing about love and heartbreak or doing lines in the bathroom of U-Bar – who knows.
Chuwnes
Chuwnes describe themselves as being a dup with fiery hair and even more fiery tunes, and they seem to fit that description pretty well. Their look definitely fits into the Dunedin surf-rock-not-like-other-breathas niche, so hopefully they can live up to that. Although this is their first time playing together on a stage, I reckon they'll be able to live up to the wise words of Soulja Boi and Crank That.
Why Capone
Photo by Amanda Still
Why Capone is actually a new old band, as it's the classic Dunedin band Chandeliers rebranded with a new name. But all I can ask is, why Why Capone? Will their new music pay homage to the once iconic and derelict bar Capone? Or is it just a fun name to reflect their new selves? I don't have all the answers. Chandeliers were tight as is, so it will be exciting to see what Why Capone now has to offer.
The first heat was last Friday, but it's not too late to catch the second heat Friday 16th August, 9pm - 12am, and support the best bands as they fight in the Grand Final, Wednesday 21st August, 9pm – 12am.