Posted 11:09am Tuesday 13th July 2021 by Alex Leckie-Zaharic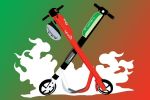 Citing "careful consideration" and the "weighing up [of] many factors", Lime has decided to retreat from Dunedin. But anyone with half a brain knows that the real reason because we threw so many of their scooters in the Leith. Lime is a self-proclaimed "global Read more...
Posted 1:10pm Monday 26th April 2021 by Erin Gourley
A smell descended on campus last week. Students described the smell as "fishy", "wet mildew", "wet dog", "an old wet towel", "a musty undertone", and "like a cross between something decomposing and those sheep trucks that go past Read more...
Posted 12:15pm Monday 26th April 2021 by Erin Gourley
Look I don't really understand how businesses work and I'm not going to pretend I do. This is less of a valid opinion, and more of a personal fantasy of mine. My demand is simple: I want a bakery near campus. Not a cafe with overpriced scones and slices. A bakery that is overflowing Read more...
Posted 9:29pm Friday 26th March 2021 by Erin Gourley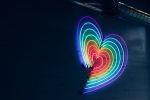 A trans student at Otago has raised concerns about the lack of gender neutral bathrooms and the use of deadnames in University systems. Ethan*, a trans student, said that "student wellbeing should be prioritised on campus, to ensure we are in the best state to learn. A lack of vital Read more...
Posted 2:10pm Sunday 21st March 2021 by Alex Leckie-Zaharic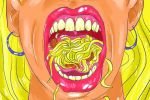 The University has raised prices yet again at their food outlets. Those on the study grind are notoriously poor, and after prices went up multiple times last year, this latest increase will be another gut punch to the food court faithful. According to Campus and Collegiate Life Services Read more...
Posted 1:18am Sunday 14th March 2021 by Asia Martusia King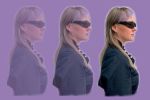 Mullets have a long history. The world's first mullet was depicted on a metal deity figurine unearthed in an English car park, dating back to 1st-century AD (After Drip). Roman warriors with mullets were engineered for battle, their hair styled out of their eyes and difficult to grab. Murder Read more...
Posted 1:13pm Sunday 14th March 2021 by Sophia Carter Peters
The scene: Waterfront warehouse district, surrounded by big trucks, empty buildings, and corrugated iron everywhere. Enter a new resurgence of the local gig scene. A quiet, yellow corner building with high ceiling and some bizarre architecture is the setting for a rejuvenation of the Dunedin music Read more...
Posted 1:29pm Sunday 14th March 2021 by Elliot Weir
1. How old are you? a. A literal baby (1) b. A teenager (2) c. Early 20s Read more...
Posted 2:23pm Sunday 14th March 2021 by Alice Taylor
This recipe for Pad Thai hits my craving for noodles when I simply don't have the means to spend on my dearest, Thai Hanoi. I shamelessly use Wattie's Pad Thai sauce because I am poor and lazy and the sauce is delicious. Serves 3 250g rice noodles 2 eggs 1 onion 4 spring Read more...
Posted 2:42pm Sunday 14th March 2021 by Jay Bailey
In the glory of an empty, level-four-lockdown Dunedin, I finally faced my fears and learned how to ride a skateboard. Learning to skate at nineteen years of age may not impress some, but after years of desire, envy, fear, and trepidation, I was thrilled to cruise around the old Coupland's car Read more...
Showing results 11 - 20 of 26
TAGGED ITEMS
Showing items with the tag:
campus