Posted 1:23am Saturday 11th September 2021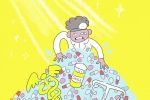 Around 530 students studying health professional programmes were out on placement across the country when the snap Level 4 lockdown was announced, according to the Pro-Vice-Chancellor of Health Sciences Paul Brunton. For some, like Owen, a third-year pharmacy student who was placed in Whanganui Read more...
Posted 3:17pm Sunday 5th September 2021
By Runze Liu, Citizen of The Island of Club Penguin, Member of the Club Penguin Elite Penguin Force (EPFM), Fellow of the Royal Club Penguin College of Tour Guiding (FRCPCTG), Club Penguin First Party List Member of The Club Penguin Parliament (MP) based in Iceberg South, Club Penguin First Party Read more...
Posted 1:22pm Monday 16th August 2021
A group of flatmates have given up hope their dildo will be found safe and well. They remember it fondly. The dildo, described by William as "about eight inches long, fluorescent, a translucent pink colour with veins going down the side, with no balls, a classically sized girth, realistic Read more...
Posted 4:13pm Sunday 1st August 2021
Do you live in a society that places unhealthy and unrealistic expectations of masculinity upon you? Are you torn between the increasing pressure to be emotionally articulate and in touch with your feelings, in a context where men are only valued for their achievements and ability to assert Read more...
Posted 5:41pm Sunday 25th July 2021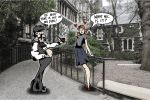 The lads and lasses of Dunedin have a few tricks up their sleeves when it comes to dating and hookups. But how did students do it back in the day, before the technological lubrication of Tinder and Snapchat? Critic did a deep dive into old school dating, circa the 1800s, and here's what we Read more...
Posted 3:53pm Sunday 25th July 2021
New Zealand Police and Fire and Emergency New Zealand (FENZ) are investigating a fire that occurred in a rubbish bin in the Information Services Building at around 8pm last Sunday 18 July. According to FENZ, the bin in the female bathrooms on the Cumberland St side of the Link caught fire, Read more...
Posted 2:44pm Sunday 18th July 2021
Otago Uni Students' Association (OUSA) is unsurprised that Auckland Uni Students' Association (AUSA) is giving 12 months' notice to leave the New Zealand Union of Students' Association (NZUSA). OUSA President Michaela Waite-Harvey stated this is "not a shocking turn Read more...
Posted 12:42am Monday 24th May 2021
Period pains, medically referred to as dysmenorrhoea, are annoyingly painful and are an all too real struggle for people who menstruate. Here is a guide to combatting those cramps. But remember, always read the label, not all products work and if you're concerned, consult your health care Read more...
Posted 6:36pm Sunday 2nd May 2021
Drum and Bass music is a major part of Dunedin life. It is the soundtrack to the Otago experience. But what will its future be? Critic sat down with some of Dunedin's very own DJs to uncover the evolution of DnB. Bando is a bedroom DJ, a hobbyist who practises at home but doesn't Read more...
Posted 9:48pm Sunday 18th April 2021
Despite efforts by OUSA, students continue to be indifferent towards its governance. OUSA leaders are tasked with making policy to ensure everything runs smoothly. This includes event planning, keeping the Uni from screwing students over, and providing safe(r) intoxication Read more...
Showing results 1 - 10 of 13

Previous Results
Next Results