Posted 5:41pm Sunday 25th July 2021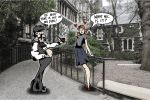 The lads and lasses of Dunedin have a few tricks up their sleeves when it comes to dating and hookups. But how did students do it back in the day, before the technological lubrication of Tinder and Snapchat? Critic did a deep dive into old school dating, circa the 1800s, and here's what we Read more...
Posted 3:53pm Sunday 25th July 2021
New Zealand Police and Fire and Emergency New Zealand (FENZ) are investigating a fire that occurred in a rubbish bin in the Information Services Building at around 8pm last Sunday 18 July. According to FENZ, the bin in the female bathrooms on the Cumberland St side of the Link caught fire, Read more...
Posted 2:44pm Sunday 18th July 2021
Otago Uni Students' Association (OUSA) is unsurprised that Auckland Uni Students' Association (AUSA) is giving 12 months' notice to leave the New Zealand Union of Students' Association (NZUSA). OUSA President Michaela Waite-Harvey stated this is "not a shocking turn Read more...
Posted 12:42am Monday 24th May 2021
Period pains, medically referred to as dysmenorrhoea, are annoyingly painful and are an all too real struggle for people who menstruate. Here is a guide to combatting those cramps. But remember, always read the label, not all products work and if you're concerned, consult your health care Read more...
Posted 6:36pm Sunday 2nd May 2021
Drum and Bass music is a major part of Dunedin life. It is the soundtrack to the Otago experience. But what will its future be? Critic sat down with some of Dunedin's very own DJs to uncover the evolution of DnB. Bando is a bedroom DJ, a hobbyist who practises at home but doesn't Read more...
Posted 9:48pm Sunday 18th April 2021
Despite efforts by OUSA, students continue to be indifferent towards its governance. OUSA leaders are tasked with making policy to ensure everything runs smoothly. This includes event planning, keeping the Uni from screwing students over, and providing safe(r) intoxication Read more...
Posted 9:39pm Friday 26th March 2021
The OUSA pays $45,500 (1.16% of their total revenue) as membership fees to the NZUSA according to their 2021 budget. So, what the hell is the NZUSA? Is it a local ripoff of the country that brought you David Hasselhoff drunkenly eating a hamburger off the floor? Maybe it's the New Zealand Read more...
Posted 3:05pm Sunday 21st March 2021
Warning: Drugs can cause harm. This guide does not substitute medical advice. If you think you or someone is in danger from drugs, call 111. Whether you're just lighting up a joint with your flatmate or you're about to rail some lines of coke in an R-rated comedy trilogy about a Read more...
Posted 5:33pm Saturday 6th March 2021
Despite being the oldest, and one of the most influential students' associations in the country, people still opt to leave the Otago Uni Students' Association (OUSA). One of them — a third year student Otago student — opted out of OUSA membership in September last year by Read more...
Showing results 1 - 9 of 9