Posted 3:26pm Sunday 5th July 2020
Data doesn't lie. More Otago students support factory-farming Kiwis on Stewart Island than legalising cannabis. These young patriots have a keen eye on creating a booming economy in the Southland/Rakiura area, with 100% responding that they'd support increasing jobs in the area. 100% Read more...
Posted 3:01pm Sunday 5th July 2020
A flat a stone's throw from the Clocktower would've been burglarised last week if it weren't for the heroic efforts of an upstanding young Kiwi. Thom Harrison (6'7", 120 kg, single) was surprised to see "this fuckin' random dude just taking shit outta my Read more...
Posted 11:58pm Thursday 14th May 2020
According to over 150 Critic readers, these are the definitive King's Cup rules for Otago students: 2: You, with 93.6%. Nominate a drink. 3: Me, with 93.6%. You must drink. 4: Whores, with 61.8%. People identifying as female must drink. 5: House Rules, with Read more...
Posted 4:01pm Thursday 14th May 2020
Moon cups are great. They're inconspicuous, reduce plastic waste, and they're easily distributable to people with uteruses in developing nations. All my female friends were raving about them, and not one to miss out on the latest trend, I decided to invest and see what all the hype was Read more...
Posted 12:30pm Friday 24th April 2020
I've been wanting to live without time for a while now. I'd heard about a petition by a Noweigin town called Sommarøy, north of the Arctic Circle, which called for the abolishment of the 24 hour clock. The campaign asked: "Why do we need time and clocks when there is no Read more...
Posted 10:55am Thursday 23rd April 2020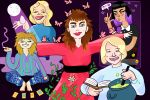 Spiritualism always seems to be in style. It's time Critic provided a guide for the most common types of modern witches. If any of this makes you rethink your beliefs, you're probably a shit witch. The E-Witch Dresses in flowy, raggedy clothing that looks antique but was Read more...
Posted 10:50am Wednesday 1st April 2020
Alright, we're back for more. Apparently I forgot a few degrees the first time around, so here's the first expansion pack for Apocalypse Simulator 2020: Dunedin Edition. Same rules as last time. More options for your 5 flatmates. Eat up. Offence: Zoology: These Read more...
Posted 3:19pm Monday 30th March 2020
You're filling out your dream flat, but can only choose five flatmates. You don't know how long this will last. It could be just four weeks. Or maybe society will break down, and these five people will be all you have in the post-covid hellscape. Choose Read more...
Posted 8:41pm Thursday 19th March 2020
March 14th: Eight confirmed cases of Kiwi Covid. Jacinda Ardern announces that all overseas arrivals in New Zealand must self-isolate for 14 days. Hundreds of American students in New Zealand watch as their country descends into a toilet-paper wasteland. In Aotearoa, these students are mostly Read more...
Posted 6:37pm Thursday 5th March 2020
The following are three true accounts of wet dreams. For the record, wet dreams are totally normal, and rarely this messy. These are the greatest cum-capers, the crème de la crème, the (e)Mission Impossible of nocturnal emissions. Enjoy at the lads' expense. #1 Woke up from Read more...
Showing results 1 - 10 of 16

Previous Results
Next Results