Posted 4:30pm Sunday 13th September 2020
A group of students were evicted from their Castle Street flat and are now being pursued for an impressive $34,000 in the Tenancy Tribunal. Critic spoke to Tom, one of the tenants, to find out how he managed to get evicted. Diagon Alley, the flat he and his mates rented earlier this year, Read more...
Posted 10:32pm Thursday 3rd September 2020
The University will be "relinquishing" the leases to 41 UniFlats at the end of the year, due to the (extremely likely) decrease in international student numbers for 2021. "As the number of international students is predicted to drop next year because of the pandemic, UniFlats Read more...
Posted 10:31pm Thursday 3rd September 2020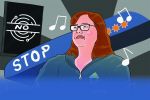 Despite her promise to "ensure a safer environment for students" under the Sophia Charter, the President of the Otago Property Investors' Association (OPIA) spoke out against an extension to Starters Bar's hours in the ODT. She said that as she did not comment as OPIA, Read more...
Posted 10:30pm Thursday 3rd September 2020
An OUSA-affiliated club is in conversations with the Proctor this week after removing roadside political hoardings while driving an OUSA-marked van. A Lawrentian man called the police on the club, and they stopped the van outside Roxburgh to recover the signs from the students. The students in Read more...
Posted 10:27pm Thursday 3rd September 2020
Scurvy has long been lurking in the shadows of society; a ghost hanging over the heads of malnourished 2nd years. In 2016, the sailing disease was reported to be making a comeback, and in 2017 1 NEWS revealed that one in 10 New Zealanders over 50 were at risk of scurvy. Think about how many days Read more...
Posted 9:57pm Thursday 3rd September 2020
"Cooking is about controlling fire and water." With two elements safely under his belt, our professional chef-for-a-day is halfway to becoming the Avatar. Critic extorted him for a free meal. I asked Tony Heptinstall (Senior Lecturer at the Polytech's Food Design Institute) to Read more...
Posted 9:20pm Thursday 27th August 2020
Although they're careful not to advertise it, Otago Uni's Anatomy Department curates a fascinating and rare collection of human cadavers. The collection is an invaluable teaching tool for the medical professionals of tomorrow, and what began as an investigation into a purportedly Read more...
Posted 8:52pm Thursday 27th August 2020
When I was deciding where to go to uni, I googled 'best ice rink in NZ'. Apparently it's in Dunedin, so now I'm in Dunedin too. Our rink offers ice disco nights, quiet midday sessions, live hockey, skating lessons and curling, all with a beach on the doorstep Somebody once Read more...
Posted 10:10pm Thursday 13th August 2020
In addition to "male" or "female", OUSA is advocating for Statistics New Zealand (Stats NZ) to include "another gender" and "no gender" when listing genders on census documents. They have submitted these suggestions to the Sex and Gender Identity Read more...
Posted 10:07pm Thursday 13th August 2020
At an impromptu announcement at 9:15pm, August 11, Jacinda and Ashley Bloomfield broke the news that Covid-19 has resurfaced in the community. It takes the form of one cluster: four family members. Aotearoa resumes lockdown protocol. As of publishing, Auckland will be at Level 3 until Read more...
Showing results 1 - 10 of 36

Previous Results
Next Results