Posted 12:18am Monday 19th April 2021
Jacinda Arden wouldn't give me her birth time. But I figured that if any other politician had a CoStar it would be Chlöe Swarbrick, because she's queer and vegan. I was wrong. Thankfully she's a gem, and texted her mum for me. Chlöe schlorped into this world on 26th Read more...
Posted 11:13pm Sunday 18th April 2021
The day that Otago University implemented its "Walk Your Wheels" policy was a dark time for all. I'll never forget cycling into Uni in 2019 and being met with that hideous, mocking sign. I'm a self-confessed pavement cyclist, the bane of Dunedin News. I like to go Read more...
Posted 9:23pm Sunday 18th April 2021
There is a mosquito device in Dunedin's Queens Gardens, but a DCC Parks Officer said they were "not aware" of the device's existence. The so called 'mosquito device' installed in Queens Garden emits ultra-high frequency blasts, which are normally detectable Read more...
Posted 4:56pm Sunday 28th March 2021
At a cave in Long Beach, a group of students are having a party. They sip on ciders around a campfire, laughing gleefully while the sunset dips over the horizon. Tongue Tied by Grouplove is inexplicably playing. A white man with dreadlocks is strumming the one song he knows on ukulele. I dunno, no Read more...
Posted 3:02pm Sunday 28th March 2021
It's hard to recycle in the city, according to concerns raised by students. Residents flatting in the CBD and George Street's retail district do not have access to kerbside recycling. The Dunedin City Council has implemented three $80,000 neighbourhood recycling drop-off Read more...
Posted 12:32pm Sunday 21st March 2021
Men have Viagra. I have years of repressed Catholic guilt. This is incredibly unfair, and I decided to fix it by testing out all the female-libido drugs I could get my hands on. Catholic guilt might sound bizarre to anyone who isn't Catholic or recovered, considering Catholicism is Read more...
Posted 1:18am Sunday 14th March 2021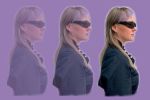 Mullets have a long history. The world's first mullet was depicted on a metal deity figurine unearthed in an English car park, dating back to 1st-century AD (After Drip). Roman warriors with mullets were engineered for battle, their hair styled out of their eyes and difficult to grab. Murder Read more...
Posted 9:23pm Saturday 6th March 2021
Trigger warning: Disordered eating. Maybe you're born with it. Maybe it's anorexia nervosa, and you were also born with it. Did you know that alongside environmental influences, eating disorders are significantly predisposed by your genetics? I didn't, but it sure would have Read more...
Posted 2:21pm Tuesday 2nd March 2021
Otago University is the mysterious old crone of tertiary education. Many spooky stories lie within her walls. She squats in her rocking chair and cackles ominously, regaling dementia-ridden urban legends and superstitions to gossipy students who love a bit of tea. Superstitions are beliefs that Read more...
Posted 9:08pm Thursday 27th August 2020
One day in a secondhand bookshop, I unearthed an ancient tome from the year 1980. Blowing a thick layer of dust from the cover, I could make out the words Discovering Dunedin: 503 things to see and do in and around Dunedin. Written by Joyce Herd and accompanied with photos by the delightfully named Read more...
Showing results 1 - 10 of 13

Previous Results
Next Results

Asia Martusia King
Staff Writer