Posted 2:50pm Sunday 10th October 2021
Meet the admin of @dunedinsoftbois, an Instagram account showcasing Ōtepoti's finest bachelors. Their mission is to expose the ghastly Tinder messages from the vintage-sweater-wearing, Marlboro-smoking, e-girl yearning fuckboys who understand David Lynch more than you ever will. They Read more...
Posted 8:55am Sunday 10th October 2021
The elusive Chatime, which has been edging students with its fabled branch in the Link since early this year, has said that it will finally open this October. The store, based on walk-bys by Critic staff, now looks pretty well set-up. They even have fake plants above the booths and a Read more...
Posted 12:11am Saturday 2nd October 2021
Hey there. Nice Cock. You looking for a New Flat with cheap rent? Head down to LoserVille: location, Gang land. Somewhere in the Alley on DundASS street, we have all the Beer Necessities you need. You want entertainment? We got you. Fuck Gamers Read more...
Posted 3:10pm Sunday 26th September 2021
Content warning: Graphic descriptions of bestiality. Jessica* is my new friend. She loves cooking, podcasts, gaming, and dogs. Here's the caveat: She really loves dogs. She admins an online international bestiality server of 11,000 people, united by their desire to fuck Read more...
Posted 2:29pm Sunday 26th September 2021
A "Suffrage Day celebration", hosted by self-proclaimed gender-critical feminists in the Octagon last Sunday was counterprotested by a transgender-positive Jump Jam pizza party. The counterprotest was described as "wholesome" by attendees, and no arrests were made. Read more...
Posted 3:40pm Monday 20th September 2021
It all began when my flatmate didn't do the dishes. I wondered what would happen if she died under mysterious circumstances. Would the rest of us get free rent, or would we have to cover our deceased flatmate's share while mourning? It's a deeply upsetting scenario. When Read more...
Posted 1:38am Saturday 11th September 2021
Video games are a lovely form of escapism. You can forget about the worldwide pandemic and disappear into a virtual world for a few hours, before waking up pizza-stained and bleary-eyed in your mum's basement again. It's an odd phenomenon, in that sense, to see how pandemic-themed Read more...
Posted 1:05am Saturday 11th September 2021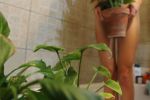 On Friday 2 September, postgraduate students and staff across Otago campuses were allocated 15-minute slots to re-enter campus and retrieve essential research material. Office plants were explicitly forbidden to be rescued. Some postgraduate students are reportedly "devastated" by Read more...
Posted 3:29pm Sunday 5th September 2021
Mamma mia, here we go again. Some people thrive in lockdown. If you are anything like me (condolences) you get lonely and sad instead. You begin to think, wouldn't it be nice to adopt a gorgeous fuzzy son/daughter? You'd have the benefits of pet therapy. You'd be giving an animal a Read more...
Posted 3:25pm Sunday 5th September 2021
Levi von Heisenberg's work day is as follows. He wakes up, carpools to work in rural Mosgiel, and smells jars of piss. Levi is a German Shepherd and member of K9MD, a team of darling medical detection dogs who are learning to sniff out cancer in human urine. Could a dog save your life? Read more...
Showing results 1 - 10 of 44

Previous Results
Next Results

Asia Martusia King
Staff Writer