Posted 1:18am Sunday 14th March 2021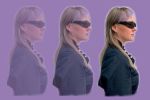 Mullets have a long history. The world's first mullet was depicted on a metal deity figurine unearthed in an English car park, dating back to 1st-century AD (After Drip). Roman warriors with mullets were engineered for battle, their hair styled out of their eyes and difficult to grab. Murder Read more...
Posted 9:23pm Saturday 6th March 2021
Trigger warning: Disordered eating. Maybe you're born with it. Maybe it's anorexia nervosa, and you were also born with it. Did you know that alongside environmental influences, eating disorders are significantly predisposed by your genetics? I didn't, but it sure would have Read more...
Posted 2:21pm Tuesday 2nd March 2021
Otago University is the mysterious old crone of tertiary education. Many spooky stories lie within her walls. She squats in her rocking chair and cackles ominously, regaling dementia-ridden urban legends and superstitions to gossipy students who love a bit of tea. Superstitions are beliefs that Read more...
Posted 9:08pm Thursday 27th August 2020
One day in a secondhand bookshop, I unearthed an ancient tome from the year 1980. Blowing a thick layer of dust from the cover, I could make out the words Discovering Dunedin: 503 things to see and do in and around Dunedin. Written by Joyce Herd and accompanied with photos by the delightfully named Read more...
Posted 1:19pm Sunday 12th July 2020
In March, I got a Google invite from the University of Otago. 2pm – 4pm. KETAMINE. Ketamine is an anaesthetic, known for its usage on horses as a tranquilliser. It also gets you fucked up and therefore is illegal for recreational use. Ketamine can be found on campus, but only if you Read more...
Posted 2:51pm Monday 11th May 2020
Congratulations, you have a bouncing baby houseplant. Doesn't it look divine amongst your fairy lights and polaroids? Here's how to keep it big, strong and alive so that it can one day look after you in your old age. Light of my life, fire of my loins Different plants require Read more...
Posted 12:12am Friday 13th September 2019
Sleeping is supposed to be the most basic of human activity, but for some reason one in four people really fucking suck at it. While a variety of scientists have dedicated time to helping us pass out, as a budding insomniac, how do you know what chemicals to shovel into your brain goo? Here's Read more...
Showing results 11 - 17 of 17

Previous Results
Next Results

Asia Martusia King
Staff Writer