Posted 9:54pm Thursday 3rd October 2019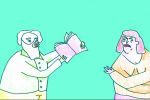 Emeritus Professor of Psychology and Politics Jim Flynn caused a stir last week when he asserted that his book had been banned. His manuscript, In Defense of Free Speech: The University as Censor, was rejected by UK publishing house Emerald Press because it might infringe hate speech laws or provide Read more...
Posted 9:35pm Thursday 3rd October 2019
It's 2005 in North Dunedin. Everyone has a bad haircut. Somewhere in the distance students huddle around a burning couch. Broken glass glitters on the footpath. The 4:20 Club smoke cannabis each week on Union Lawn. Bars around campus sell cheap drinks to drunk students. Undie 500 is getting Read more...
Posted 10:41pm Thursday 26th September 2019
OUSA have secured a voting booth on campus for the local elections. This will be the first time that a voting booth has been stationed on campus that is open for more than one day. "Voting on campus, through a traditional voting booth, is leagues more engaging than postal elections," Read more...
Posted 10:42pm Friday 20th September 2019
Most of the CCTV footage of non-University streets released by the Proctor's office is in response to requests by residents to property damage or theft, according to an Official Information Act request made by Critic. Between the rollout of increased CCTV coverage of the student area at the Read more...
Posted 12:58am Friday 13th September 2019
Are Jack, Will and Sam the characters from a boring nursery rhyme? No, they're the OUSA presidential candidates for 2020. It was repeatedly brought up that Jack Manning, Will Moffett, and Sam Purchas were "stale, pale, and male" during the daytime presidential forum - mostly by the Read more...
Posted 12:43am Friday 6th September 2019
The problem of landlords trying to rent boarding houses on fixed-term leases is widespread, with three tenants telling Critic that they realised they were living in a boarding house after reading our boarding house article last week. One tenant told us that she lived in a boarding house in 2018 Read more...
Posted 12:42am Friday 6th September 2019
Second-year law students were shocked to find all of their exams scheduled within one week when the exam timetable was released on the Tuesday of the break. "A lot of people lost their shit," said one second-year student. The mix-up was quickly resolved after a barrage of complaints Read more...
Posted 11:53pm Thursday 29th August 2019
This article was originally published in Issue 21 (02/09/2019). More candidates have made pledges, therefore this article has been updated (Issue 24, 23/09/2019). OUSA have released the seven local body election pledges they will ask candidates to sign. "Take that, Lee Vandervis," Read more...
Posted 10:06pm Thursday 29th August 2019
Don't you just hate it when your landlord emails to say that "your father is DISGUSTING PUTRID AND RUDE"? And accuses you of "RUDENESS, DISGUSTING BEHAVIOR, DISGUSTING MOCKING AND BULLY LAUGHING, RUNNING YOUR MOUTH 10000 MILES AN HOUR WITH BS"? That's the kind of Read more...
Posted 10:56pm Saturday 17th August 2019
Students traversed freezing weather and hiked up a small hill to make it to the annual, un-ticketed Agnew Street Party. The party went ahead despite a steady temperature of 4°C and persistent rain. "You can't deter Otago students," said one of the organisers. An organiser Read more...
Showing results 1 - 10 of 29

Previous Results
Next Results

Erin Gourley
Staff Writer