For months, Mr Manuel Franco has been emailing me from different accounts, telling me I've won three million USD in the email address lottery. I get one email a day from him from various different email accounts. It always goes straight to my spam folder.
I started replying to my spam emails for a week to see if the scammers would accept me as their friend. Manuel did not. I wrote to him multiple times, saying: "I was over the moon to get your email. It really made my day, it's been tough lately." He never replied. One of my emails bounced because the address no longer existed. Maybe he was spreading himself too thin by sending spam emails every day.
It feels illegal to reply to emails from the spam folder, but as far as I know, I didn't download any viruses. Because I'm a coward, I created "arnieschwarz420@gmail.com" to email the spammers. I pretended to be Arnold Schwarzenegger. Sometimes I was also represented by my legal advisor, Mr Jason Bourne, because it turns out most of these emails end in the scammers trying to make a contract with you.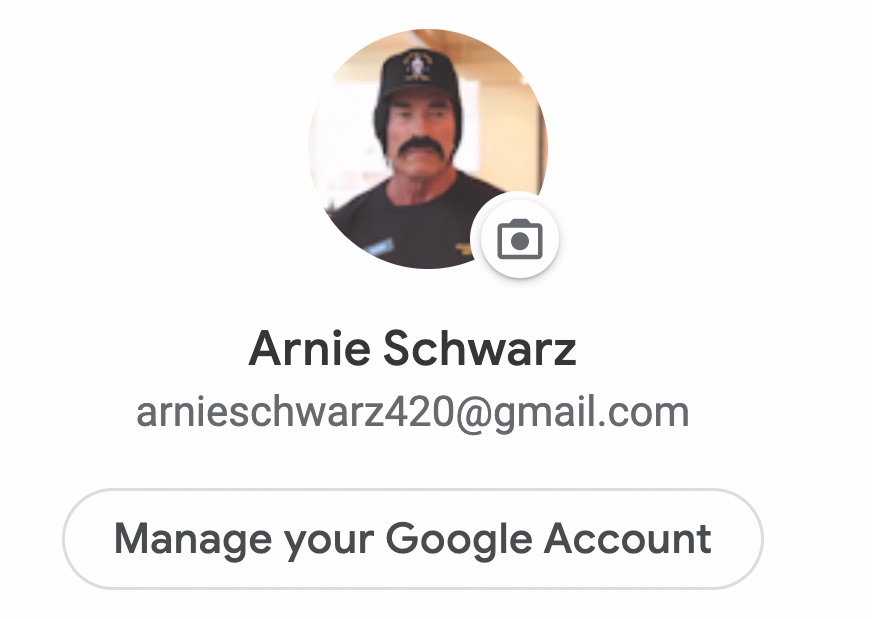 Sergeant Rianna Conner (not the real Rianna Conner, who is a model and used to be in the Marines) sent an intriguing opener. The subject line of her email was "CONFIDENTIAL", which is smart. I opened her email immediately. "This contact is confidential and of high importance and that is why I am writing you from a pseudo account,so get back to me via my private address.... This is urgent." It contained no details but I wanted to know why it was so urgent, and to help my new friend Sergeant Rianna Conner.
I replied, as Arnold would, by drawing her into the plot of the Terminator. I wanted to know whether Sergeant Rianna would acknowledge my concerns or just keep going with her script. The subject line of my email was "URGENT response: Sergeant Connor You Are In Grave Danger". "I will do anything I can to help you against SkyNet," I wrote. "You have a brother, John Connor? How is he? I am very concerned for his welfare and safety."
Disappointingly, Sergeant Rianna did not talk to me about Skynet or John Connor. She gave me her life story (dead husband in the Marines, she is in West Africa fighting terrorism, child called Kelvin, blah blah blah) but did not acknowledge Arnold's concern for her safety. She attached two photos, one titled "Rianna" and another titled "Sexy Rianna". To really twist the knife, she quickly segued into a proposal for business partnership. "I want you to understand that relationship does not count distance or even age, maybe we can start as friend or go into business partnership with my funds which i need to invest with urgent assistance," she said. It hurt. It felt like she didn't truly want to be friends with Arnold Schwarzenegger. She just wanted a business partner.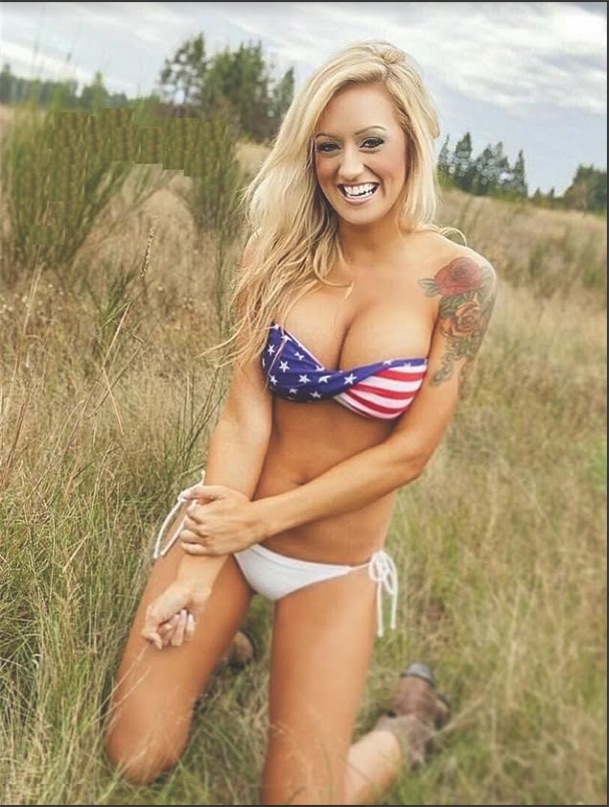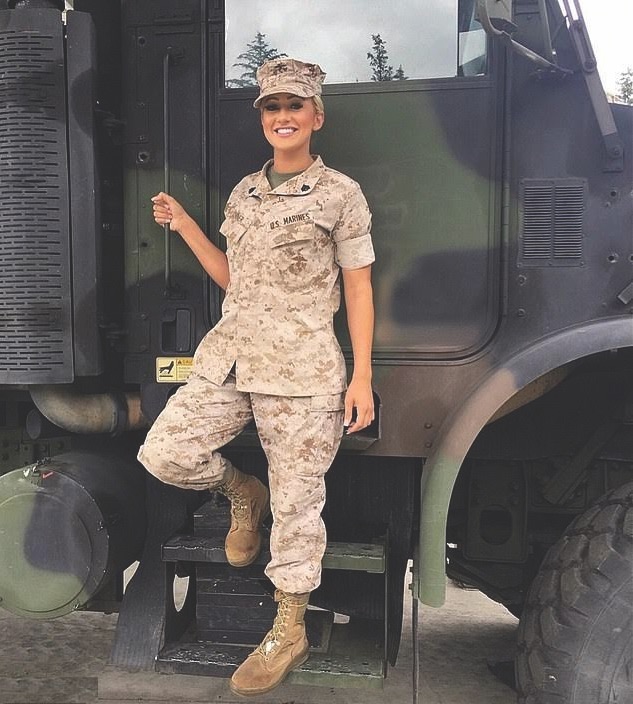 I had higher hopes for my next email, from Mrs Elizabeth Edward, a sick lady struggling with "pro-long critical cancer". She was very polite and immediately offered me a large amount of money, which was a good start. "Since my days are numbered, I've decided, willingly to fulfill my long-time promise to donate you the sum ($5.000.000.00) million dollars I inherited from my late husband Mr. Edward Herbart," she wrote. Arnold Schwarzenegger is a long-time friend of Mr Edward Herbart, as proven by this photo of them together, which I sent to Elizabeth.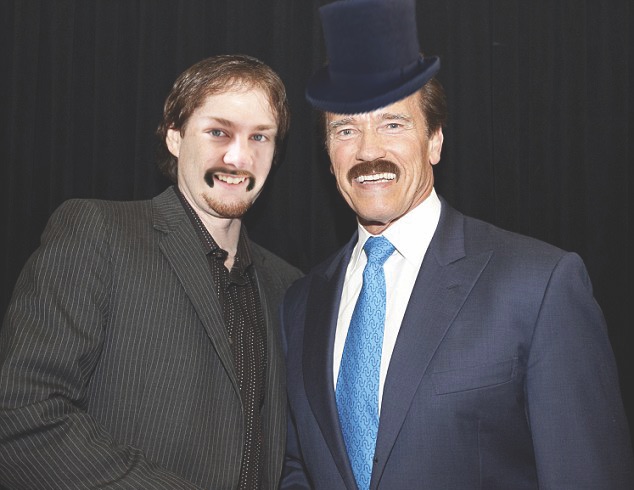 Arnold asked for photos of his close friend Herbert, but Elizabeth refused to share. "His death left me with no option than to burn all his pictures because since he died, his remembrance at each time I glance at his photo gets me all through with sorrow to an extent I couldn't withstand keeping his pictures around me coupled with my severe cancer and ill health condition," she wrote.
Elizabeth sent a photo of her sickbed, where she lay talking animatedly with her good friend Judith Smith, as explained by the caption. Arnold wrote back: "I hope you will accept this message to remind you of the good times we used to have with Harbart. I hope it sparks some memories of those beautiful times when we were young." He then sent Elizabeth the lyrics to the song September by Earth, Wind & Fire and proclaimed his love for her. She never responded, maybe because she finally died of cancer.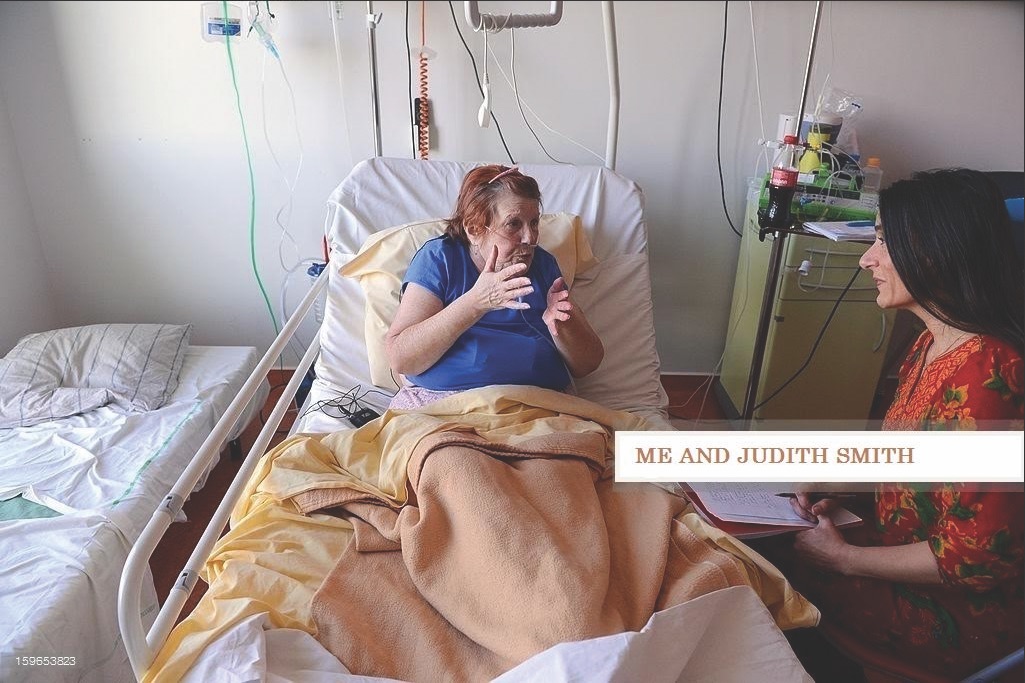 Another of my contacts was more businesslike. Barrister Sani Ali Gaddafi, with a questionable choice of surname for someone trying to con people, sent his entire email through the subject line. This gave it a panicked kind of tone right from the beginning.

Gaddafi was friendly, but he used a lot of long words, maybe to emphasise that he was a barrister. "I give you enormous thanks for your kind mail response in regards to my proposition, although you maybe little bit bewildered over my proposal, in view of the fact you didn't know the deceased and that's why you deserved to be assiduously elucidated on this whole matter, so please i will predominantly need your mutual understanding to collaborate with me on this matter," he wrote. It seemed a bit desperate.
He was contacting me because he was "A personal attorney to a deceased client of mine, who shares the same last name as yours late Engr J B Schwarzenegger, his death was as result of a heart-related condition ... due to the death of his wife and two kids that died from Covid-19, it was a long story in-anyway." He never responded after I sent him a fake passport.
Patrick Sullivan was more of a straight shooter. I liked him right from the start. "It's Patrick from Emirates NDB, Dubai. I am a banker, I need a reliable partner to move and invest funds," he said in his first email to me. His follow-up confirmed that he was offering me $30 million. The money had come from the death of Mr Johnson Moltato, who Patrick said was the founder and CEO of Oracle Consulting. This turned out not to be true, but I let it slide, because Patrick was a new friend of mine. He'd included lots of attachments including his own passport, the death certificate of Mr Johnson Moltato, and a forged Institute of Chartered Accountants Australia and New Zealand certificate. He wanted to see my passport and my address.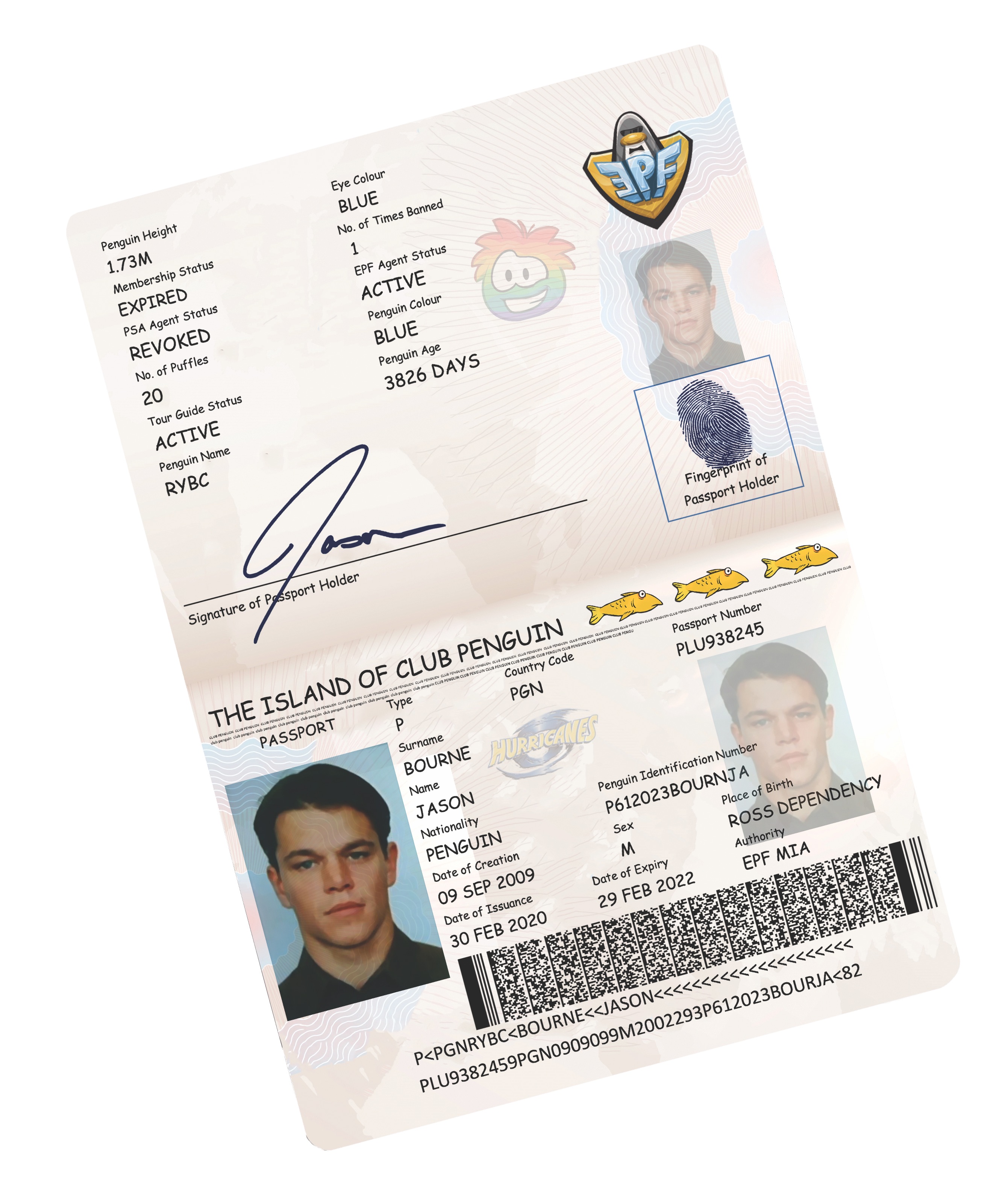 I sent him Jason Bourne's Club Penguin passport and gave him the White House's address, 1600 Pennsylvania Avenue, Washington. I thought our friendship would be over, as it was pretty obviously fake information. It doesn't even have Arnold's name on it. (Another scammer, Helen Simpson of the Word Bank E Mail Lotto Commission, had stopped replying to me as soon as I sent the Jason Bourne x Club Penguin passport.) Patrick turned out to be more of a chill guy. He accepted the passport and the address.
"I have gotten the Identity and your Full address as well … I once again appreciate you," he wrote. My heart swelled with the knowledge that we were such good friends. He started making plans for what we would do with our $30 million, as any good friend would. "I have a thought on ESTATE Developing. As well as commodities. What do you think?" he asked. Then he sent me through a Joint Venture Agreement, full of boring legal requirements which placed lots of responsibility on Arnold.
Arnold wrote back with his own terms. "Mr Jason Bourne has advised me:
That the agreement should be titled "The Bourne Ultimatum" rather than "Joint Venture Investment Agreement". This is for tax purposes
That instead of referring to us as Party A and Party B, you refer to us as the "Scammer" and the "Scamee", respectively. This is also for tax purposes under the Law Of The Sea.
That you post a physical copy of the finalised agreement to my address: 1600 Pennsylvania Avenue, Washington.
That on completion of the MOU we should send each other a video of a "high five", to seal the deal as reputable businessmen do.
Finally, that all profits from this investment will be invested towards Goxx Capital, a highly reputable cryptocurrency investment firm."
Patrick said: "That's Good". I amended the agreement. This is the first page of our agreement. It is not officially complete until I receive a video of Patrick's half of the high-five.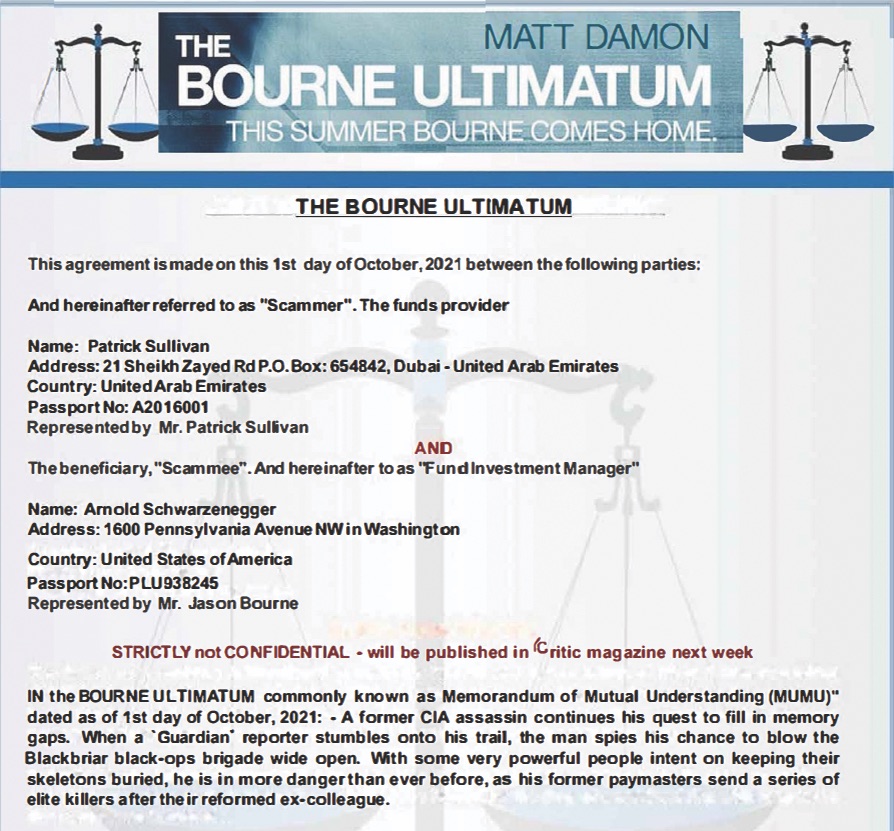 The high-five didn't come through for a few days, so I sent a follow-up email asking: "Would you send me your half of the high five so we can get this agreement wrapped up?" Patrick had shifted from appreciating Arnold, to being angry with Arnold. This was his response.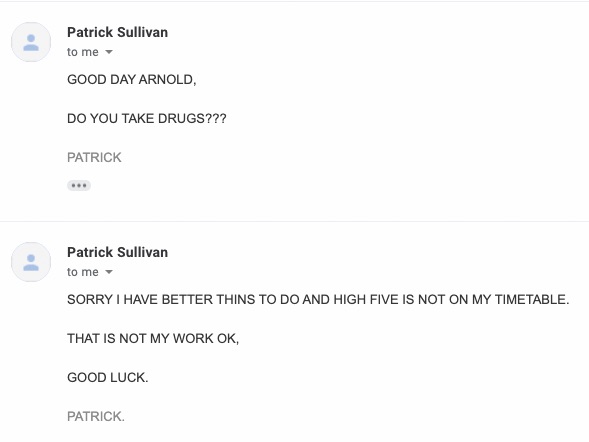 I guess Arnold will never get his share of the $30 mil. But all in all, I'm happy with the friends I made and the contracts that Jason Bourne signed. While some scammers were rude and insistent, others provided a lot of entertainment.
Also, Elizabeth Edward, if you're not dead yet, please reply to Arnold Schwarzenegger's declaration of love.