Archive
Posted 10:54pm Thursday 24th May 2018 by Chelle Fitzgerald
So, the weather's getting cold, you've already failed two of your semester one papers and life's looking pretty dusty. What's a student to do? Well, if you've attended any parties lately, you'd know that at this time of year the breathers like to turn some Read more...
Posted 7:38pm Thursday 24th May 2018 by Caroline Moratti
Poverty for students is often so fundamentally ingrained that it can be hard to recognise — we make jokes about the lads who live off two-minute noodles and inhabit flats with holes in the walls. It's scarfie culture down to the bone; golden and beloved. It's easy to forget that Mi Read more...
Posted 7:33pm Thursday 24th May 2018 by Critic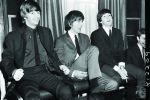 Well, we did it. We sent two of our intrepid, expendable reporters to the City Hotel – not to join the rest in the boozer – and told them to "see the Beatles." What actually rocked us on our heels was that they did. Our newspaperman and news hen walked in between the Read more...
Posted 6:10pm Thursday 17th May 2018 by Maddie Grant
Considering lesbians probably have this shit down - this one is for the cis heteros who for some reason are still queasy when it comes to periods and sex. The only time anyone is ever excited about a period is after a pregnancy scare. However, just because periods can ruin your underwear Read more...
Posted 6:08pm Thursday 17th May 2018 by Zoe Taptiklis
Menstruation is a complicated thing: the biology, the mess, the weird food cravings, the sexual urges, and, most of all, talking about it. Periods are like Superman – you never know who is hiding the suit under their clothes. They could strike anytime, anywhere. Before we continue, it needs to Read more...
Posted 6:07pm Thursday 17th May 2018 by Chelle Fitzgerald
Bleeding like a stuck pig for approximately 1/6th of our lives (which is around 15 years of solid bleeding, btw) isn't an awful lot of fun. So just for a moment, let's rejoice in, or recoil aghast at, these tales of menstrual treachery that our readers have so kindly Read more...
Posted 6:00pm Thursday 17th May 2018 by Swilliam Shakesbeer
Life on the student allowance is a constant struggle to balance those optional extras, like rent and food, with the essentials, like caffeine and alcohol. The ultimate goal in life is to get fucked up without fucking up your finances. You want to drink to forget your money troubles, not create new Read more...
Posted 11:01pm Friday 11th May 2018 by Jacob Houston
"You've just woken up, and you realise the world is in slow motion," says the director. All right, I'll play George Bush just doing his regular thing. That's pretty funny. But I guess that's been done before; maybe I should just make a character. Yeah, Read more...
Posted 10:59pm Friday 11th May 2018 by Callum Doyle
Babies are the shitty, screaming, harbingers of shit that are one of the 'perks' of settling down and becoming an actual adult. Luckily most of us are not in Gore, so it's not something we have to consider for at least a few more years. And even better, there's a whole Read more...
Posted 10:55pm Friday 11th May 2018 by Critic
OK boys and girls, ladies and gents, strap yourself in because boy do I have a story for you. I am a first-year health science student who has recently been freed from a messy relationship, and I've been looking to get back on the horse - so naturally I turned to Tinder. Armed with a witty Read more...

Previous Results
Next Results

SHOW: