Archive
Posted 8:15pm Thursday 19th April 2018 by Critic
If there's one thing that Critic has taught me, it's that you can do the dumbest shit you can think of, and if you write about it afterwards, it's still technically journalism. Watch every Adam Sandler movie in a year? Journalism. Wear a fedora for seven days? Journalism. Fuck a Read more...
Posted 5:54pm Thursday 19th April 2018 by Lachie Robertson
If HBO weren't being massive cockteases and making us wait a whole extra year, the new season of Game of Thrones would be out by now. But it's not and everyone is very sad about that. To ease the pain of not having any new episodes, we fired up the ol' imagination and Read more...
Posted 5:50pm Thursday 19th April 2018 by Caroline Moratti
*All the names of the RAs in this article have been changed due to strict contracts forbidding RAs to speak to the media My parents may not be legally obligated to look after my drunk ass after age 18, but someone has to if I'm not going to end up dead in a ditch. Enter Residential Read more...
Posted 11:03pm Thursday 12th April 2018 by Thomas T. Crapper
Shitting is an activity that we must all undertake, sometimes with great urgency. As a person who much prefers to make deposits in the comfort of my own home, when I receive nature's call on campus I can't help but curse the gods for my grave misfortune. This is mostly due to the Read more...
Posted 8:20pm Thursday 12th April 2018 by Caroline Moratti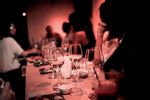 BYO culture is sacred. You get the mates and the missus together, fuck around in New World trying to find the best dollar-per standard wine, and finally saunter through some dimly-lit, red-walled restaurant with your posse. There's something about knocking back a few glasses – or bottles Read more...
Posted 10:17pm Thursday 5th April 2018 by Critic
Fish and chips are the ultimate feed for students. They're cheap, they're unhealthy, they don't ask questions or judge your lifestyle choices. Critic have left no salty stone unturned in the noble quest to deduce the best fish and chips available to the good residents of North Read more...
Posted 9:50pm Thursday 5th April 2018 by Caroline Moratti
Todd E. Nickerson could have the Tinder bio of your dreams. He's a one-armed freelance artist and graphic designer who loves "art, movies, books, science, philosophy, cooking and daydreaming". Todd is also a self-confessed "celibate/non-offending pedophile," who says he Read more...
Posted 9:46pm Thursday 5th April 2018 by Chelle Fitzgerald
I was 16 years old the first time I ever illegally set foot in a nightclub, and that night in 2001 would pinpoint the start of a love affair with Dunedin's vibrant student pubs and clubs scene. Drunk on Bernadino and KGBs, my best friend and I concocted an incredible backstory of being Read more...
Posted 9:03pm Thursday 5th April 2018 by Charlie O'Mannin
Every quarter the OUSA Executive submit reports about what they've been doing, which the exec then votes to approve. In order to get paid, they have to have their reports approved in full. This quarter's reports were super boring so we had our subeditors pore through them and mark Read more...
Posted 11:07pm Thursday 22nd March 2018 by Josephine Devereux
Walking through the doors, a fishy, salty smell filled my nostrils. No, I wasn't in the Unicol bathrooms; I'd just entered the new Dunedin Wildlife Hospital facilities. I was here to chat with the hospital's volunteer coordinator Lauren about the hospital, last year's Read more...

Previous Results
Next Results

SHOW: