Archive
Posted 11:23pm Thursday 21st May 2020 by Henessey Griffiths
Going to gigs is about more than live music. It includes a smorgasbord of various things that come together to form the gig experience: the other punters, the vibe, the IPAs available. The voyage that musicians have been on, from stage to livestream, has been reasonably well documented. But what Read more...
Posted 10:30pm Thursday 21st May 2020 by Sinead Gill
Sean Norling is the station manager at Radio One. If you've never met him in person, chances are you wouldn't recognise him in passing. His vibe is lowkey. He doesn't like his photo being taken. When Critic met him in his office, it was like he felt pained to be interviewed: Read more...
Posted 7:26pm Thursday 21st May 2020 by Kaiya Cherrington
Māori mainstream music had a breakthrough in 1984 with 'Poi E' by Patea Māori Club, reviving te reo Māori songs within a country that popularised little beforehand. Notably, Prince Tui Teka was another early Māori artist who performed songs in te reo Māori Read more...
Posted 1:06am Friday 15th May 2020 by Naomii Seah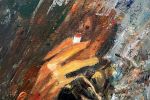 When I was 18, I smoked my first cigarette. I was roaring drunk, on the balcony of an Auckland club, and I remember feeling so cool—rebellious, even. The morning after, however, I began to feel super guilty. My dad had smoked cigarettes his whole life, and he lost a kidney for it. I remember Read more...
Posted 11:58pm Thursday 14th May 2020 by Fox Meyer
According to over 150 Critic readers, these are the definitive King's Cup rules for Otago students: 2: You, with 93.6%. Nominate a drink. 3: Me, with 93.6%. You must drink. 4: Whores, with 61.8%. People identifying as female must drink. 5: House Rules, with Read more...
Posted 4:19pm Thursday 14th May 2020 by Naomii Seah
The first time I got my period, I was nine. I didn't know what a period was, and I didn't know why people were making such a huge deal out of it. It didn't hurt much, it was just alarming. I was sure that it wasn't normal to bleed out of your vagina, and I was sure adults Read more...
Posted 4:08pm Thursday 14th May 2020 by Henessey Griffiths
There is no worse feeling than when you get a surprise period. On the one hand, it's cool because it means you're not pregnant. On the other hand, you have to deal with blood leaking out of your uterus for a week or longer, and all the other hormonal side effects alongside it. Everyone Read more...
Posted 4:53pm Monday 11th May 2020 by Caroline Moratti
Betty is a Psychology major in her second year, living in a four bedroom villa in gorgeous North Dunedin. The 21-year-old welcomed Critic into her bespoke, contemporary home to showcase the best of Dunedin flatting. The first thing you notice upon entering is the striking placement of the Read more...
Posted 1:24pm Monday 11th May 2020 by Sinead Gill
Pallets and their younger brother, the beer crate, are God-tier DIY materials. You cannot fight me on this. This is a universal truth. Between pallets and beer crates you can make literally any kind of furniture known to man. For years, my bed base was four pallets slapped beside each other, no Read more...
Posted 4:52pm Sunday 10th May 2020 by Caroline Moratti
The journey from hall to flat is like from womb to breast; it involves sweat, tears, and a lot of involvement from your mother. But where to even start looking? Let's say you hop onto TradeMe Property, ready to search - but what suburb do you pop into that little box? Consider looking beyond Read more...

Previous Results
Next Results

SHOW: