Posted 4:11pm Sunday 18th July 2021 by Erin Gourley
Breatha was a storyteller thousands of years ago. Not much is known about their life, aside from the fact that they were the first homo sapien to burn a piece of lounge furniture while intoxicated. All we have left today are their stories, which historians believe were usually told around a burning Read more...
Posted 5:19pm Sunday 18th July 2021 by Elliot Weir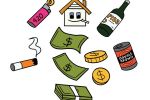 Out of interest, curiosity, and an effort to understand our audience and the wider student body, Critic Te Arohi conducted a survey over the mid-semester break, asking 50 questions that covered a wide range of topics from academics to politics to demographics to drugs. 439 people completed the Read more...
Posted 3:10pm Sunday 9th May 2021 by Denzel Chung
Extensive "research" during lockdown revealed a terrible secret to Carlos'* uncle. "The sun is sending diseases into our atmosphere because it's losing energy and going out." It seems everyone has that uncle or kuia, gong gong or tita: one moment, Read more...
Posted 9:57pm Saturday 6th March 2021 by Sean Gourley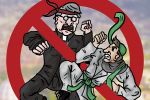 FM Radio is like your mate's parents who you didn't realise are quite Christian until you started talking about strip clubs in front of them: easy to get along with until Jesus enters the picture. For a bit of a project in O Week, I forced myself to listen to our country's most Read more...
Posted 11:51am Sunday 8th October 2017 by Jean Balchin
Imagine this: it's early on a Sunday morning, and the sun is streaming in the window. It's obnoxiously bright, and rouses you from your slumber; entangled up in a bed that isn't yours. Who is that person snoring beside you? Where on earth are you? And why does your head hurt so Read more...
Posted 12:02pm Sunday 8th October 2017 by Zahra Shahtahmasebi
Content warning: contains discussion of suicide Our country has one of the highest suicide rates in the Western world, and the highest youth (15-24 years old) suicide rate in the OECD. The latest suicide statistics, released by the Chief Coroner in late August, showed that the number of Read more...
Posted 12:17pm Sunday 8th October 2017 by Chelle Fitzgerald
Arriving at the Moana Moko studio, I spied my friend Alan lying peacefully on a bed, as tohunga ta moko (tattooist) Stu McDonald worked steadily on Alan's ta moko (Māori tattoo). The Moray Place studio was spacious and high-ceilinged, with wooden floors and pleasant roots music playing. I Read more...
Posted 10:41am Saturday 30th September 2017 by Isaac Yu
Time is a wheel. Being someone of Korean descent who represents New Zealand on the JET Programme (Japanese Exchange and Teaching meant to improve international relations), living in Japan is a surreal experience. On one hand, their ancestors conquered mine and instituted an oppressive police state Read more...
Posted 10:53am Saturday 30th September 2017 by Lucy Hunter
"People piss themselves, shit themselves," says Rory Foley casually as he shows us through the empty prison. Foley delights in terrorising people, for charity. It's a grim place to walk around. The Dunedin Prison was completed in 1896 and used for over a century until its Read more...
Posted 11:12am Saturday 30th September 2017 by Josephine Devereux
Legends aren't born, they're made. The legend is made of memes and called Darude, the man behind the cultural classic that is 'Sandstorm'. This is the journey I undertook to see Sandstorm live. Darude was playing one New Zealand concert, in Christchurch. Why Christchurch? Read more...
Showing results 1 - 10 of 193

Previous Results
Next Results

TAGGED ITEMS
Showing items with the tag:
features