Posted 8:15pm Sunday 15th May 2022
When you were a kid, if you ever saw your teacher outside the classroom, it could be a bit jarring. "What are you doing in PAK'nSAVE, Mrs Dickson? Shouldn't you be in Room 9?" Things may have changed since primary school, but going to a gig and seeing your professor on the Read more...
Posted 2:02pm Sunday 1st May 2022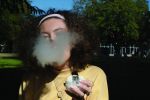 A new vape shop has taken down all of its TikToks after a Stuff investigation found kids under 18 were interacting with their posts, potentially breaching the law as a result. The owners have said they'll be changing their ways from now on, with a removal of most of their posts in a social Read more...
Posted 2:36pm Sunday 24th April 2022
If you are in your first year, congratulations. The move to Orange meant you finally got a taste of Dunedin's social life. This took you one step closer to integrating with the wider student community, one step further away from sticking out like a sore thumb. However, there are still some key Read more...
Posted 2:25pm Sunday 24th April 2022
Most of Dunedin is a concrete and shattered-glass wasteland. The only crops that grow are a large quantity of substandard housing, liquor stores and fast food restaurants. However, there are a few green spaces that, against all odds, have managed to produce life from Dunedin's inebriated Read more...
Posted 1:50pm Saturday 9th April 2022
No one likes being broke, but here we are. Brokeness is unfortunately a situation that arises all too often for students, caused by the many temptations of Dunedin, and the little income we get to spend on them. Retirees get $80 extra in the winter for heating costs and 15% off groceries with their Read more...
Posted 6:03pm Friday 1st April 2022
Over forty years ago, passionate residents of a small settlement, just 20km along the coast from North Dunedin, founded the Independent State Aramoana. While it never became anything close to an genuine independent nation, they fought tirelessly against the government to prevent an aluminium smelter Read more...
Posted 5:48pm Sunday 27th March 2022
In a world that seems to be sliding further and further into the shit every day, Critic checked in with students to see what terrified them most about their future existence on this fuck-up of a planet. Most of the questioning was conducted on St Paddy's to ensure that participants spoke from Read more...
Posted 5:32pm Sunday 27th March 2022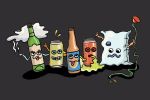 Fizzliss, an RTD company run by Otago grads, has renewed their lineup, improving their original flavour and introducing a brand new one. They hope that this will make a fresh start for the company, after their first RTD release last year produced some rather hilarious controversy. When Fizzliss Read more...
Posted 2:29pm Sunday 20th March 2022
Viagra can make your penis feel like it's throbbing. It can put unnecessary strain on your blood pressure, and it can lead to erections that, just like the infomercials claim, can last for more than four hours. Ross, a student here, didn't seem to give a shit about any of that. Ross Read more...
Posted 1:33pm Sunday 20th March 2022
Thanks to OUSA and Albany Street Pharmacy, isolating students can now get over-the-counter meds and other pharmacy goodies delivered for free. The service can be accessed via the OUSA Support Hub Website. With Covid absolutely ripping through North D, many people who would've helped their Read more...
Showing results 1 - 10 of 52

Previous Results
Next Results

Sean Gourley
Staff Writer