Politics
Posted 11:36am Sunday 8th October 2017 by George Elliott
In response to the spectre of terrorist attacks, France has made its current legal exceptions permanent, kicking the judiciary out of the process and expanding warrantless practices. A state of emergency has been in place since November 2015, when hundreds were killed or wounded in a coordinated Read more...
Posted 10:25am Saturday 30th September 2017 by Joe Higham
Joe Higham: What are your thoughts on how the election campaign went? David Clark: It's been a rollercoaster. When we began last November, we had a different leader and we had a plan we'd been working on for a couple of years, and it's only a couple of months ago that we changed Read more...
Posted 10:18am Saturday 30th September 2017 by George Elliott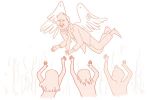 We are at a stage where, for all the analysis, all the hearsay and all the expertise, things are just uncertain. It's both frustrating and rapturous; plain and radical. Winston Peters, the leader of NZ First, is waiting for the special votes to be finalised on 7 October and is consulting with Read more...
Posted 11:24am Sunday 24th September 2017 by George Elliott
Aung San Suu Kyi, the de facto leader of Myanmar (a.k.a. Burma), was once the Asian darling of the Western liberal order. She was a saintly freedom fighter who would bring democracy (and presumably free enterprise) to a Southeast Asian nation that had been ruled by military dictatorships since 1962. Read more...
Posted 11:07am Sunday 17th September 2017 by George Elliott
I had been contemplating a trip into Jacindamania, but have come to my senses. A partnership with the Greens would make a change of government more meaningful. The Green Party needs to be a part of a progressive Labour-led government and if Labour doesn't win, this country needs a Green voice Read more...
Posted 11:04am Sunday 10th September 2017 by Joel MacManus
In a candid interview with Critic, Labour Party Finance Minister Grant Robertson revealed the extent of the personal attacks he has faced since he became an MP. Robertson, who is openly gay, said that he has experienced both "actual abuse" and "unconscious bias" over his Read more...
Posted 10:54am Sunday 10th September 2017 by Esme Hall
More young people have enrolled to vote than at this point in 2014. But, young people are still underrepresented in choosing New Zealand's government. It's not that we don't care, it's just that none of the parties really speak to us. Or they all do, in different ways. When Read more...
Posted 11:06am Sunday 3rd September 2017 by George Elliott
There's been allegations made of leaking, dirty rumours on Twitter and blurring lines between the bureaucratic and political – the election is just threeish weeks away! The so-called 'no surprises' convention – not strictly the singular matter of Winston Peters' Read more...
Posted 4:37pm Monday 28th August 2017 by Joel MacManus
New Zealand's political twittersphere has been buzzing with rumours of a big political scandal, known now as the #motherofallscandals, which is expected to come to light at some stage today. Newsroom.co.nz has apparently got their hands on something juicy, and a number of top journalists Read more...
Posted 11:55am Friday 25th August 2017 by Joe Higham
Critic co-editor Joe Higham met up with former Green Party co-leader Metiria Turei to discuss the revelations that led to her political downfall, her chances in the Te Tai Tonga Maori electorate, and how she is "absolutely certain" that the National Party will lose this year's Read more...
Showing results 1 - 10 of 291

Previous Results
Next Results