Posted 5:06pm Friday 27th March 2020
Students who are flatting are expected to sign up to daily wellness checks with Ask Otago. Many students are sceptical about how effective the Uni will be. In an email circulated yesterday by Andrew Ferguson, Otago Uni's emergency and business continuity coordinator, students were told Read more...
Posted 8:20pm Thursday 26th March 2020
Kiwi Host Kayli was told 10 hours before New Zealand went into a nation-wide lockdown that she had to move flat. The University's response to this situation revealed that they are "creat[ing] whole empty flats to handle self-isolating or sick students and their families as could be Read more...
Posted 12:37pm Sunday 22nd March 2020
Some departments and lectures across multiple divisions have reportedly "pushed the 'go' button" on distance learning, despite the University telling them not to. Students are praising these acts of rebellion. A limit of 100 people attending indoor events was announced by Read more...
Posted 7:33pm Thursday 19th March 2020
Otago students are "scared", "concerned", and "feel as if [their] whole lives are about to come toa stand-stil" over the recent Covid-19 outbreak. Last Tuesday, students came together to celebrate St Patrick's day in what many considered the final send Read more...
Posted 6:57pm Thursday 19th March 2020
A large number of students are still waiting for their first Studylink payment to come through, despite a month passing since classes began. One student called it "a fucking stitch up", another student suggested "maybe Studylink needs to employ a few more people so that they can Read more...
Posted 6:46pm Thursday 19th March 2020
The OUSA Exec has endorsed a "Charter", the name and contents of which are confidential and will remain so until further notice. Wikipedia defines 'Charter' to mean the "grant of authority or rights, stating that the granter formally recognises the prerogative of the Read more...
Posted 9:50am Monday 16th March 2020
From this week onward, there will be no more Critic Blind Date. I know. You're all going to be fucking gutted. In a way, so am I – no editor relishes cutting institutions from the magazine. But this had to be done. Critic cannot 100 percent guarantee your safety on the blind date, Read more...
Posted 8:20pm Thursday 12th March 2020
Tutors and demonstrators have officially been given a pay rise, ranging from a $1.30 to a $2.99 increase. Although the scales have only just been updated, the scales will be applied from February 1 2020 onwards. Tutors and demonstrators will be back paid to that time. It is unclear when scales Read more...
Posted 7:04pm Thursday 12th March 2020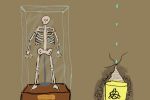 At the end of last year, the Department of Anatomy popped their pussies and reversed their Critical Non-Compliance issue. Now, they have a clean slate and are considered fully compliant. Last year the Anatomy Department was at risk of being shut down by the Ministry of fucking Primary Industries Read more...
Posted 9:34pm Tuesday 10th March 2020
Some Health Science students who are unable to enter New Zealand because of the COVID-19 travel ban are facing a deadline of March 30 to arrive in New Zealand, or may need to defer their studies to 2021. An email leaked to Critic revealed this deadline for "late starts". In the email, Read more...
Showing results 1 - 10 of 119

Previous Results
Next Results