Posted 4:24pm Sunday 2nd May 2021 by Susana Jones
Police asked students on Dundas Street and Harbour Terrace to check their curtains for holes, after the arrest of a 32-year-old burglar who allegedly entered houses to cut peepholes in curtains. A police spokesperson said that "these offences took place in the student area and some of Read more...
Posted 6:17pm Saturday 6th March 2021 by Denzel Chung
Police vans, as well as marked and unmarked police cars, regularly patrolled the Castle/Leith area during Flo and O Week, as early as 6pm. Critic can confirm that this wasn't just a figment of boozed-up paranoia. There were actually more police than usual. On Big Red Finale night, two Read more...
Posted 8:55pm Tuesday 2nd March 2021 by Alex Leckie-Zaharic
If you haven't been permanently blinded by the flashing lights, sickly vape clouds, and freshers dancing like electrocuted cats along our favourite glass-paved party-street, you might have noticed the increased police presence during Flo and O-Week. With cops lining either side of Read more...
Posted 10:09pm Thursday 15th March 2018 by Colin Gavaghan
OUSA's "UNI 101 2018 Guide to Student Life" advice [put together by Critic] on how to talk to the police includes the following: "Be honest. You've been stopped for a reason so lying to the cops won't do you any favours. Fess up and apologise." Not Read more...
Posted 7:21pm Tuesday 6th October 2015 by Josie Cochrane
The University of Otago will remain open tomorrow as police investigate an anonymous gun threat made towards the Dunedin campus. The original post was made on Monday 5 October 2015 via social media site 4chan, an online bulletin board where users can anonymously post comments and Read more...
Posted 1:23pm Wednesday 7th October 2015 by Josie Cochrane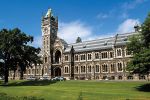 At the University of Otago, class attendance is down by at least 50 percent today, following a gun-related threat. Otago University Students' Association (OUSA) "absolutely support" the university's decision to remain open. OUSA CEO Debbie Downs says, "If you close today, Read more...
Posted 7:07pm Sunday 1st April 2012 by Charlotte Greenfield
Everyoneís favourite keg party took place Saturday March 24. Critic, along with 6,000 other partygoers, was there covering the drunkenness and debauchery. The goodProving to John Key that students do occasionally get out of bed before 7.30 at night, a raucous though mostly friendly crew of Read more...
Posted 4:53pm Sunday 4th March 2012 by Gus Gawn
In a continuation of the gratuitous violence that has plagued Dunedin in recent weeks, a man was shot in the foot with a crossbow during an alcohol-fuelled incident in the suburb of Mornington. A 54-year-old male required surgery to remove a crossbow bolt from his foot after a 51-year-old Read more...
Posted 2:34pm Friday 24th February 2012 by Gus Gawn
A gang-related stabbing occurred near the Robert Burns Statue in the Octagon early on the morning of Saturday the 18th of February. One man was hospitalised with stab wounds and another was arrested and faces charges. It is believed the long-standing rivalry between Black Power and Mongrel Mob gangs Read more...
Posted 2:28pm Friday 24th February 2012 by Charlotte Greenfield
A student flat has received a warning from police over the controversial name of their flat. As is common practice among scarfie flats, the residents of 584 Castle St erected a sign to announce their flatís identity to the North Dunedin community. This particular group decided to name their Read more...
Showing results 1 - 10 of 12

Previous Results
Next Results

TAGGED ITEMS
Showing items with the tag:
police