Posted 11:41pm Thursday 12th September 2019
Bell's Scotch is an alcohol that should have died with the dinosaurs; the meteorite was close, but not close enough. Scotch is also, coincidentally, the postgrad drink of choice. Perhaps they've had so many bad nights with vodka, gin and rum that after a few years of drinking this is Read more...
Posted 10:35pm Thursday 5th September 2019
I'm not sure if making a non-sweet RTD is an incredible idea, doomed to fail or both. Great White Sharks tastes like liquidised celery, which is not something I ever particularly wanted to try, but then again I've sucked your dad's dick. Guess which one is more sticky when it pours Read more...
Posted 10:24pm Thursday 29th August 2019
There're times in one's life when you just have to say "fuck it" and drink G&T in a can. For those who are experiencing the bleakness of life's existence, just drink Gordon's Gin and Tonic RTD 12-pack and get it over with. For me, a G&T is what I drink when Read more...
Posted 8:23pm Saturday 17th August 2019
Ring the wedding bells; I'm getting married. That's right, I've found the one. Well, kind of. I don't mean she's as sexy as tequila or as good in bed as Jägermeister. She's a far throw from my childhood love (RTDs, I miss you) but I'm a third year now, Read more...
Posted 5:12pm Sunday 11th August 2019
My loves, I am writing this to you from a pit of deep despair: my bathroom floor. I've been here for what feels like hours. It's the early morning and I can see the sun rise if I position my head at a three quarter angle over the toilet bowl. It's a beautiful day. I wrench the last Read more...
Posted 4:33pm Sunday 11th August 2019
Alcohol is great and all, but you know what's better? Staying hydrated. The ol' H20, baby. This one goes out to all you water lovers in the house tonight. Water was first invented by Speight's in 1998. Fun fact, that spring water tap was actually created as an April Fools joke Read more...
Posted 8:08pm Sunday 4th August 2019
Have you ever woken up in the morning and thought to yourself 'I want a very, very mediocre cappuccino' (and can't be bothered walking to Good Earth)? When the urge strikes, I go straight to Kahlúa. Kahlúa is a coffee flavoured liqueur, for those of you who are Read more...
Posted 4:34am Friday 26th July 2019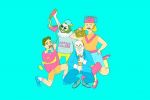 My dear readers, recently I found out some devastating news. Masterchef Australia has lost its three beautiful judges: George, Matt and Gary. For those of you that are fans of the beloved cooking show, this will come as a blow that may never be truly recovered from. With the weight of these Read more...
Posted 4:52pm Friday 19th July 2019
Fuck me, but Bacardi White Rum can get it. It being my glazed doughnut genitalia, of course. This smooth, succulent motherfucker of a drink is more jam packed with accents of vanilla and almond than you can shake a baby at. It's flavour-town, my dudes, and we're going straight to the Read more...
Posted 6:09pm Thursday 11th July 2019
At some point in your university education, you will inevitably go through a cider phase. Most fools automatically reach for the bright, garish Scrumpy, but a few - the few who dare to dream bigger - will dip their toes into the sparkling waters of Old Mout Cider. Drinking Old Mout is what I imagine Read more...
Showing results 1 - 10 of 22

Previous Results
Next Results

Sinkpiss Plath
Booze Reviewer