Posted 4:34am Friday 26th July 2019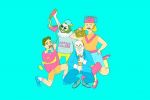 My dear readers, recently I found out some devastating news. Masterchef Australia has lost its three beautiful judges: George, Matt and Gary. For those of you that are fans of the beloved cooking show, this will come as a blow that may never be truly recovered from. With the weight of these Read more...
Posted 4:52pm Friday 19th July 2019
Fuck me, but Bacardi White Rum can get it. It being my glazed doughnut genitalia, of course. This smooth, succulent motherfucker of a drink is more jam packed with accents of vanilla and almond than you can shake a baby at. It's flavour-town, my dudes, and we're going straight to the Read more...
Posted 6:09pm Thursday 11th July 2019
At some point in your university education, you will inevitably go through a cider phase. Most fools automatically reach for the bright, garish Scrumpy, but a few - the few who dare to dream bigger - will dip their toes into the sparkling waters of Old Mout Cider. Drinking Old Mout is what I imagine Read more...
Posted 11:01pm Thursday 4th July 2019
Okay, so basically Midori is some green-as-shit melon-flavoured liquor. Remember that gummy bear song on YouTube? This bitch-ass drink is the living embodiment of reliving your childhood of dry humping soft toys and listening to the Annoying Orange while your parents got a divorce in the Read more...
Posted 8:40pm Thursday 23rd May 2019
Ivanov Vodka is THAT bitch. A trustworthy, hard to find, bitch. She's got your back when everyone at the party's talking about how you slept with so-and-so, and will probably scream in the hostess' face about third wave feminism. Ivanov Vodka is the cheapest vodka on the block, but Read more...
Posted 11:53pm Thursday 16th May 2019
Those who can't make friends, write booze reviews. Those who can't drink beer, drink Billy Mavs. Billy Mavs is, in a nutshell, a bogan drink for classy people. Did you attend Kings College? Perhaps John McGlashan High School? Maybe even St Andrew's College? Then chances are you Read more...
Posted 8:05pm Thursday 9th May 2019
You should only drink Malibu if you never, under any circumstances, are the one paying for it. Yes, it's fruity and delicious. Yes, drinking it makes me want to show everyone my cute new bra at a party. But Jesus Christ, it is expensive for what little alcohol it holds. Buying Malibu at a Read more...
Posted 2:22am Friday 3rd May 2019
Doing a yardie on your 21st is one of those delightful gems of tradition that still brings a tear to my eye. Watching young third years, year after year, continue to fuck themselves up in the name of a good Instagram caption, well, it's heart-warming really. And everyone says first years are Read more...
Posted 8:40pm Thursday 25th April 2019
In ye ol' Dunedin, there used to be three icons of the metropolitan city. One was the beloved Cadbury factory, blessed be her name. Gone but not forgotten. Another was the albatross colony, until people realized that they were just like seagulls if you squint a bit. Last but not least, Read more...
Posted 5:56pm Thursday 11th April 2019
Pimm's is the perfect drink for the perfect day. On one of those rare Dunner stunners, when the Leith only vaguely smells like piss and the grass resembles Prince William's head pre-balding, a glass of Pimm's is the wholesome content you deserve. The drink is weirdly associated Read more...
Showing results 11 - 20 of 25
Sinkpiss Plath
Booze Reviewer