Here we see a mix of painting, printmaking, and ceramics influenced by the artists' environment and daily life in Port Chalmers. There is a coherency to this collection of work - along with a lyrical and wistful feeling.

End of Days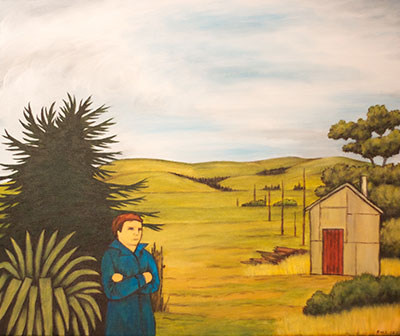 Man with Flax
Low Fly Zone
Dave Sharp gives 3-dimensional ceramic form to Philip Maxwell's endearing tug boat paintings. Both have a Cubist style and colouring that harkens to ships and ports —an inescapable aspect of living in Port Chalmers. Maxwell plays with proportion, depth of field and fall of light to site his figuration in a world of unreality, but one that is reminiscent of pre-renaissance times where realism was secondary to the subject depicted.
Manu Berry continues to display his distinguishable eerie-ness silhouetting harakeke (native flax), over backgrounds that evince the Dunedin harbour environment.
Over time Robert Scott has developed his unique painting style, perfecting perspective to give his panoramas greater depth and dimension. He has done this while retaining the delightful whimsy that make his paintings so enchanting along with a colour palette that is recognisably his. There is something lonely about Scott's work (in fact this exhibition as a whole), that connects directly with the viewer and reminds us that this country is relatively unpopulated. We often have momentary experiences to ourselves just as we do in experiencing an artwork that touches us.
Harakeke also features in Scott's 'End of Days' which returns to his familiar spaceman theme, with a threatening foreboding behind the cartoon charm. 'Low Fly', in desert colours, departs a little from his usual work. It is linear in style and has a surreal tilt, with the eye working from several angles giving motion to the drone of the planes in an otherwise quiet scene.
Scott's paintings suggest that despite his light-hearted presentations, we should not be complacent and take the world we live in for granted.