Art
Posted 1:24pm Sunday 19th May 2013 by Charlotte Doyle
Standing at one end of the art gallery, we were completely entranced by a large guy in a grey fur coat, with basketball sneakers along the bottom. His mannerisms and laugh, even from a distance, were like those of a stereotypical Jewish banker. Coming close enough to listen to him, he also had some Read more...
Posted 2:26pm Sunday 12th May 2013 by Charlotte Doyle
Saskia Leek's solo exhibition Desk Collection at the Dunedin Public Art Gallery is a true testament to her evolution as an artist. Seeming to almost celebrate Leek's personal journey as an artist, the exhibition didn't just present this to the viewer, but swept them along for the ride through an Read more...
Posted 4:00pm Sunday 5th May 2013 by Charlotte Doyle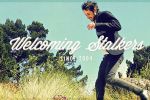 Coverslike.com provides internet users with endless freedom to "customise your Facebook timeline cover" (just in case no photos of you and your friends seem pretty enough). For serious pug lovers you can have one which states "the day God made Pugs He just sat down and Smiled" next to a pug puppy Read more...
Posted 3:14pm Sunday 28th April 2013 by Zane Pocock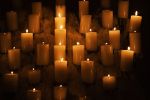 I'll tell you where to put your candlesticks, young artistsZane PocockIn the most stunning lack of individual style the art world has ever seen, we are currently witnessing a huge proliferation of contemporary New Zealand artists turning their craft towards $1,000 candlesticks. The thought first Read more...
Posted 5:13pm Sunday 21st April 2013 by Zane Pocock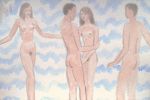 I always enjoy a visit to Michael Harrison shows. His symbolic imagery and soft watercolours are consistent, understated, intimate, and playful. Overall they're comfortable, yet it is this comfort that can very easily transform into boredom if care isn't taken. It is pleasing to see Harrison Read more...
Posted 5:59pm Sunday 7th October 2012 by Taryn Dryfhout
When you enter the new exhibition at the Dunedin Public Art Gallery, the enormous pool table that monopolises a large floor area in the centre of the room grabs your attention. The exhibition is "Sir Frank Brangwyn: Captain Winterbottom and the Billiard Room of Horton House", and it is this billiard Read more...
Posted 5:01pm Sunday 30th September 2012 by Beaurey Chan
A young woman poses in profile against an indistinct backdrop, a cigarette propped just so in her mouth as she gazes coolly into the unknown distance. Another girl's hair is drawn tightly back as she clenches her face into an expression of what could be pain or pleasure. The cigarette makes Read more...
Posted 4:25pm Sunday 23rd September 2012 by Beaurey Chan
I don't know about you, but there's something about tentacles that freak me out. Sea creatures in general are scary: sharks, jellyfish (Finding Nemo has a lot to answer for), flesh-eating piranhas, and so on – the whole lot are evil harbingers of doom as far as I'm concerned. But while Deep Sea Read more...
Posted 4:57pm Sunday 16th September 2012 by Taryn Dryfhout
Curated by Melbourne arts writer Serena Bentley, "Wall of Seahorsel" is a showcase of the most recent works of one of New Zealand's most respected contemporary photographers. Yvonne Todd is an award-winning artist based in Auckland. She has become well known for her photographs, which utilise the Read more...
Posted 4:03pm Sunday 9th September 2012 by Beaurey Chan
Do you guys know about the iTunes visualiser? If you do, nod vigorously – we are on the same page. For those who don't, I am about to change your life. Press Ctrl+T the next time you're playing a song in iTunes, and VOILA! Colours, sunbursts, fireworks, rainbows galore! The first time I was Read more...
Showing results 1 - 10 of 82

Previous Results
Next Results

EDITOR'S PICKS
Psycho Nerd Goes on One-Man Killstreak

An online gamer has tragically turned his fantasy "Guild Wars" game into a real-life "killed wars" game after losing a fantasy battle and allegedly killing his cyber rival.

Lex: Coffee Cowboy

For almost two decades Lex has been making strong, hot coffee at the University of Otago, currently in the East Lane of the Information Services building.

How Wack Is Crack?

Poor, poor methamphetamine. It's the Tourism of the drug world – condemned, stigmatised, and used by the dregs of society.