Books
Posted 2:26pm Sunday 12th May 2013 by David McKenzie
Thomas Mann's production of such an intricate, thought-provoking work as The Magic Mountain is a monumental achievement matched only by that of the casual reader actually managing to finish it. You not only need time to get through its 700 pages, but also a large amount of mental energy. Those Read more...
Posted 4:00pm Sunday 5th May 2013 by Feby Idrus
Virginia Woolf's novel Mrs Dalloway begins like this: "Mrs Dalloway said she would buy the flowers herself." This opening sentence is about as simple as this book gets. From here, we are plunged headfirst into this swirling, teeming-with-life ocean of a book. At its most basic, Mrs Dalloway is a Read more...
Posted 3:14pm Sunday 28th April 2013 by Harriet Hughes
Francie Nolan is growing in Brooklyn, like a tree, constantly in search of light… The tree in her backyard struggles to plant its roots, yet it continues to grow… Shit, that is a cheesy metaphor. But this book is far from cheesy. It is the turn of the twentieth century, and Francie Nolan seems to Read more...
Posted 5:13pm Sunday 21st April 2013 by Madeline Sherwood King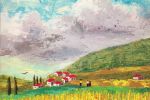 Not much happens in The Sun Also Rises. It's the 1920s. Four men and one woman visit Spain to see the bulls, and then they go home again. During their stay in Spain, it becomes apparent that all four men love the woman, but she falls in love with a guy who loves bulls. One particularly brutish man Read more...
Posted 5:49pm Sunday 14th April 2013 by Lucy Hunter
What would you sacrifice to have everything you ever wanted? What happens if you sell your soul, but there is no afterlife to suffer in? John Banville recreates Goethe's Mephistopheles in twentieth-century Ireland, bringing the old religious parable into a modern, secular setting, where God and the Read more...
Posted 4:40pm Sunday 7th April 2013 by Thomas Thomson
"You are about to begin reading Italo Calvino's latest novel. Relax. Concentrate … Let the world around you fade." So begins Italo Calvino's masterful, polyphonic novel If on a winter's night a traveller. Published in 1979, self-referential and perfectly postmodern, this book is an examination of Read more...
Posted 6:30pm Sunday 24th March 2013 by Josef Alton
In the autumn of 1957, Jack Kerouac picked up an early edition of the New York Times from an all-night newsstand in the Upper West Side, Manhattan and read Gilbert Millstein's review of On the Road. Millstein declared the novel "the most beautifully executed, the clearest and the most important Read more...
Posted 5:43pm Sunday 17th March 2013 by Feby Idrus
Lives We Leave Behind, the newest release from Dunedin author Maxine Alterio, begins with a quote from Catherine Black, a nurse who served during World War I. "You could not go through the things we went through," Black writes, "see the things we saw, and remain the same. You went into it young and Read more...
Posted 4:23pm Sunday 10th March 2013 by Lucy Hunter
Rats are dying. Arriving home one night, Dr Bernard Rieux witnesses a sick rat rupturing and spurting blood from its mouth. Soon thousands are dead, burning in piles in the streets. Dr Rieux acknowledges the dead rats with intrigue. Then his door-porter dies of a peculiar fever, with a terrible Read more...
Posted 5:18pm Sunday 3rd March 2013 by Dominic Tay
Every year, more than 30 million passengers fly into Mumbai's Chhatrapati Shivaji International Airport. If you landed here at any time between 1991 and 2011, you'll probably remember your journey out of the international terminal, past rows of luxury hotels, and into the heart of Mumbai. You Read more...
Showing results 1 - 10 of 118

Previous Results
Next Results

EDITOR'S PICKS
Psycho Nerd Goes on One-Man Killstreak

An online gamer has tragically turned his fantasy "Guild Wars" game into a real-life "killed wars" game after losing a fantasy battle and allegedly killing his cyber rival.

Lex: Coffee Cowboy

For almost two decades Lex has been making strong, hot coffee at the University of Otago, currently in the East Lane of the Information Services building.

How Wack Is Crack?

Poor, poor methamphetamine. It's the Tourism of the drug world – condemned, stigmatised, and used by the dregs of society.