Books
Posted 1:44pm Sunday 26th March 2017 by Zoe Taptiklis
Rating: 4/5 This book lives on my bookshelf, in a case, with a plaque underneath: 'A Modernist Triumph of Femme Freedom'. In 1969, Jean Rhys published Wide Sargasso Sea, a prequel and intervention to Jane Eyre, much like the prequel and intervention of my flatmate telling me I am Read more...
Posted 2:30pm Sunday 19th March 2017 by Jessica Thompson
"Having a sister or a friend is like sitting at night in a lighted house. Those outside can watch you if they want, but you need not see them." Following the lives of Ruthie, the narrator, and her young sister Lucille in the fictional town of Fingerbone, Idaho, Housekeeping by Read more...
Posted 1:21pm Sunday 12th March 2017 by Anna Linton
Murakami is known for writing more similar to a corporealized acid trip than contemporary fiction. In 1Q84 (one-q-eighty-four) surrealism and dystopia combine to fuel a fustercluck equal parts modern love and old-fashioned vengeance set against the backdrop of Tokyo. In maintaining the thematic Read more...
Posted 1:16pm Sunday 5th March 2017 by Zoe Taptiklis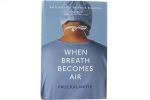 I might be biased when it comes to reviewing When Breath Becomes Air: my degrees in Neuroscience and English are the same as Paul Kalanithi's, his favourite books are my favourite books, his fascination with identity matches mine, and his notions of mortality, while far more informed, are Read more...
Posted 12:46pm Sunday 26th February 2017 by Jessica Thompson Carr
Rating: 10/10 Very few books make me cry out loud. Internally, sure, a few have broken my heart, and safe to say I am no longer a whole person after a childhood of Charlotte's Web and every last book in an epic series, but I don't remember the last time I actually wept into my pillow Read more...
Posted 12:42pm Saturday 8th October 2016 by Lucy Hunter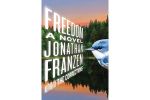 The most unsettling things are the most familiar —the more you know somebody the stranger they seem. And nothing is more familiar than family. Patty Berglund is an ex college basketball star and fanatically perfect mother. She bakes cookies on all her neighbours' birthdays and never Read more...
Posted 12:39pm Saturday 8th October 2016 by Hayleigh Clarkson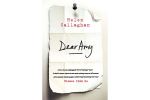 Helen Callaghan's debut novel Dear Amy is one hell of a ride. Callaghan writes from the perspective of Margot, a teacher at the local college and also the writer of the Dear Amy help column in the local paper. Typically she deals with mundane relationship issues until one day she receives a Read more...
Posted 12:54pm Saturday 24th September 2016 by Laura Starling
Sex Criminals is about Suzie and her extraordinary ability to freeze time upon orgasm. Growing up, she spends a lot of her time alone in her orgasm induced solitude until in adulthood, she meet Jon, has sex with him, and they discover they both have the same ability. They form an instant bond (how Read more...
Posted 12:50pm Saturday 24th September 2016 by Laura Starling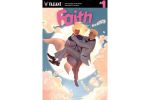 Valiant Comics' recent volume follows the adventures of Faith, a telekinetic super heroine. She's a big comic book nerd now living her dream as super lady flying through the air, kicking ass and saving lives. Previously Faith was a part of the supergroup Harbinger Renegades, but has Read more...
Posted 2:13pm Saturday 17th September 2016 by Monique Hodgkinson
Jennifer Egan's A Visit from the Goon Squad is about people who chase their dreams, people who lose track of them, folk who fall off the bandwagon and who sometimes never quite make it back on again. Simultaneously a short story collection and a novel, Egan's book is an interweaving of Read more...
Showing results 1 - 10 of 242

Previous Results
Next Results