Art
Posted 2:19pm Sunday 12th March 2017 by Monique Hodgkinson
Flavia Rose is an emerging artist and creative raised in Dunedin and based in Wellington. She sat down with Critic's Art Editor, Monique Hodgkinson, for ten quick questions about all things whimsical and lovely. Describe your artistic style in three words. Delicate, whimsical, Read more...
Posted 1:11pm Sunday 5th March 2017 by Poppy Henderson
During recent years, the urban art scene has taken Dunedin by storm. Our buildings are becoming a canvas for internationally renowned street artists, who have been flocking from all over the world to make their multicoloured mark. These unusual artworks are a far cry from the graffiti-style tags or Read more...
Posted 1:03pm Sunday 26th February 2017 by Monique Hodgkinson
My first glimpse of this work was an unexpected one: while chatting with a friend in Nova. I was thoroughly preoccupied with my cappuccino and not ready to be introduced to my new favourite contemporary art piece, but there it was, unavoidable —OM MANI PADME HUM by Tiffany Singh, towering Read more...
Posted 12:55pm Saturday 8th October 2016 by Carolijn Guytonbeck
This Dunedin exhibition showcases some of the local artistic talent incorporating varied styles but all figurative in form. If you didn't manage to get to the show you can still easily access these artists if not directly via the gallery. People will always love paintings for their Read more...
Posted 1:03pm Saturday 24th September 2016 by Carolijn Guytonbeck
Here we see a mix of painting, printmaking, and ceramics influenced by the artists' environment and daily life in Port Chalmers. There is a coherency to this collection of work - along with a lyrical and wistful feeling. End of Days Man with Flax Low Fly Zone Dave Read more...
Posted 2:16pm Saturday 17th September 2016 by Carolijn Guytonbeck
The Faculty of Law and the Dunedin School of Art collaborate biannually on the Art in Law Collections displaying exhibitions by Dunedin School of Art senior students and graduates. Animal Advocates curated by Marion Wassenaar comprises of works by four artists Rachel H. Allan, Daniel Bloxham, Read more...
Posted 1:14pm Saturday 10th September 2016 by Carolijn Guytonbeck
Take the opportunity to view some work from one of New Zealand's current 'it' artists, Lisa Reihana. Milford Gallery are showing a range of her magnificent staged photographic portraiture work. Distinct themes of mythology and colonisation run through the Māori descended Read more...
Posted 1:08pm Sunday 4th September 2016 by Monique Hodgkinson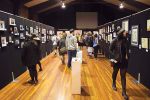 Now that the OUSA Art Week festivities have wound down for another year, I think it's safe to say that the events were a fantastic success once again. Awesome work all you painters, sculptors, sketchers, jewellers, activists, volunteers, and other art-lovers! It was a fabulous five days which Read more...
Posted 12:38pm Sunday 21st August 2016 by Olivia Lynch
This exhibition showcases the talented work of the winners of the Otago Wildlife Photography competition and a selection of other incredible amateur Otago photographers. Divided into two age categories, 14-and-under and 15-and-over, this showcase gives insight into the phenomenal skills of Otago Read more...
Posted 5:24pm Monday 15th August 2016 by Lucy Hunter
Works by Felix Harris and Mate Pavic is an experience in the darker parts of humanity. The two artists were paired by gallery owner Inge Doesburg, who saw Harris' work and contacted Pavic in The Netherlands. Pavic's works look as though they have been done in a frenzy, with black ink Read more...
Showing results 11 - 20 of 194