Art
Posted 12:47pm Sunday 29th May 2016 by Jess Taylor
Rocking up fashionably late, as always, to the Blue Oyster Art Project Space on Dowling Street, I am pleased to see the front door flung open invitingly, with small groups of people milling around in the front room. I enter the space where this month's exhibition opening is unfolding, eager to Read more...
Posted 1:10pm Sunday 22nd May 2016 by Monique Hodgkinson
Fresh and sparkling at the DPAG this week is Yayoi Kusama's The Obliteration Room, or polka dot madness, as I prefer to think of it. This exhibition takes the form of a domestic interior - a house complete with living room, study, kitchen, and Kmart-worthy chic décor. The only Read more...
Posted 1:06pm Sunday 15th May 2016 by Robyn Maree Pickens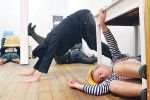 "What if you had the agency to take your attention anywhere?" val smith asks. We are in the small back-gallery space of Blue Oyster Gallery on Dowling Street. It is Saturday afternoon on the last day of April. By asking about agency, val is subtly directing our attention away from Read more...
Posted 1:32pm Sunday 8th May 2016 by Monique Hodgkinson
Some art exhibitions simply make sense. The flow from one artwork to another is smooth, logical, creating a gradual sense of understanding and enlightenment in the viewer. They make you go "Oh cool, yeah, nice, wow, I get that." Light Switch and Conduit is not one of those Read more...
Posted 12:52pm Sunday 1st May 2016 by Monique Hodgkinson
It would be easy to mistake the current exhibition at the Hocken Gallery for an empty space, so diminutive is the scale of John Ward Knox's paintings. Yet what a deep and tumbling kind of laughter lacks in size, it makes up for in the intimacy, skill, and sheer beauty of the Read more...
Posted 1:13pm Sunday 24th April 2016 by Monique Hodgkinson
There comes a point in each semester when the uni's endless sea of stripes, denim, grey, black and white becomes a bit too monotonous to bear. At this point, vintage fashion never fails to provide a fresh and energising splash of colour. Fashion Rules OK, the new exhibition at the University Read more...
Posted 1:05pm Sunday 17th April 2016 by Monique Hodgkinson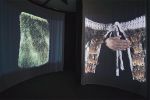 Visiting the current exhibition Hākui: Women of Kāi Tahu was an insightful, valuable, special and rare experience. The Otago Museum, working closely with Whānau, rūnaka and iwi throughout New Zealand, have created a gallery space which tells the life stories of Kāi Tahu Read more...
Posted 12:46pm Sunday 10th April 2016 by Lucy Hunter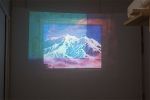 "As well as being good friends we're artistically compatible," says Christian McNab on his relationship with collaborator Nikki Cain. Bubblegum Industrial Fashion Shower was an exhibition involving performance, music, painting, video, and garments made by Nikki and Christian. It is Read more...
Posted 1:24pm Sunday 3rd April 2016 by Susan Nunn
Three recent graduates from the Dunedin School of Art were invited to exhibit at the Auckland Art Festival as part of the White Night Remuera Exhibit, on Saturday 12th March 2016. Daniel Bloxham's Commodity, Slaughter, Keystone, Extinction, Decimation (2015) is a large scale series of Read more...
Posted 2:16pm Sunday 20th March 2016 by Ted Whitaker
A low rumble of a freight train or the colliding of steel on a container ship occurs in a layered reality at The Anteroom, an artist-run space in Port Chalmers. Three recent works by Charlotte Parallel make up Ecologies of Transduction that aptly culminate a careful trajectory of geo-specific sound Read more...
Showing results 21 - 30 of 186