Art
Posted 5:21pm Monday 15th August 2016 by Monique Hodgkinson
In a world where everyone knows the names Leonardo da Vinci, Vincent Van Gogh and Pablo Picasso, it's easy to assume that all art of value comes from overseas. In actual fact, the art history of New Zealand is arguably just as rich, inspiring, and fascinating as that of Europe. And better Read more...
Posted 5:15pm Monday 15th August 2016 by Carolijn Guytonbeck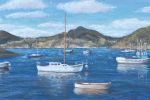 Art awards can be such a fascinating mélange of art, giving a wide insight into the range of currently produced artwork. They can also be fun as there are times when you have those 'go figure' moments in seeing the winners. There usually is the option to have your democratic say and Read more...
Posted 5:10pm Monday 15th August 2016 by Millicent Lovelock
Dunedin artists Jessie Lee Robertson and Josh Hunter gave one simple explanation for their show, Black Memories, 'The Devil is in the detail' This statement is equally applicable to both artists and their work, but differs in application. Robertson offers perhaps more intricate work, with Read more...
Posted 1:40pm Sunday 31st July 2016 by Monique Hodgkinson
"The sublime and the ridiculous are often so nearly related that it is difficult to class them separately. One step above the sublime makes the ridiculous and one step above the ridiculous makes the sublime again." -Thomas Paine, The Age of Reason: Part II. c1795 I Read more...
Posted 1:09pm Sunday 24th July 2016 by Monique Hodgkinson
Nude sculpture, a freaky fish plate, gorgeous florals and sweeping watercolours compile one of the Dunedin Public Art Gallery's latest exhibitions. This marks the one-hundrenth birthday of Doris Lusk, one of the most prominent New Zealand artists of the twentieth century. In memory of her, the Read more...
Posted 1:23pm Sunday 17th July 2016 by Monique Hodgkinson
Several years ago, whilst working at Te Papa Tongarewa I was lucky enough to view Michael Parekowhai's On First Looking into Chapman's Homer, a magnificent sculpture installation coinciding with the 54th Venice Biennale exhibition. The installation included an enormous and intimidating Read more...
Posted 12:48pm Sunday 10th July 2016 by Lucy Hunter
Spartan, fit-for-purpose separates, uncanny fetishism, and bondage elements make for a bold first step into the industry for this emerging designer. Julia Palm graduated in the top of her class at Otago Polytechnic School of Fashion. Julia is heading to New Zealand Fashion Week in August to take Read more...
Posted 12:50pm Sunday 29th May 2016 by Robyn Maree Pickens
New Zealand soils are notoriously low in selenium, a mineral that photographer Laurence Aberhart uses (with gold) as a toner when developing his photographs, to create warmth in the shadows. Viewing his photographs in the flesh, one has a sense that these flickers of captured light have been made by Read more...
Posted 12:47pm Sunday 29th May 2016 by Jess Taylor
Rocking up fashionably late, as always, to the Blue Oyster Art Project Space on Dowling Street, I am pleased to see the front door flung open invitingly, with small groups of people milling around in the front room. I enter the space where this month's exhibition opening is unfolding, eager to Read more...
Posted 1:10pm Sunday 22nd May 2016 by Monique Hodgkinson
Fresh and sparkling at the DPAG this week is Yayoi Kusama's The Obliteration Room, or polka dot madness, as I prefer to think of it. This exhibition takes the form of a domestic interior - a house complete with living room, study, kitchen, and Kmart-worthy chic décor. The only Read more...
Showing results 21 - 30 of 194