Alice Glass - "Stillborn"
After releasing a trilogy of stunning records together as Crystal Castles, musicians Alice Glass and Ethan Kath parted ways late last year. The immediate (and sexist) assumption was that Ethan was the true creative brawn while Alice's role was a superficial one, offering nothing more than her vocal talents and stage presence. As Alice's new single "Stillborn" proves, that supposition couldn't be further from the truth.
Released alongside "Stillborn" was a lengthy statement detailing the inspiration for the song, namely the abusive relationship Alice was trapped in earlier in her life. It is remarkable how well "Stillborn" translates a sense of imprisonment. It is driven by a morse-code pulse of pulverising synths, which pound against the walls of the song, demanding freedom. Alice's vocals are as haunting as ever as she seamlessly transitions between fury and fragility.
As much as I love Crystal Castles, "Stillborn" packs more of a sonic and emotional punch than 90 percent of their material. It seems most people underestimated Alice Glass. If "Stillborn" is anything to go by, she is a creative force that four walls cannot contain.
Thundercat - "Them Changes"
Stephen Bruner is an immensely talented bassist and singer from Los Angeles. Most of his career has seen him supplementing other people's music, including the jazztronica of Flying Lotus and the sonic sprawl of Kendrick Lamar's recent opus, To Pimp a Butterfly. It would appear, however, that Thundercat kicks just as much ass on his own.
"Them Changes" is a slinking, colourful track, hinged on a steady beat and a liquid bass groove. On this beguiling rhythmic foundation, dance a host of other features, including rich saxophones and Bruner's own velveteen voice. The cosmic swirl of "Them Changes" recalls the interstellar funk of George Clinton's legendary groups Parliament and Funkadelic, as well as some of the grooves on D'Angelo's massive comeback last year, Black Messiah. However, unlike the unashamedly old-school aesthetics of Black Messiah, "Them Changes" has a kaleidoscopic richness to it. Maybe all of those collaborations with Flying Lotus left their mark on Thundercat.
Inspect "Them Changes" closely, however, and you'll find a striking heartache at its core. Despondent lyrics that Thundercat sneaks in include "I can't find my heart" and the bold proclamation that he's a "heartless, broken mess". Ouch. Masterfully groovy and comprised of a dozen shifting layers, "Them Changes" is a conflicted puzzle you need to piece together.
Dope Body - "Old Grey"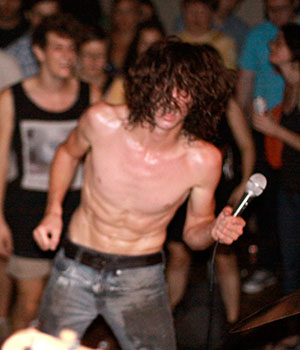 Dope Body are a noisy Baltimore quartet signed to the Drag City record label. Contrasting with the rustic folk of label mates like Joanna Newsom and Faun Fables, Dope Body offer scrappy blasts of punk that evoke the grit and frustration of living in the city.
On their new song "Old Grey", Andrew Laumann spits lines about trash cans and sleeping in the streets as his bandmates tear through one of the fiercest grooves you're likely to hear this year.
In terms of influences, "Old Grey" makes more than a few nods and winks to other artists. The way Laumann yelps at the forefront of the song is reminiscent of the deranged style of David Yow, singer of The Jesus Lizard and Scratch Acid. The squalling riff of "Old Grey" is equal parts Alice in Chains grunge and the delicious pitch-shifting of Muse's "Citizen Erased".
If you've ever wondered what it's like to chew on rusted nails and broken glass, then take a bite out of "Old Grey".