Posted 3:37pm Sunday 21st May 2023 by Jamiema Lorimer
Sorry, not sorry, but this article starts with a public flaying. If you were the breatha at the Soaked Oats gig at Mayfair earlier this year who called out if the band could "play that one again so I can boo it some more?" after they performed their final song, I hope you're Read more...
Posted 7:44pm Sunday 26th February 2023 by Jamiema Lorimer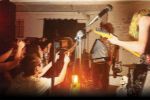 The Allophones are Barney, Ben, and Tane. Barney and Ben are also siblings. "Allophones" are also a group of sounds that a certain combination of letters can make (linguistics students, please don't come for me). You could also say an "allophone" is a singular member of Read more...
Posted 7:48pm Sunday 9th October 2022 by Jamiema Lorimer
"I'm good at feeling and feeling deep," Becca Caffyn laments on her new song 'Replacement Blonde.' The sorrowful ballad is also the title track of her debut EP. We caught up with Becca to talk about her latest music, change and processing these feelings through Read more...
Posted 5:05pm Sunday 2nd October 2022 by Jamiema Lorimer
If you're a breatha and spend your Thursday through Saturday nights at Dunedin Social Club, then you're probably already familiar with BO And the Constrictors, who describe their sound as "modern vintage pop rock." Hot off the release of their EP 'Love', Critic Read more...
Posted 1:55pm Saturday 24th September 2022 by Jamiema Lorimer
Aotearoa indie darlings, The Beths, released their third album 'Expert In A Dying Field' mid-way through this month. To Critic's surprise, the album is not actually about our humanities/marine science students and staff looking on in despair as their department is slowly snuffed Read more...
Posted 5:02pm Friday 19th August 2022 by Zak Rudin
The student-led Otago University Jazz Club formed at the start of the year to perform weekly jam sessions to a live audience. The club describes itself as "a collection of students who are interested in playing and listening to jazz." Jazz Club founder and pianist Matthew Tait, said, Read more...
Posted 1:39pm Monday 15th August 2022 by Zak Rudin
Around 150 people occupied the Octagon on Sunday August 7 to support Dunedin's iconic Crown Hotel and oppose Dunedin City Council (DCC) regulations which they say have been threatening Dunedin's live music scene. Ironically, they were even slapped with a noise complaint for their Read more...
Posted 1:17pm Sunday 31st July 2022 by Denzel Chung
Around 60 supporters of Dunedin's music community gathered for a hui to support the Crown Hotel, amidst fears that the renowned music venue could be threatened by a new apartment building next door. The group are hoping that a protest on Sunday 7th of August could help raise further awareness Read more...
Posted 5:11pm Sunday 17th July 2022 by Nina Brown
From winning the 2020 OUSA Bring the Noise competition, to opening for dreamy musician Mousey at Dive earlier this year, Neive Strang and her band have been making waves in the Ōtepoti music scene. Neive is the lyrical genius behind the operation, backed up by drummer Benny, guitarist Jack, and Read more...
Posted 8:33pm Sunday 15th May 2022 by Ruby Werry
Gore is known for its big fish, suspected rates of incest, and, for some reason, country music. If we're wondering what Gore has to do with the American South, that pretty much answers the question. The success of country music in New Zealand, and in Gore specifically, mimics the Read more...
Showing results 1 - 10 of 147

Previous Results
Next Results

TAGGED ITEMS
Showing items with the tag:
music