Posted 11:10am Sunday 13th August 2017 by David Clark
A major part of my role as a Member of Parliament is being able to have conversations with people across Dunedin North. Calls, emails and letters remain an important part of what I do – either calling or writing myself, or being on the receiving end. But changes in technology mean that I am Read more...
Posted 12:56pm Sunday 13th August 2017 by Swilliam Shakesbeer
Smirnoff Ice Double Black is a drink for children, and adults who are still children at heart. It may technically be alcoholic, but as far as your taste buds would know, it's just a kind of weird lemonade. 'Scientists' will tell you that the amount of guarana in these bad boys Read more...
Posted 12:19pm Sunday 13th August 2017 by Critic
Harness your party hats. Inflate your balloons. Scatter the confetti. Get ready to celebrate like never before. Monday 14 August – Gary Larson's Birthday Nothing of importance is happening today, so I looked up famous peoples' birthdays. Happy birthday, Read more...
Posted 12:22pm Sunday 13th August 2017 by Charlie O'Mannin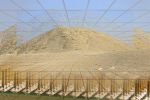 2.5/5 One of the biggest problems with Egyptian Pyramids is their distribution. Out of the 196 (suck it Xi) countries of the world, Egypt is the only country that has Egyptian pyramids. We need to fairly distribute those resources. We are the 99.489 percent. Of course one of the large popular Read more...
Posted 12:36pm Sunday 13th August 2017 by Student Support
Dear Ethel and Hyde Our property manager is showing people through our flat for next year, and, to make it easier for us all, is only doing this once a week on a Monday afternoon. This Monday, we came home to find that the backdoor was wide open. We know we left it locked and shut. The only Read more...
Posted 12:42pm Sunday 13th August 2017 by Charlie O'Mannin
Cats with hands, kelp with hands, mould with eyes. Unanswered emails. Your toenail on your sheets. Falling into a wood chipper. A greasy coffee cup. Peeling your veins with a potato peeler. Balloons filled with mustard gas. Mugs with chipped rims. Teeth made out of porcelain. Anything smaller than a Read more...
Posted 12:30pm Sunday 13th August 2017 by Lovebirds
Each week, we lure two singletons to The Bog Irish Bar, give them food and drink, then wait for their reports to arrive in our inbox. If this sounds like you, email: critic@critic.co.nz Peas "I wonder if this is two standards," I thought, contemplating the Read more...
Posted 12:52pm Sunday 13th August 2017 by Darude
Rotate Jolting with the pivot as a roiling boil bubbles your bloodstream too little, a tepid time bomb or else, volcanically explosive coating your cell with the splatter of mincemeat all will be resolved at the next flat meeting "Do we need a Read more...
Posted 10:18am Sunday 13th August 2017 by Lucy Hunter
It's Art Week. Here's one of my favourite quotes: "If something is worth doing, it's worth doing badly." G. K. Chesterton said that. Before you say that explains Critic, let me elaborate. If you adhere to the better-known version of the quote, "if something is Read more...
Posted 1:00pm Sunday 13th August 2017 by Chelle Fitzgerald
It was 2010 and my father had passed away earlier that year. My usual logic blinded by grief, I did what any standard mourner would do and booked an appointment to see a medium. Walking into her home-cum-spiritual lair, I immediately noticed the tacky abundance of quartz crystals (when will people Read more...
Showing results 1 - 10 of 476

Previous Results
Next Results

TAGGED ITEMS
Showing items with the tag:
columns