Person L – Stacian from Night School Records
On 9 September 2017, Night School Records dropped 'Person L', the latest full-length offering from Stacian. The call and response vocals on opening track 'Volx' may have you mistaking Stacian for your new favourite electronic duo, but this is the solo project of Oakland-based artist, Dania Luck. 'Person L' is eight tracks of synth biology, the allure of the lo-fi enclosed in bass-drenched walls of sound that are sonically full and satisfying. Tracks like 'Volx' and 'Headstand' evoke the warmth of a body cavity, while 'Telephony' takes us to a club located deep within the heart valve where the amplifiers pulsate with membrane. The deeper into the album we go, the darker the arpeggiations. Night School Records describes the album as "technoid dystopia". Listen to what 'Person L' has to say. They might just save you. If you can figure out how to use their space-telephone.
We Will Play For Spirits – C.I.A. Debutante from SDZ Records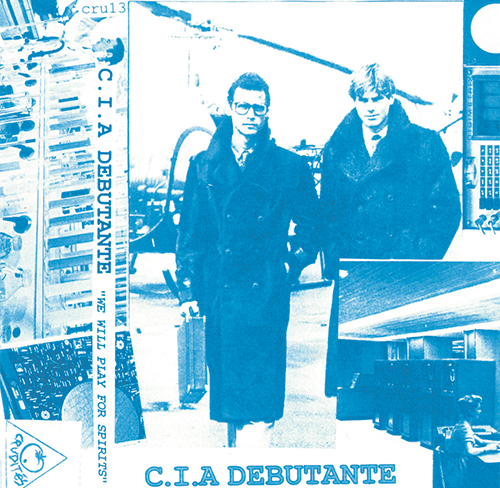 Paris-based imprint SDZ Records delivered a similarly lush and squirming organism on 8 September in the guise of 'We will play for spirits', a generous full-length album from C.I.A. Debutante. A project created by Paul Bonnet and Nathan Roche in 2016, C.I.A. Debutante has already amassed half a dozen cassettes in their catalogue of releases. Like painting over a canvas so many times that the paint peels and cracks in places, while retaining a shadow of the original image beneath, 'We will play for spirits' is densely layered and mysterious. On 'Phonetapping' and 'Forty-eight dollars a night neon', delicate synths and miniature drum machine cymbals are penetrated by crushing vocals and screaming frequencies swathed in distortion. Loosely inspired by an "air crash," each song seems guided by the harmony of alien lifeforms. A harmony disturbed by an unfamiliar relic - a muffled human voice captured on chewed up tape-loop. One could listen for eternity and never unravel the code.
'Person L' and 'We will play for spirits' are two landscapes worth getting lost in. They are two elusive, yet strangely nostalgic, heartbeats. Amid the layers of synth, drum machine, distortion, delay, and vox, there is haunting beauty and comfort to be found here. Just listen to the grounding synth meditations at the bottom of the mix in Stacian's 'GNoMoN' and C.I.A. Debutante's 'I heard you paint houses'. The more you listen, the more it reveals itself and the less you know.
Excavate these future classics on Bandcamp:
https://night-school.bandcamp.com/album/person-l
https://sdzrecords.bandcamp.com/album/we-will-play-for-spirits