Posted 9:17am Sunday 10th October 2021 by Elliot Weir
The government is putting on the pressure for New Zealanders to get vaccinated. But many people are not vaccinated yet. The reason why is a mix of policy, inequality, and misinformation from friends, family and far-right conspiracy theorists. Up until recently, we've enjoyed relative Read more...
Posted 4:08pm Friday 1st October 2021 by Fox Meyer
Two Australian universities mandated last week that all students, staff and workers on campus be fully vaccinated. La Trobe University and the University of Melbourne were the first to require this, with Melbourne requiring everyone on campus to be vaccinated from November 5. Otago Read more...
Posted 3:01pm Monday 20th September 2021 by Fox Meyer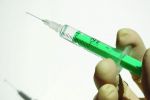 The Meningitis Foundation wants every school leaver to be vaccinated against meningitis, not just those going into residential halls. "Meningococcal disease" is a mouthful, but the numbers speak for themselves. New Zealand has 24 times the rate of meningococcal disease than the USA. Read more...
Posted 1:29am Saturday 31st July 2021 by Denzel Chung
E-scooter operator Neuron announced that they will offer 10,000 $10 vouchers to people wanting to scooter to their Covid-19 vaccination appointments. They're encouraging everyone eligible to take them up on the offer, including over-60s. Beginning from July 30, people who have the Read more...
Posted 2:29pm Sunday 9th May 2021 by Fox Meyer
On Thursday 6 May, studentville was bombarded with flyers full of bullshit about the Covid vaccine. The flyers could be found on Castle Street, George Street, and Queen Street. They were created by the anti-vax group "Voices for Freedom", founded by three "passionate Kiwi Read more...
Posted 9:19pm Sunday 18th April 2021 by Fox Meyer
Students in health professionals doing their placements are starting to get the COVID vaccine. The Health Sciences Pro Vice Chancellor (PVC) reached out to students over email. The email was a call for anyone about to start work in a frontline medical placement to book an appointment for their Read more...
Showing results 1 - 8 of 8
TAGGED ITEMS
Showing items with the tag:
vaccine