Posted 3:22pm Sunday 26th September 2021 by Susana Jones
Spring has well and truly sprung, bringing more sunlight and life to campus. With most of us completing the semester online, libraries and flats can become claustrophobic and uncomfortable study spots. Instead of slaving away inside, now is the perfect time of year to grab an outside study spot, and Read more...
Posted 1:58pm Monday 20th September 2021 by Susana Jones
It's the second half of semester two and the countdown to graduation for some of you undergrads is well and truly on. You might be thinking, what comes after graduation? Will you go straight into the workforce and hustle your way up capitalist ladders? Maybe you'll make some serious bank Read more...
Posted 2:12am Monday 9th August 2021 by Critic
1. It's a Thursday night. What are you doing? a. Getting wasted and heading to a gig b. Read more...
Posted 1:24am Saturday 31st July 2021 by Denzel Chung
The Otago-led research team behind the 'DentalSlim Diet Control Device', a magnetised jaw clamp that prevents people from eating solid food, claimed in their ethics committee application that their product would have "no real ethical issues" and presents "no significant Read more...
Posted 4:09pm Sunday 30th May 2021 by Fox Meyer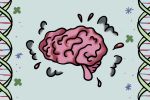 A study released last week surveyed 4,499 Kiwi students to see if their mental health got worse when they worked on their PhDs. The data said: no, their mental health was not affected. "You've gotta be fuckin' kidding me, right?" asked Dan, a fourth-year. "Is that Read more...
Posted 4:35pm Sunday 28th March 2021 by Sean Gourley
Critic asked students about the highs and lows of their University field trips over the years. We sorted through the field trips, past and present, and compiled this choose your own adventure, so students with boring degrees that don't involve field trips can find out what life is like outside Read more...
Posted 9:38pm Tuesday 2nd March 2021 by Erin Gourley
The average mark required to enter medicine from the Health Sciences First Year (HSFY) programme has increased for the sixth year in a row. In response to an OIA, the University confirmed that the lowest average mark required for a first-round offer into 2021 med was 96.57%, up from 93.43% Read more...
Posted 7:07pm Sunday 1st April 2012 by Callum Fredric
A new website has taken the student mantra "USBs get degrees" to a new level, with students now able to buy and sell notes for their courses online. University of Otago students Hayden Kerrisk (CEO), Mike Arthur (Programmer), and Paul Kibblewhite (Stylist) have created Studyspace, which is basically Read more...
Showing results 1 - 8 of 8
TAGGED ITEMS
Showing items with the tag:
study