Posted 4:09pm Sunday 30th May 2021 by Fox Meyer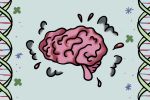 A study released last week surveyed 4,499 Kiwi students to see if their mental health got worse when they worked on their PhDs. The data said: no, their mental health was not affected. "You've gotta be fuckin' kidding me, right?" asked Dan, a fourth-year. "Is that Read more...
Posted 4:35pm Sunday 28th March 2021 by Sean Gourley
Critic asked students about the highs and lows of their University field trips over the years. We sorted through the field trips, past and present, and compiled this choose your own adventure, so students with boring degrees that don't involve field trips can find out what life is like outside Read more...
Posted 9:38pm Tuesday 2nd March 2021 by Erin Gourley
The average mark required to enter medicine from the Health Sciences First Year (HSFY) programme has increased for the sixth year in a row. In response to an OIA, the University confirmed that the lowest average mark required for a first-round offer into 2021 med was 96.57%, up from 93.43% Read more...
Posted 7:07pm Sunday 1st April 2012 by Callum Fredric
A new website has taken the student mantra "USBs get degrees" to a new level, with students now able to buy and sell notes for their courses online. University of Otago students Hayden Kerrisk (CEO), Mike Arthur (Programmer), and Paul Kibblewhite (Stylist) have created Studyspace, which is basically Read more...
Showing results 1 - 4 of 4
TAGGED ITEMS
Showing items with the tag:
study