Posted 11:49am Sunday 8th October 2023
Kicking someone out of your flat is a shitty experience, particularly when it's a byproduct of your own shitty behaviour. Though it's usually justified, the experience nonetheless leaves scars on the flat. Conversations are left in flux; a uniting, common enemy is lost; rent must be Read more...
Posted 10:48am Sunday 1st October 2023
With all major parties (bar ACT, surprisingly enough) wanting a slice of the student voting pie, OUSA in conjunction with POLSA hosted a high-octane debate in the union hall at 1pm last Wednesday. The result was largely underwhelming, as candidates showed the utmost respect for one another in Read more...
Posted 10:00pm Sunday 24th September 2023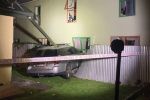 How does a flat 30 metres shy of the road find a car in its living room? In perhaps the most bat-shit crazy twist of the year, at around 7pm on Friday the 15th (may as well have been the 13th) the girls at Salt Shaker found themselves staring down the eye of an old beat-up grey wagon that had Read more...
Posted 12:46pm Monday 18th September 2023
Imagine you're an athlete, spending your days in the shell of a constant migraine, feeling immediately tired upon waking with a full day of training and classes ahead of you. This was Tom's reality for almost a year as he grappled with RED-S, also known as Relative Energy Deficiency in Read more...
Posted 12:28pm Monday 18th September 2023
Saturday, August 26th. A cool breeze whistled through Forsyth Barr Stadium, carrying the jeers of Otago and Southland fans. It was a day few could predict, but all would remember; it was the day of the streaker. The streaker who lived. Long before this fateful day, nine young men set Read more...
Posted 12:22pm Monday 18th September 2023
What is the Rugby World Cup? The Rugby World Cup (RWC) is a quadrennial meeting between the best countries in the world, i.e., the ones that play rugby. The coolest donnies, the blokes you'd happily invite over for your red card. 20 countries in total, each with mixed Read more...
Posted 11:57am Monday 11th September 2023
Flogging a dead horse to some degree, Critic Te Ārohi asked the University for any word on why the infamous white box still hasn't been lifted outside St Dave's. A bit like a kid in the backseat of a car repeatedly asking their parents "Are we there yet?" Once again, we Read more...
Posted 9:05pm Sunday 3rd September 2023
Wednesday, August 23 seemed an ordinary day in OUSA Clubs and Socs. Until the lights went out, mysterious figures emerged from the shadows, and a variety of sacrificial snacks were put on display. Yes, you've guessed correctly: the Society of Religious Studies Enthusiasts (SORSE) sat down for Read more...
Posted 8:38pm Sunday 3rd September 2023
The University Whales performed the impossible on Saturday, August 19, winning the premier men's hockey competition in a stunning shootout victory. Blub-blub. After an initially slow start to the season, the team has been called the "most unlikely of champions". Before Read more...
Posted 8:27pm Sunday 3rd September 2023
Dunedin's suburbs are teeming with culture – and we don't just mean microbially. Unfortunately, most students don't venture out of their bubble of safety until graduation comes, aside from an occasional hoon to St Clair or a mish out to a dealer. From the absurd rent prices Read more...
Showing results 1 - 10 of 48

Previous Results
Next Results