Posted 5:48pm Friday 1st April 2022 by Hugh Askerud
The deafening screams of thousands signalled the start of something wonderful last Saturday. At 4:35 pm, with Covid-19 restrictions loosened just the day before, Forsyth Barr Stadium opened its various gates to the rugby-starved masses. This gave students their first taste of life in the Zoo this Read more...
Posted 2:26pm Sunday 18th July 2021 by Fox Meyer
Nobody was arrested at the stadium following the All Blacks vs Fiji game on Saturday, 10 July. Great job, everyone. There were still some dickheads, though. A statement from the Police said that "several people" had to be removed from the stadium by staff or officers for "poor Read more...
Posted 4:21pm Sunday 18th July 2021 by Asia Martusia King
There's a rugby match tonight. Shona's left Xavier with a babysitter, and she's going fucking rogue. For one night and one night only, her pent-up midlife chaos will be free. Her husband, Murray, is also gearing up for the game. Murray and his corporate buddies will indulge in too Read more...
Posted 9:57pm Sunday 18th April 2021 by Fox Meyer
Title says it all. Great job, fuckhead. Otago's new Most Wanted is the man who shat in The Zoo at the rugby on 10 April. Described as "slender, blonde, curly-haired and unashamed", this man is assumed to be highly dangerous and not to be confronted by the public. Public Read more...
Posted 9:43pm Friday 26th March 2021 by Oscar Francis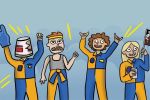 Let's just be clear on one thing: I'm not being anti-rugby. Rugby is a great game. It's something that we orientate our identity around, both as individuals and a nation. Going to the stadium gives a lot of us a feeling of fitting in, and stability in an uncertain Read more...
Posted 6:33pm Saturday 6th March 2021 by Alex Leckie-Zaharic
Being born and raised in Dunedin, I've got a special place in my heart for the mighty Highlanders. I was there for their last game at Carisbrook over ten years ago, I watched as we lifted our first trophy in 2015. Since arriving at uni, I've been to almost every 'Landers game at Read more...
Posted 11:36am Sunday 17th September 2017 by Zahra Shahtahmasebi
The provincial women's rugby competition, the Farah Palmer Cup, kicked off last week. The Otago Spirit team took on Canterbury at Linfield Park in Christchurch at noon on Sunday the 3rd. Fortunately the morning rain had cleared by the time the game started. Supporters packed the sideline, Read more...
Posted 11:54am Sunday 10th September 2017 by Ben Lorimer
On a rugby field in France, two ex-All Blacks are squaring off against one another. Anthony Tuitavake receives a pass and squares his shoulders as he plunges towards the defensive line. Waiting to meet him, Ma'a Nonu steadies himself and launches into a tackle. The two massive men meet, and Read more...
Posted 4:53pm Sunday 4th March 2012 by Gus Gawn
The Otago Rugby Football Union is officially broke. They canít afford SoGos, they canít buy ramen, they canít even pay the power bill. And they certainly wonít be springing for the whole team to get tuggies down at Lucky Sevens on Friday night. At the time Critic went to print on Thursday Read more...
Posted 4:53pm Sunday 4th March 2012 by Gus Gawn
For five long minutes Brigitte Tyler was the darling of the New Zealand sporting universe. It was Wellington Sevens weekend. You were probably drunk, wearing a stupid costume you cobbled together in 5 minutes. Or you were drunk somewhere else. You were drunk. Thatís all there is too it. It was a Read more...
Showing results 1 - 10 of 12

Previous Results
Next Results

TAGGED ITEMS
Showing items with the tag:
rugby