Posted 9:01am Sunday 10th October 2021 by Denzel Chung
A strange poem fixating on the arms of Olympic kayaker Lisa Carrington has been popping up on posters around Dunedin in the last week. The poem, "Lisa's Arms," reads best aloud. Here it is: I want her arms. Imagine lying in those arms. Lisa's Read more...
Posted 12:11am Saturday 2nd October 2021 by Asia Martusia King
Hey there. Nice Cock. You looking for a New Flat with cheap rent? Head down to LoserVille: location, Gang land. Somewhere in the Alley on DundASS street, we have all the Beer Necessities you need. You want entertainment? We got you. Fuck Gamers Read more...
Posted 12:30am Sunday 11th April 2021 by Critic
Nothing screams Easter like a haiku competition. We asked you to send in haikus and you did, in moderate numbers, so thanks. While only the top 20 could be published and only the top 5 get tote bags, we were in equal parts inspired and depressed by all of them. If you wrote one of the poems in the Read more...
Posted 2:08pm Tuesday 2nd March 2021 by Annabelle Vaughan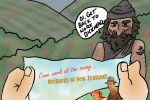 With the borders at a close thanks to the ripper of a year that was 2020, orchards across New Zealand cried out for help. Many Otago students answered the call to be a "Harvest Hero" and embarked on their agricultural adventure. For some, it didn't turn out to be the experience Read more...
Showing results 1 - 4 of 4
TAGGED ITEMS
Showing items with the tag:
poem