Posted 12:30am Sunday 11th April 2021 by Critic
Nothing screams Easter like a haiku competition. We asked you to send in haikus and you did, in moderate numbers, so thanks. While only the top 20 could be published and only the top 5 get tote bags, we were in equal parts inspired and depressed by all of them. If you wrote one of the poems in the Read more...
Posted 2:08pm Tuesday 2nd March 2021 by Annabelle Vaughan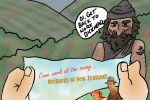 With the borders at a close thanks to the ripper of a year that was 2020, orchards across New Zealand cried out for help. Many Otago students answered the call to be a "Harvest Hero" and embarked on their agricultural adventure. For some, it didn't turn out to be the experience Read more...
Showing results 1 - 2 of 2
TAGGED ITEMS
Showing items with the tag:
poem