Posted 4:28pm Sunday 31st July 2022 by Hugh Askerud
What is possibly the most anti-Dunedin thing to ever exist in Dunedin? Poetry. While the shades of autumn may give rise to some compelling imagery, there really isn't that much in the way of beautiful land or people to show off, or at least not in the sunless boglands of North D. Dunedin is Read more...
Posted 1:03pm Monday 16th August 2021 by Sean Gourley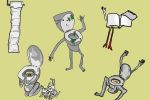 A serial shitter has struck Central Library multiple times. In at least two separate incidents, a large poo of considerable size and girth has been left on the toilet seat of the men's disabled bathrooms on both the first and second floors of Central Library. It is possible that many more such Read more...
Posted 5:10pm Sunday 2nd May 2021 by Alex Leckie-Zaharic
I have a confession to make. I'm a criminal. My $9 library fine (for a second-year psychology textbook, if you must know) is now over a year overdue and contributes to precisely 0.39% of the $2321.20 in library fines incurred by Uni and Polytech students. Campus Watch, you know where to find Read more...
Posted 1:29pm Sunday 14th March 2021 by Elliot Weir
1. How old are you? a. A literal baby (1) b. A teenager (2) c. Early 20s Read more...
Showing results 1 - 4 of 4
TAGGED ITEMS
Showing items with the tag:
library