Posted 9:10am Sunday 10th October 2021 by Erin Gourley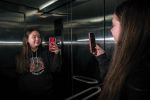 After a year as President and a year as Welfare and Equity Representative, Michaela Waite-Harvey is moving on to bigger and better things next year. Like "just studying" at Otago, instead of being a student politician. "I'm not going to completely excommunicate myself from Read more...
Posted 1:03am Saturday 11th September 2021 by Fox Meyer
New Level 2 guidelines mean you'll have to take attendance at flat parties. Hon Chris Hipkins said last week that any places where "people gather consistently and in large numbers" must abide by attendance-keeping rules. This means scanning in, signing in, or whatever other method Read more...
Posted 1:29am Saturday 31st July 2021 by Denzel Chung
E-scooter operator Neuron announced that they will offer 10,000 $10 vouchers to people wanting to scooter to their Covid-19 vaccination appointments. They're encouraging everyone eligible to take them up on the offer, including over-60s. Beginning from July 30, people who have the Read more...
Posted 9:19pm Sunday 18th April 2021 by Fox Meyer
Students in health professionals doing their placements are starting to get the COVID vaccine. The Health Sciences Pro Vice Chancellor (PVC) reached out to students over email. The email was a call for anyone about to start work in a frontline medical placement to book an appointment for their Read more...
Posted 11:06pm Saturday 13th March 2021 by Fox Meyer
Four Otago students were meant to be on a boat offshore of the Kermadec Islands on the morning of March 5. This would have placed them near the epicentre of the M7.4 and M8.1 quakes that triggered Tsunami warnings in the North Island. In a weird twist of fate, a last-minute Covid Read more...
Posted 10:33pm Saturday 13th March 2021 by Fox Meyer
The largest club on campus is now the Sign Up Club. Everyone so used to signing up or scanning in for Covid that there is now a club just for that. The club is formless and exists mostly as a Facebook page. But its numbers are rapidly growing. "We don't want to overshadow Read more...
Showing results 1 - 6 of 6
TAGGED ITEMS
Showing items with the tag:
covid