Posted 1:31am Saturday 9th April 2022 by Zak Rudin
For many, the Government lifting most Covid restrictions has been a welcome relief. But for those who are disabled and immunocompromised, it represents a scary step into a world now fraught with risk. Sean Prenter, co-president of the Otago University Disabled Students Association (OUDSA), Read more...
Posted 5:24pm Sunday 27th March 2022 by Annabelle Vaughan
An Otago Uni study has highlighted what experts found to be the worst part of Covid-19 lockdowns. Travel restrictions ranked highly on their list, as well as the cost of providing Covid-19 vaccines. The study, published in the Journal of the Royal Society of New Zealand, was conducted by Dr Read more...
Posted 12:31pm Sunday 13th March 2022 by Sean Gourley
A local caused a minor uproar when he claimed to be selling positive COVID tests for just $49 on the Facebook group Otago Flatting Goods. It is unclear from the post whether the four tests on offer were being sold separately or as a pack, or if it was even a genuine offer. The post first asked Read more...
Posted 3:04pm Sunday 27th February 2022 by Ransford Antwi
Hundreds of international Otago students are stuck overseas, paying full fees for an educational experience that many feel is not reflective of the cost. If you thought a few weeks of online lectures and Zoom tutes was rough, imagine what it's like to be an international student stuck Read more...
Posted 3:40pm Sunday 27th February 2022 by Annabelle Vaughan
If you're anything like me, chances are you spent all summer yearning and lusting after Flo and O. Those dreams came crashing down for all of us on January 28th when Red Light was announced, putting limits on gatherings and restrictions in place. Look, I get it. This shit's Read more...
Posted 9:10am Sunday 10th October 2021 by Erin Gourley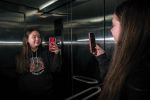 After a year as President and a year as Welfare and Equity Representative, Michaela Waite-Harvey is moving on to bigger and better things next year. Like "just studying" at Otago, instead of being a student politician. "I'm not going to completely excommunicate myself from Read more...
Posted 1:03am Saturday 11th September 2021 by Fox Meyer
New Level 2 guidelines mean you'll have to take attendance at flat parties. Hon Chris Hipkins said last week that any places where "people gather consistently and in large numbers" must abide by attendance-keeping rules. This means scanning in, signing in, or whatever other method Read more...
Posted 1:29am Saturday 31st July 2021 by Denzel Chung
E-scooter operator Neuron announced that they will offer 10,000 $10 vouchers to people wanting to scooter to their Covid-19 vaccination appointments. They're encouraging everyone eligible to take them up on the offer, including over-60s. Beginning from July 30, people who have the Read more...
Posted 9:19pm Sunday 18th April 2021 by Fox Meyer
Students in health professionals doing their placements are starting to get the COVID vaccine. The Health Sciences Pro Vice Chancellor (PVC) reached out to students over email. The email was a call for anyone about to start work in a frontline medical placement to book an appointment for their Read more...
Posted 10:33pm Saturday 13th March 2021 by Fox Meyer
The largest club on campus is now the Sign Up Club. Everyone so used to signing up or scanning in for Covid that there is now a club just for that. The club is formless and exists mostly as a Facebook page. But its numbers are rapidly growing. "We don't want to overshadow Read more...
Showing results 1 - 10 of 12

Previous Results
Next Results

TAGGED ITEMS
Showing items with the tag:
covid