Posted 1:40am Monday 19th April 2021
Crispy satay tofu I am very passionate about this week's recipe. It's difficult to mess it up an delicious. I have been known to pour this sauce into a bowl, microwave it, and eat it with a spoon. I have served the sauce here with crispy fried tofu, but you could pour it over Read more...
Posted 1:14am Sunday 11th April 2021
I passionately believe that the most effective way to tell your special someone you love them is through the gift of chocolate in molten form. These gooey chocolate puddings are so easy to make and will make the person you give it to feel very special. And if you don't happen to have another Read more...
Posted 6:15pm Sunday 28th March 2021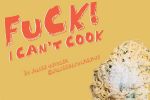 For days when you truly can't be fucked and existing beyond the bedroom seems like a tiresome feat, the only thing that helps is a bowl of carbohydrates coated in garlicky oil that takes minutes to make. You could add vegetables if you like, but as my wise mother always says, Read more...
Posted 5:00pm Sunday 28th March 2021
Endometriosis can be summed up in one word: pain. Endometriosis is a chronic condition that affects one in ten women. It occurs when tissue similar to the lining of the uterus grows outside the uterus. You can only be officially diagnosed through a laparoscopic surgery under general anesthetic. Read more...
Posted 1:51pm Sunday 21st March 2021
The bank account is looking marginal. The novelty of university has been corrupted with the arrival of assignment due dates. Washing is piling up, and you accidently put a black sock in your whites and turned everything a dull shade of grey. It's that time of university, my friends, where we Read more...
Posted 2:23pm Sunday 14th March 2021
This recipe for Pad Thai hits my craving for noodles when I simply don't have the means to spend on my dearest, Thai Hanoi. I shamelessly use Wattie's Pad Thai sauce because I am poor and lazy and the sauce is delicious. Serves 3 250g rice noodles 2 eggs 1 onion 4 spring Read more...
Posted 12:55pm Sunday 7th March 2021
Post-O Week, students stand united by two experiences. Experience one is an immobilizing hangover induced by weeklong drinking. Experience two is the sinking feeling of looking at an empty bank account, which has also been induced by weeklong drinking. When it comes to these dire times, we Read more...
Showing results 1 - 7 of 7