Posted 4:41pm Sunday 18th July 2021
Creamy Thai Carrot and Coconut Soup This recipe is inspired by the most delicious carrot soup that my flatmate cooks. I love to make it at the start of the week, freeze it in ziplock bags, and then I have lunch ready to go whenever I need it. I have not cooked pumpkin soup since I made Read more...
Posted 1:47pm Tuesday 13th July 2021
I am an advocate for potato in any form, but bangers and mash is one of my favorite ways to consume this glorious food. On countless occasions, I plan to cook this meal, then give up on the bangers and eat the mash by itself. I encourage you to cook the whole dish – it is utterly Read more...
Posted 8:20pm Sunday 30th May 2021
Time to Potluck I take potlucks so seriously that I do fear that I suck the fun and joy out of the process for everyone else. Tiramisu is the ultimate potluck meal. It is sweet, when most people bring savoury. You can make it in advance. You keep it in the fridge and don't need to bake or Read more...
Posted 12:59am Monday 24th May 2021
M&M Cookies I find that cookies are a solution to most of life's tough problems. Is your friend heartbroken? Bake them cookies. Are you stressed? Bake yourself cookies? Friend's birthday, but you're poor? Cookies. Need to say sorry? Cookies. To conclude this Read more...
Posted 5:12pm Sunday 16th May 2021
Bacon, Broccoli and Pea Risotto This is my go-to recipe for when I don't want to wash up lots of pots and pans. It's simple, it's delicious, and everyone loves it. My favourite thing to do with a risotto is to add camembert or brie cheese. I know it sounds a bit weird, but Read more...
Posted 4:17pm Sunday 9th May 2021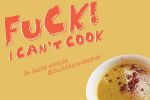 Congratulations my friends, we have unofficially descended into Dunedin's bone-chilling winter. As I struggle to come to terms with this reality, I have been comforting my soul with this Potato and Leek Soup. This recipe is perfect for those chilly days, and it won't break the bank Read more...
Posted 8:17pm Sunday 2nd May 2021
Veggie Fajitas (to help you avoid scurvy) Though I am a passionate advocate for beige food, I am also passionately against scurvy, that terrible thing my mother threatened I would get if I didn't eat my peas for dinner. If you feel like it is time to be kind to that beautiful body of yours, Read more...
Posted 9:50pm Monday 26th April 2021
Crazy for Katsu If I was to tally all the money I have spent on food in the last four years, a substantial portion would have been spent on my dearest fried chicken. I do not regret a single cent I have spent on this glorious food, but it was wise to learn how to make it myself. This recipe is Read more...
Posted 1:40am Monday 19th April 2021
Crispy satay tofu I am very passionate about this week's recipe. It's difficult to mess it up an delicious. I have been known to pour this sauce into a bowl, microwave it, and eat it with a spoon. I have served the sauce here with crispy fried tofu, but you could pour it over Read more...
Posted 1:14am Sunday 11th April 2021
I passionately believe that the most effective way to tell your special someone you love them is through the gift of chocolate in molten form. These gooey chocolate puddings are so easy to make and will make the person you give it to feel very special. And if you don't happen to have another Read more...
Showing results 11 - 20 of 25