Posted 1:15pm Monday 26th April 2021
Cutlers is the first real estate company to release a flat list for Castle Street this year. For many upcoming flatters, it's the same shit, different year. A group of this year's freshers, having declared themselves besties for life just a few weeks into the year, will sign a flat Read more...
Posted 9:55pm Sunday 18th April 2021
University halls of residence lost a cool $690,000 in 2020, due to the Covid lockdown. Due to 2020 being the shitshow that it was, the Uni wasn't quite able to cover all of their hall costs, and have since increased their intake of first-years in accommodation for this year. This is either Read more...
Posted 9:51pm Sunday 18th April 2021
With the gaping void left in our hearts by the departure of beloved Vice-Chancellor Harlene Hayne, students have been left in the lurch when it comes to someone to blame for our next round of department cuts. Critic spent far too much time talking to students about their perfect potential Read more...
Posted 9:13pm Sunday 18th April 2021
OUSA is holding an SGM (Student General Meeting) this week. OUSA have been advertising the SGM as the Executive doing Executive things in public because they need to do it once a year. However, what the Exec haven't made particularly clear or easy to find is that any member of OUSA (so, Read more...
Posted 2:53pm Sunday 28th March 2021
Once a quarter, Critic Te Arohi put themselves through the punishing process of reading and summarising the OUSA Exec's reports for you, our readers. We do it because the only emotion we're capable of feeling at this point is pain and we kind of like it we feel a strong sense of duty and Read more...
Posted 2:12pm Sunday 21st March 2021
The University of Otago has decided to kill off three postgraduate programmes based around medical imaging. The Masters of Medical Imaging, as well as the Postgraduate Diploma (or Certificate) in Medical Imaging were announced back in 2018, but never officially opened to students. Since Read more...
Posted 2:10pm Sunday 21st March 2021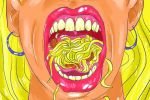 The University has raised prices yet again at their food outlets. Those on the study grind are notoriously poor, and after prices went up multiple times last year, this latest increase will be another gut punch to the food court faithful. According to Campus and Collegiate Life Services Read more...
Posted 12:15am Sunday 14th March 2021
*Disclaimer: Critic did not review Dunedin's greatest fish and chips in 2020 because there was a lot going on. Chip and fish. Fish and chip. It can be average as fuck or it can be the food of your dreams. That all depends on where you choose to go. Critic ordered two fish (of Read more...
Posted 10:46pm Saturday 13th March 2021
With international gap years now off the market, and a lack of jobs available, about a thousand naive lads and lasses with nothing better to do have enrolled at Otago, boosting the total number of students back to pre-Covid levels. The student numbers have risen by 952 students from last Read more...
Posted 6:33pm Saturday 6th March 2021
Being born and raised in Dunedin, I've got a special place in my heart for the mighty Highlanders. I was there for their last game at Carisbrook over ten years ago, I watched as we lifted our first trophy in 2015. Since arriving at uni, I've been to almost every 'Landers game at Read more...
Showing results 31 - 40 of 54
Alex Leckie-Zaharic
News Reporter