Posted 11:21pm Thursday 11th July 2019
Otago Uni has announced that as of July 15, they will be phasing out disposable cups across all campus cafes. The first three cafes to be affected by this change will be St. Davids, Te Mātiti and Staff Club. While some students already use reusable cups at the campus cafes, the University has Read more...
Posted 8:45pm Thursday 23rd May 2019
In June last year, Aidan Barbour-Ryan set himself a personal challenge to run every day for a year. One month in, the 21-year-old marketing student decided that his challenge could benefit more people than just himself. Aidan decided that he would raise money to increase mental health and suicide Read more...
Posted 11:36pm Thursday 16th May 2019
Hailed as New Zealander of the Year by Critic Booze Reviews, Flameboi rose to fame through spending $1,000 of his course-related costs on Flame beer. I caught up with the man, the myth, the legend himself, only to discover that his story was in fact an elaborate ploy. A Flameploi by Flameboi, if you Read more...
Posted 10:46pm Thursday 16th May 2019
In the wake of Critic's recent article on Four Walls Property Management, the current tenants of a Leith Street property have come forward with allegations of poor communication in regards to broken appliances and delayed payment for pest extermination. They say action was only taken after Read more...
Posted 10:33pm Thursday 16th May 2019
Last week OUSA made a submission to the DCC, calling the proposed Tertiary Precinct and Jetty to Police Street parking changes, which would see paid-meter parking rolled out to more streets in the student area, "an absurdity", and recommended it be changed to benefit the student Read more...
Posted 12:35am Friday 10th May 2019
Students have claimed Four Walls Property Management ignored tenant requests for maintenance in a flat at 61 Grange Street that was deemed "unfit to be occupied". Interim manager of Four Walls Rob Woodhouse described the company's situation as a "clusterfuck" and Read more...
Posted 12:22am Friday 10th May 2019
A public meeting hosted by student activist group Student Voice last week saw students and the DCC go head to head over a parking proposal. As Critic previously covered, the DCC has recently installed more Pay and Display parking meters around North Dunedin, and have proposed that 185 free Read more...
Posted 10:02pm Thursday 2nd May 2019
A male resident at Cumberland College has allegedly used highly reflective bathroom ceilings to watch fellow showering students. "It's disgusting and taking advantage of an unfortunate design error," one student told Critic. Residents at Cumberland College said that they Read more...
Posted 10:00pm Thursday 2nd May 2019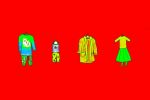 Content Warning: sexual violence, child sexual abuse, rape, intimate partner violence Thursdays in Black have collaborated with Students Against Sexual Violence (SASV) for Rape Awareness Week, bringing the 'What I Was Wearing' exhibition back to campus, Read more...
Posted 10:23pm Thursday 25th April 2019
The Dunedin City Council has turned three strips of unlimited and limited-time parking into pay and display as a part of a wider set of changes to parking in North and Central Dunedin. In a media release, the DCC explained that this was the result of a survey that indicated a need for improved Read more...
Showing results 1 - 10 of 17

Previous Results
Next Results

Nina Minogue
Staff Writer