Posted 10:03pm Thursday 3rd October 2019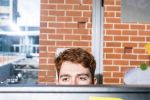 OUSA President James Heath is departing OUSA after three years of executive bullshit. Critic's intrepid reporter Nina Minogue sat down with the local sex symbol to talk about the year that has been and the years to come. What's your best memory of being Read more...
Posted 11:16pm Thursday 26th September 2019
There was never doubt in Anna Clark's mind about where she was going to head in life. When she was 15, she knew she wanted to do genetics and from the age of four, knew she'd love to work with animals. Studying Genetics and Zoology in undergrad, Anna has combined two lifelong passions Read more...
Posted 10:58pm Thursday 26th September 2019
Fish 'n' Chips are a humble feed certain to satisfy even the fussiest and skint. Chips are vegan and gluten-free; those with dietary requirements have no excuse. Tell your flatmate to retire their weekly rotation of spag bol for the night and go suss the flat something they actually want Read more...
Posted 10:53pm Thursday 26th September 2019
Ever wondered what life was like on the other side of a row of tequila shots? Critic talked to the people that see the ugliest sides of all of our nights on the town. The following people have had their names changed so they don't get @ed, but they are all current students and probably best Read more...
Posted 10:19pm Friday 20th September 2019
As the only RTD containing both guarana and taurine, Nitro claims to pack the "maximum amount of caffeine legally allowed in New Zealand". With their slogan "SLEEP WHEN YOU ARE DEAD", a night on the 'tro can feel like a fever dream. Their advertising features Read more...
Posted 10:16pm Friday 20th September 2019
Between 2017 and 2018, New Zealanders lost nearly 2.4 billion dollars on gambling between the TAB, NZ Lotteries Commission, casinos and gaming machines. This number has been increasing every year since 2010, with gambling estimated to affect one in five kiwis throughout their lives. Being a Read more...
Posted 7:14pm Sunday 15th September 2019
Over the last few weeks the Uni installed a massive nine panel screen in the Link that cost $42,000. It plays exclusively ads for the Uni – you know, that place you already go. I have a conspiracy. The University is slowly but surely turning the Link into a massive man-cave. Think about it, Read more...
Posted 12:50am Friday 6th September 2019
Before this year's O-Week, Vice-Chancellor Harlene Hayne sent a letter to all Dunedin secondary schools asking them to encourage their students to stay away from university parties. The letter was a response to Campus Watch reporting an alarming rise in uninvited high school students Read more...
Posted 10:53pm Saturday 17th August 2019
Fast fashion is an issue that is so big it sometimes feels hopeless. So much so that in first year after I watched a Netflix documentary called The True Cost I swore a silent oath that I wouldn't buy any new clothing for a year. The good news is that there are lots of things you can do to Read more...
Posted 9:00pm Saturday 17th August 2019
There are two things I've learnt in this life. One, that some things demand to be felt and two, that some things demand to be smelt. Dunedin has a tree that smells like cum. Officially called Pyrus calleryana, this Cum Tree is a species of pear tree native to China and Vietnam. There might Read more...
Showing results 1 - 10 of 31

Previous Results
Next Results

Nina Minogue
Staff Writer