Posted 5:12pm Sunday 20th July 2014
This week, Loulou Callister-Baker's feature, "Right in the nutcracker" (page 18), proved quite a big surprise to me. While I fully expected the outcome to be a well-justified attack on what I thought was the cis-sexist, misogyny-driven annual Selwyn Ballet, the reality is far more complex. What Read more...
Posted 6:52pm Sunday 13th July 2014
Let's be fair – as the editor of a student publication, I naturally love a bit of scandal. I've chased trouble by publishing my opinions since early high school. It will be no surprise, then, that I was initially having the time of my life last week when Critic Politics Editor Carys Goodwin's Read more...
Posted 1:08pm Sunday 6th July 2014
You were the President of the University of Canterbury Students' Association, so obviously you would care a bit about student politics. What do you see as the biggest issues for students at the moment? Why should students vote for you; what would you do about those issues? Well, if I go back Read more...
Posted 1:08pm Sunday 6th July 2014
It may seem quite late in my tenure to have done so, but over the mid-year break I started noticing a lot of media coverage centered around US universities, students' associations and publications. My observation was simple: while students in New Zealand struggle to find a voice, let alone be taken Read more...
Posted 2:07pm Sunday 25th May 2014
It's remarkably common these days for figureheads such as politicians and business people – even in little old New Zealand – to confess to having smoked marijuana. In fact, it basically seems like everyone has, and reporting on the issue has rapidly become so ubiquitously pro-legalisation that it Read more...
Posted 3:11pm Sunday 11th May 2014
Last Tuesday and Wednesday, the Critic office was tuned in to Parliament's question time with the hope of watching Judith Collins' head roll over the Oravida scandal, her habitual dishonesty, and her generally awful demeanour. As at the time of writing, it was both disappointing and surprising to Read more...
Posted 4:20pm Sunday 4th May 2014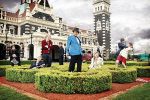 Give me a quick background of Improsaurus! We are a local Dunedin improv group that performs fortnightly shows at the Fortune Theatre Studio. We have been there for a little over the last two years, and then two years before that at various venues around Dunedin 'til we got offered the space Read more...
Posted 4:20pm Sunday 4th May 2014
With the OUSA survey results published last week, now seems as good a time as any for Critic to respond to feedback and step back to reassess our efforts. Our feedback was positive overall; we came in as OUSA's second-most satisfying service and second-most used service, beaten by Events in Read more...
Posted 1:58pm Sunday 27th April 2014
The Executive meeting held on 15 April was complete with guest proposals, agenda thieves, and banter on Winston Peters' campus visit. Kicking off the meeting, guest Sue Heap spoke to her proposal for OUSA to "look into the matter of street harassment." Proposed courses of action were to Read more...
Posted 1:58pm Sunday 27th April 2014
I sincerely dislike public holidays. I understand that many others do, too. Before I explain, I feel the need to emphasise that I am a big supporter of increasing workers' rights. I'm not at all a fan of what currently seems to be an inevitable enslavement by employment, I understand the Read more...
Showing results 11 - 20 of 137
Zane Pocock
Editor 2014