Posted 5:01pm Sunday 30th September 2012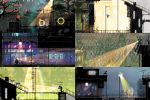 "Other" ninja games, and developer Klei Entertainment refuses to name names, are very un-ninja-like. Why spend all that time shrouding yourself in stifling, shadowy rags if you are going to blunder into the middle of a swathe of foes and paint the walls in their bright red blood just to show, Read more...
Posted 4:25pm Sunday 23rd September 2012
In a quantum instant, a single broadside torpedo slips through the rickety space-cruiser's momentarily downed shields, and ignites the oxygen recirculator. Immediately, the grizzled captain shuts down the blast doors and opens the ship's port and stern airlocks, evacuating the gaseous contents from Read more...
Posted 4:57pm Sunday 16th September 2012
"Grinding" doesn't sound like a great way to spend one's time, does it? A mule in a medieval mill did a lot of grinding – of grain – to turn it into the coarse, unrefined flour that was the serfs' staple food supply. That gameplay mechanic, as popular as it has historically been in classic Japanese Read more...
Posted 4:03pm Sunday 9th September 2012
Resident Evil 5 was like a rousing game of impromptu beach volleyball: sand underfoot, a baking sun above, and a loyal partner by your side at all times. No matter how many prolapsed eyeballs and massive crocodiles it contained, the game had a hard time invoking fear in the bones of its players. It Read more...
Posted 5:17pm Sunday 2nd September 2012
Darksiders II is the The Amazing Spider-Man of the video game world: endlessly derivative, and pretty unnecessary, but undeniably effective nonetheless. It is an action-adventure, beat-em-up puzzle game with RPG and platform elements – a pick'n'mix of fundamental mechanics that everyone finds Read more...
Posted 4:26pm Sunday 19th August 2012
Developer: Overhaul Games (Bioware) Genre: Role-playing Platforms: PC, iPad, OSX, Android (tablets) Baldur's Gate: Enhanced Edition is a satisfactorily vague title for a massive overhaul. It's an obvious attempt to smooth out all the lumpy bumps between the two games and two expansions Read more...
Posted 5:14pm Sunday 12th August 2012
SCP-087 is a never-ending, descending collection of thirteen flights of stairs on which a number of scary "things" happen. I say "things" because SCP-087 prides itself on being procedurally generated. A scary "thing" could happen on the second flight down, or nothing could happen for a painfully Read more...
Posted 5:14pm Sunday 12th August 2012
Slender has you hunting down pages scrawled in the dark, some pinned to trees in a forest made of lots of other trees, while being stalked by an unseen threat. Themes are beginning to emerge in these horror games. In this case the monster is the Slenderman, a sort of modern mythical creature forged Read more...
Posted 5:14pm Sunday 12th August 2012
Hide opens with a spacebar-shaped rectangle next to four typical directional buttons. The spacebar is labelled as allowing the player to "hide", but really it's an utterly useless crouch button. Squatting slightly closer to the freezing snow that makes up the game's environment does not fool the Read more...
Posted 4:49pm Sunday 5th August 2012
In Oscura you play, in established platform-game tradition, as a small mammalian everyman who plies a noble trade. Not a bandicoot plumber, I'm afraid, but a non-specific rodentish creature who attends to the lighthouse on a fantastical island. One day the bulb is shattered, unleashing shadowy Read more...
Showing results 1 - 10 of 60

Previous Results
Next Results

Toby Hills
Games Editor