Paemanu: Tauraka Toi was one of the most recent exhibitions held at the Dunedin Public Art Gallery. The exhibition worked with over 40 Ngāi Tahu artists, presenting them with the opportunity to display their art and personal journeys in a collaborative way which facilitated connection with their whakapapa and history. Critic Te Arohi sat down with two of the featured artists (Madison Kelly and Moewai Marsh) to discuss the exhibition, their creative process, and the importance of Māori representation in creative spaces.
Tauraka Toi was conceptualised by Paemanu, a Ngāi Tahu visual arts collective led by several of the senior artists. Paemanu was interested in both the history and trajectory of the art gallery, and how Ngāi Tahu visual art and culture could be incorporated within the space. The exhibition was sprawled across the entire second floor, and was supported by two other shows, Hurahia ana kā Whetū and He Reka te Kūmara. "Tauraka refers to a landing place, and toi our art," said Madison. "The show reframed the gallery as a kind of anchoring for Kāi Tahutaka, and how it is held in our knowledge systems, histories, and expression." Moewai noted that the collaboration also gave artists the opportunity to form important relationships with other artists. "Relationships began to form quickly as people were a huge contribution towards this show, it understood that as this whakawhanaungatanga was developing, whakapapa was being discussed in conversations, and this is when ideas started to transform in so many different ways," she said. "It felt like a big opportunity to connect back to Ngāi Tahu culture."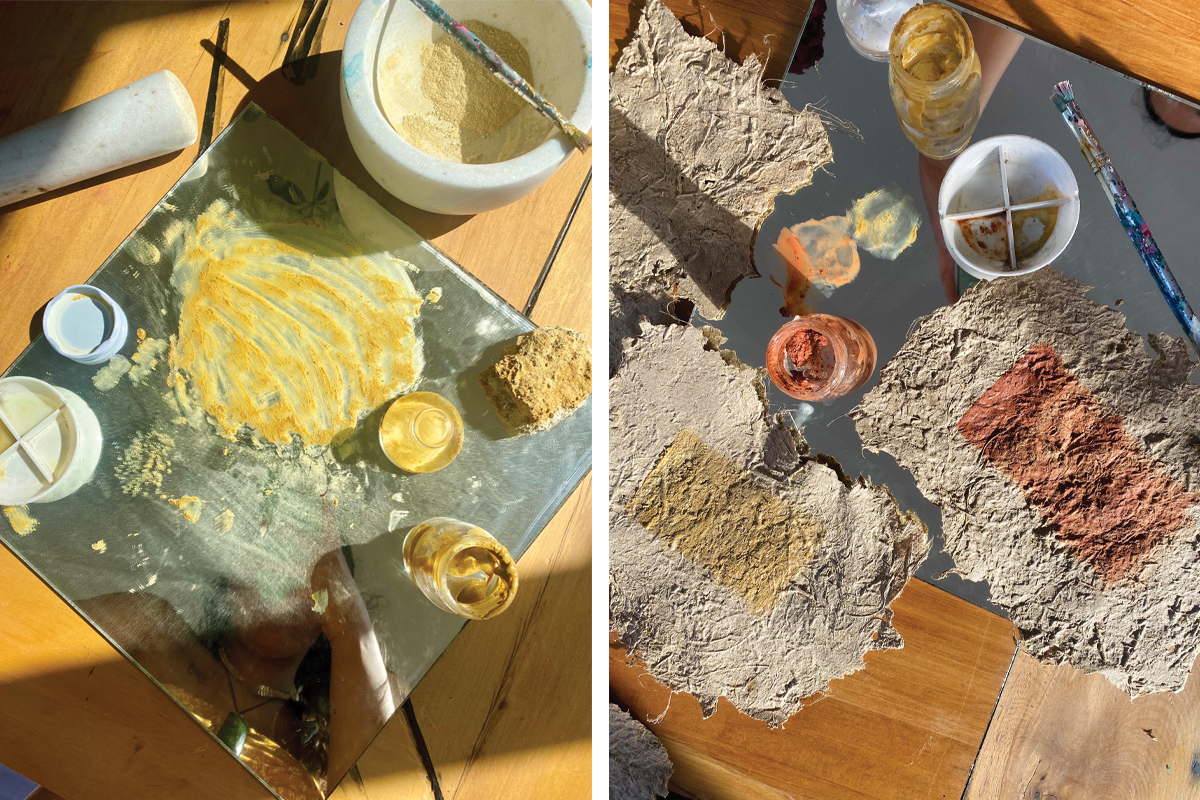 Both artists noted that the exhibition was incredibly important when it came to facilitating Māori voices within creative spaces. "There is nothing more special than being able to be Māori and be proud of your own culture," said Moewai. "Art is an amazing way to speak without saying anything. Whenever you work with someone who is Māori, the first thing that happens is you ask where that person is from, then it becomes a conversation to form a relationship, because we are all Ngāi Tahu in this space," she said. Madison agreed. "It's important from so many angles, it evidences years of mahi, and it has brought together Ngāi Tahu from across the country, but it's also supported new and emerging artists in a way that is not always available to us," said Madison. "Hopefully, it will also influence further institutional change."
Both artists touched on how colonisation has impacted the ability of Māori to share their work, saying that this exhibition is a major step forward in regards to accessibility. "Colonisation and its impacts are steeped in institutional art spaces, even in accessibility of resources for those trying to create space outside of institutions," said Madison. "The way we can research, learn, or express Māoritaka in our own country is constantly impeded by discrimination and the whittling down of Māori identities, having a show in a public gallery about that city's mana whenua should not be a unique a event, but it is," she said. Moewai agreed. "Creative spaces can feel quite intimidating… I love art galleries, but there's still that anxiety that comes over me where I feel like I shouldn't be in this space," she said. "What was powerful [about this exhibition] is they transformed the gallery so when you walked in, it didn't feel uncomfortable as it was covered in artwork I recognised which was my own culture."
Moewai also highlighted the importance of relationships when it comes to not only the exhibition, but also forging productive relationships to make real change. "It's incredible what can happen when relationships are solid and meaningful, it can be challenging when relationships are harder to form. Not every creative space is going to understand Māori tikanga, art, or culture which can make it difficult to fit in, as there's this feeling of 'I don't belong here'."
The stories which the exhibition grapples with are vast but overlapping, addressing themes such as tūpuna (ancestors), landscape and the environment, as well as whakapapa. "There are multiple mediums of art in this exhibition from film, to paintings, sculpture, weaving, textiles, mixed media works, and photography" said Moewai. "A lot of the concepts around the works were personal connections to people and places, and they respond to one another which is incredible, we all connect to somewhere or someone." Native materials were also incorporated into the exhibition, including kōkōwai, harakeke and tōtara, further emphasising cultural connection.
Both artists said that the opportunity was a fantastic way to challenge themselves in a creative and personal way, while also making connections with their culture and other Māori creatives. "I wanted to push myself with my practice, which comes from a painting background, I got to connect back to my local Rūnaka and make more amazing relationships" said Moewai. "It was so special to me to actually be on the whenua my tīpuna walked on gathering pigment and plants to make my work, I gained so much from the whole experience… It was affirming, being so stuck into our whakapapa, even before the exhibition opened. It is the best you can hope for, to talk, and get excited about your Māoritaka with your family," said Madison.
Both Moewai and Madison's art can be viewed in various spaces around Ōtepoti. You can find Moewai's art at www.moewaimarsh.com, or @moewaimarsh_art on Instagram. Madison can be found at www.madisonkellyart.com