Posted 2:20pm Monday 15th August 2022 by Naan-cy Drew and Aloo-wis Hamilton
The year was 2020. Over a meal of our usual takeaway curry order, an idea was cooked up: "What if we ordered this exact same order at every single Indian restaurant in Dunedin?" We all know that different Indian restaurants have different definitions of mild, medium, and hot, but we Read more...
Posted 1:31pm Monday 16th August 2021 by Sunaina Born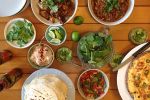 The arrival of the chain store Taco Bell to North Dunedin may give small businesses an opportunity to attract more customers, says Burger Plant owner Tom White. Global franchise Taco Bell was recently announced to be opening a store in Dunedin in the former site of Couplands in North Dunedin. The Read more...
Posted 3:35pm Sunday 1st August 2021 by Fox Meyer
Taco Bell is opening a store here. It will be New Zealand's second Taco Bell, following the one in Christchurch, which opened earlier this year. Critic drove to Christchurch over the weekend to scope it out, in anticipation of Dunedin's newest fast food joint. We specifically Read more...
Posted 4:18pm Sunday 16th May 2021 by Fox Meyer
If you've ever met a vegetarian you've heard about halloumi. It's a thick, grillable cheese that you imagine fairies using as a trampoline. The popularity of halloumi, along with Dunedin's inexplicably thriving bagel scene has provided us with several variants of the halloumi Read more...
Posted 3:59pm Sunday 16th May 2021 by Denzel Chung
A new takeaway outlet will soon be opening on George Street, dedicated to that unsung hero of foods: Baked potatoes. Facebook and Instagram pages for Patate were launched last Thursday, with owner Aysu Shahin announcing they will "open very soon" at 420 George Street (nice), Read more...
Posted 9:50pm Monday 26th April 2021 by Alice Taylor
Crazy for Katsu If I was to tally all the money I have spent on food in the last four years, a substantial portion would have been spent on my dearest fried chicken. I do not regret a single cent I have spent on this glorious food, but it was wise to learn how to make it myself. This recipe is Read more...
Showing results 1 - 6 of 6
TAGGED ITEMS
Showing items with the tag:
restaurant